Over the hill?
David Villa's record is pretty impressive on the surface, but should Tottenham really sign a player who is turning 32 in December when they are trying to build a young side? Daniel Storey ponders over whether they're signing the name rather than the player...
By Daniel Storey - @danielstorey85
Last Updated: 08/07/13 5:29pm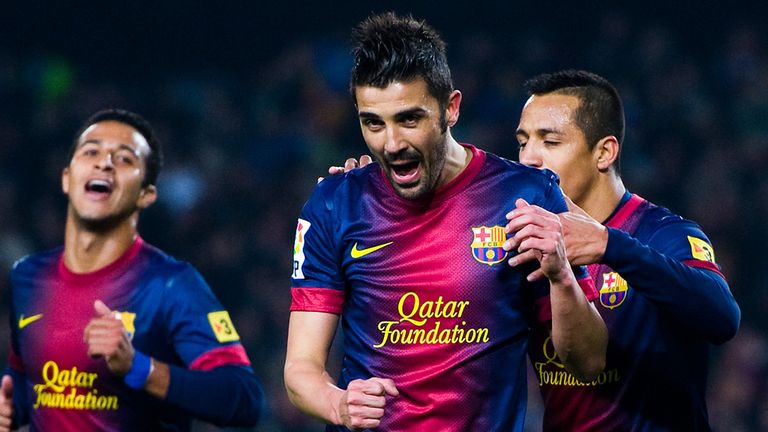 David Villa has been a fantastic striker, of that there is no doubt. He has scored goals prolifically for Zaragoza, Valencia and Barcelona since 2003, and is Spain's record goalscorer, netting 56 times in 92 appearances. Quite some record. But, with the arrival of Brazilian Neymar at the Nou Camp, Villa is suddenly surplus to requirements at Barcelona, and it appears that Spurs have positioned themselves at the front of the queue. A £12m price tag has been mooted, with the north London club reportedly willing to go as high as £10m to sign their man.
One can understand the excitement of Spurs supporters. After pushing Arsenal all the way in the race for a Champions League place last season, fans evidently feel that this is the marquee signing that could spur (don't pardon the pun, I meant it) the club to the next level. Villa's reputation and record whets their appetite for the new season.
Excitement and anticipation, however, quite often mask reality. David Villa is 31, turning 32 in December, and is evidently an option for the short-term as opposed to being the foundation for any future ambitions. Moreover, in December 2011 he broke his tibia during a Club World Cup match against Yokohama, ruling him out of the game for eight months. You could say that he has never truly recovered.
Last season, Villa only played a bit-part role in Barcelona's success. In 28 La Liga appearances (17 starts) he scored ten goals and provided five assists. That might not sound too shabby, but he was playing in a side that scored 115 league goals. In the Champions League, he scored just one goal in his ten matches.
For Spain, Villa has hit a more pronounced slump. Since March 2011 the striker has 25 caps for his country, and in those matches he has scored ten goals (Spain have scored 70). Again that record may seem perfectly acceptable, but those ten goals have come against Tahiti, Panama, Saudi Arabia, Liechtenstein, Scotland and Venezuela. In the last two years Villa has made appearances for Spain against Italy (2), France (2), Brazil, Uruguay, England, Nigeria, Czech Republic, Ireland and USA. He failed to score against any of those opponents.
Spurs' fans argument is clear. Villa could operate anywhere across a 4-3-3 formation that Andre Villas-Boas seems intent on utilising, but the danger is that the club are paying a significant fee for a player who is on the way down. Ten million is a lot of money for a 31-year-old that must adapt to a new club in a new league with a style very different from La Liga. It is mightily unusual for a foreign striker to come to England in the latter stages of his career and score goals regularly, with Jurgen Klinsmann an exception nearly two decades ago. There are direct similarities with Liverpool's signing of 29-year-old Fernando Morientes in 2005 for £8.2m and after eight league goals in 41 games, Morientes returned to Spain. Spurs are in danger of signing the name rather than the player.
More importantly, such a signing grates against the transfer policy implemented under Andre Villas-Boas. Under Harry Redknapp, the club tended to purchase experienced players, with Scott Parker, Louis Saha, Ryan Nelsen and Bred Friedel all arriving at White Hart Lane before Redknapp's departure. Under AVB the club have signed nine players, all of whom were aged under 30. Seven of these (Paulinho, Moussa Dembele, Hugo Lloris, Jan Vertonghen, Gylfi Sigurdsson, Lewis Holtby and Ezekiel Fryers) were 25 or under, with the two exceptions (Emmanuel Adebayor and Clint Dempsey) two of the players that could leave this summer.
It just seems illogical for Spurs to sign a 31-year-old with no PL experience as their main centre-forward, particularly given that both Adebayor and Jermain Defoe are perceived to be past their best and available for transfer. Both players are younger than Villa. Signing the Spaniard could be considered to be something of a coup for Spurs, but this is a club that has altered its transfer approach under their forward-thinking manager. Arsenal, their nearest club competitively and geographically, have targeted Gonzalo Higuain, who is 25. Would it not make greater sense for Spurs to do the same, perhaps paying double the fee elsewhere for three times the investment?
Spurs are a club with a new vision; they must be wary of the temptation to slip into old ways, signing the name and reputation rather than the player.
This article first appeared on Football365