Summer Scout - Paulinho
The Summer Scout eyes Brazil midfielder Paulinho, spotted at the Confederations Cup.
Last Updated: 21/05/14 12:03pm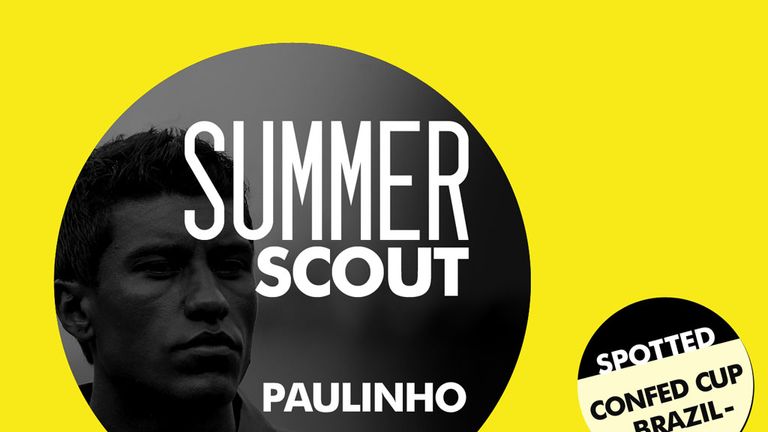 Our scout will report back and you can comment on what you think of their appraisal.
You can only nominate a player by emailing here, including the word 'Scout' in your subject line, and please check to make sure we have not already covered the player.
You can also now interact with the scout via his all-new Twitter feed! You can get in touch with him and interact here or just search for @skysportsscout
The latest player to be spotlighted is Brazil's Paulinho.
The scout reports...
A player who has long been on our radar, we finally check on new Tottenham signing Paulinho who, despite his big-money move to White Hart Lane, will not be so well known by most people in England.
Paulinho, who has just turned 24, was one of the stars of the Confederations Cup but he was already an established international before the tournament in Brazil. However his performances did cement his future as Tottenham swooped to pay Corinthians £18million.
Paulinho's road to north London has been anything but smooth - indeed, somewhat unbelievably, Spurs will actually be the sixth club of his career.
As a 16-year-old he joined the youth squad of local side Audax Sao Paulo, but just as he broke into the first-team squad at 18, he embarked on his first European adventure as he was sold to Lithuanian side FC Vilnius, and he enjoyed two seasons with them before they were relegated, after which he joined Polish side LKS Lodz.
His stay in Poland was beset by racist abuse from away fans and, after 17 games, he decided to move home to Brazil, where he rejoined Audax, despite the club being in the fourth tier.
After a season with Audax, he was signed by second division Bragantino and it was his form for them that brought him to the attention of Corinthians who they snapped him firstly on loan and then permanently.
He was an instant success at Corinthians, becoming a lynch-pin in their midfield. Indeed, such was his impact, just 14 months after his debut for Corinthians - his debut in Brazil's top-flight - he was making his international debut against Argentina.
It was also at this time that Europe began to call again, but this was not eastern Europe anymore, but Italian giants Inter Milan and Roma.
However, Paulinho - clearly with his previous experiences in mind - was more than happy to stick around in Brazil. He helped Corinthians to the Copa Libertadores and the Club World Cup, where he scored the winning goal against European champions Chelsea.
The match against Chelsea was the first real chance English fans had to see him, and he did not disappoint. He played against Frank Lampard, the player he admits to looking up to and has been compared to, and it is clear to see why.
Paulinho is an all-around midfield machine. He can sit, he can dominate the middle, he can pass his way around or push on behind the forwards - any job you want him to do in midfield, he is able to do.
Very much a player who has made it the hard way, by coming from the lower leagues to make it, and his progress in the last couple of years has been nothing short of phenomenal.
The scout says...
Spurs fans are excited by Paulinho, and they should be - they have a true gem on their hands and a player who looks like he will be very well suited to the rigours of English football.
A big season awaits him, he has a big price tag and, although Andre Villas Boas will no doubt ask for patience, fans and the media alike will be keenly awaiting to see if one of Brazil's best can become one of the Premier League's best.
The Scout rating...
Shooting: 7 out of 10
Passing: 8 out of 10
Tackling: 8 out of 10
Heading: 7 out of 10
Pace: 7 out of 10
Vision: 8 out of 10
Current ability: 8 out of 10
Potential ability: 10 out of 10
OVERALL SCOUT RATING:63/80
Current value: £18million
Potential value: £48million
Your opinion...
You have read our opinion of Paulinho - now we want your views. Have you seen Paulinho in action? Do you agree with our assessment? Do you think he will make it?
Get in touch, either using the form below, email or the scout's Twitter feed - @skysportsscout
Would Paulinho make your team? Pick your Sky Sports Fantasy Football team for the chance to win over £100k in prizes. Play for free here.