Targets: Argentina
With the January transfer window upon us, Sky Sports' Argentinian football expert Andrés Garavaglia gives us his verdict on five stars from the Primera Division who could attract attention from Premier League clubs.
By Adam Bate with Andrés Garavaglia
Last Updated: 31/12/13 2:11pm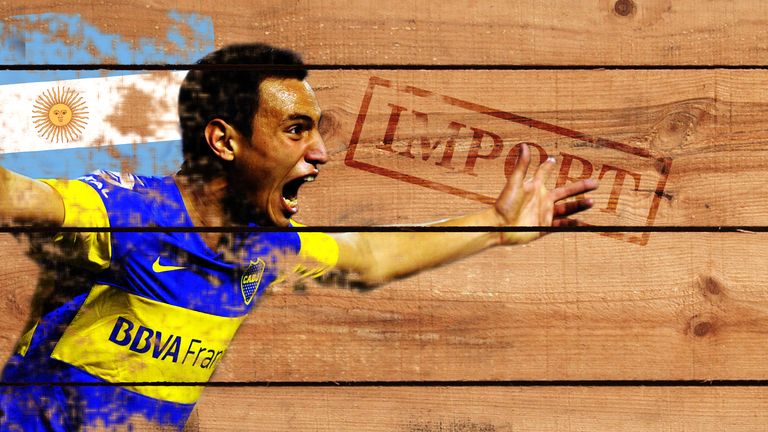 Sky Sports' Argentina correspondent Andrés Garavaglia has been a sportswriter since 1986 and worked in the sports section of the newspaper La Nación in Buenos Aires for ten years. He helped edit David Goldblatt's book The Ball is Round and has worked as a researcher for the hugely popular Football Manager computer game series. We caught up with him get his expert verdict on five stars from Argentina who could make a move to the Premier League.
Gerónimo Rulli
Age: 20
Nationality: Argentina
Club: Estudiantes de La Plata
Position: Goalkeeper
Good fit for: Manchester City
The word
Rulli has seized his chance at Estudiantes under Mauricio Pellegrino and the young goalkeeper is already attracting interest from a number of big clubs in Europe with the Daily Express reporting that Manchester City are keen on the player. "We know that Barcelona are looking at our goalkeeper, but they haven't been the only team from Europe doing that," club president Enrique Lombardi told Argentine magazine Animals. "We know that a team from England and another one from France have also been watching him."
Andrés' expert view
"Rulli has been one of the revelations of Argentinian football over the past season and has settled in the Estudiantes goal as if he had been playing in the first division for many years. He has very good reflexes, rushes out only when necessary, and knows how to keep the defence organised. If he keeps up his current level he will either be the Estudiantes No.1 for many years or he will be transferred to Europe very soon."
Juan Sanchez Miño
Age: 23 (24 on New Years' Day)
Nationality: Argentina
Club: Boca Juniors
Position: Midfield
Good fit for Everton; Southampton
The word
Miño has established himself as a fixture in the Boca Juniors midfield for the past three seasons and is now targeting a move abroad with England on his radar. "If I have the chance to choose, and if I get the chance to be transferred to European football, I would like to play in England or Spain", said Sanchez Miño in a recent interview with Pintado de Azul y Oro. "In those two countries, football is played with the ball on the ground, or at least there are several teams that do it, and I like that kind of style."
Andrés' expert view
"He is an interesting player who can play as a central midfielder or a left-sided attacking midfielder. He brings the ball under control well upon receiving the ball, treating it with care, and giving a precise pass to a team mate that is in better position. He's also a player who excels on free kicks He is also an intelligent player with the ball at his feet and comes alive near the opposition box. With the season now finished in Argentina, transfer gossip has linked him with a move to Ukraine but his preference for a move to England or Spain is well known."
Gonzalo Veron
Age: 24
Nationality: Argentina
Club: San Lorenzo
Position: Forward
Good fit for: Fulham, West Ham
The word
Veron is seen by many as the next big thing in Argentine football with San Lorenzo and a move is regarded as just a matter of time. "We are glad to have a player that despite being very young has been recognized as one of the best players in our league," said Matias Lammens, president of San Lorenzo. "We know that sooner or later he will be eyed by teams from abroad, but while that doesn't happen we want him to keep on enjoying his football."
Andrés' expert view
"Veron is fast and strong. It is even been said that he has a sixth gear because of his acceleration. He can play in any position in the forward line or as an attacking midfielder on both sides and perform each role equally well. He is a star player at San Lorenzo and considered one of the most promising players in Argentinian football. He has even been dubbed 'The new Caniggia', in tribute of former star Claudio Caniggia."
Lucas Romero
Age: 19
Nationality: Argentina
Club: Velez Sarsfield
Position: Midfield
Good fit for: Liverpool
The word
Romero made his debut in 2012, coming on as a substitute in a 0-0 draw with Estudiantes and in his debut season with the first team, Romero helped Vélez to win the 2012 Torneo Inicial, playing 13 games. "Romero was given a chance and he took advantage of it very well," said former Velez coach Ricardo Gareca. "He is part of the work that Velez does in the youth system and we are proud of having a player of his young age as one of our principal players in the squad."
Andrés' expert view
"Romero is a creative midfielder who was raised in the youth system at Velez and thanks to his good performances is seen as having a great future ahead of him. Although not very tall, he has good heading ability and is strong with excellent anticipation. Velez are yet to receive any firm offers from abroad for the player but domestic giants River Plate and Boca Juniors are considering making a move."
Eder Alvarez Balanta
Age: 20
Nationality: Colombia
Club: River Plate
Position: Centre-back
Good fit for: Chelsea; Tottenham; Manchester City
The word
Balanta was first added to River's first team by Matias Almeyda but made his debut this year under coach Ramon Diaz and is already winning plenty of admirers. "Balanta has impressed in Argentina," said Colombia national team coach, Jose Pekerman, who called up Balanta for the first time in November 2013. "Without any type of experience playing at the top level, he plays as if he had been in the first team for ages. I think he is similar to Daniel Passarella, the only central defender that I can remember that started his career so young and had so much success in an enormous team like River Plate."
Andrés' expert view
"Balanta is a quick, strong, left-footed defender and, allowing for his youth and inexperience, he has everything you would expect in a centre-back. He obviously makes mistakes but is an immense prospect. River will make an effort not to transfer him in the next transfer window but it is believed that former president Passarella has already sold a percentage to an agent who will be actively seeking out a new club for Balanta. He has been linked with Barcelona in the Colombian media and given that he is associated with Portuguese agent Jorge Mendes, it won't be long until Balanta is plying his trade in Europe."