Zaha verdict
As the January transfer window reaches a crescendo of activity, Sky Sports runs the rule over the high-profile movers in the Premier League. Hit or miss? Read our assessment and offer your own verdict here...
By Alex Dunn
Last Updated: 31/01/14 4:41pm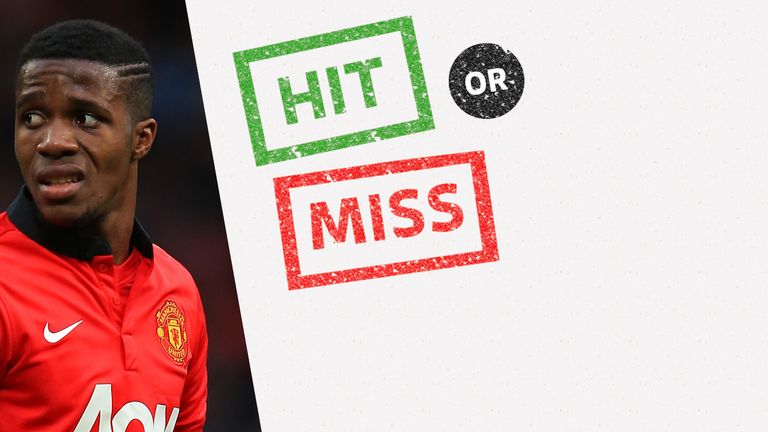 Wilfried Zaha
To: Cardiff City
From: Manchester United
Fee: On Loan
Age: 21
Position: Forward
Nationality: English
Bio
Zaha moved to England as a four-year-old from his native Ivory Coast and earned his first cap for the former against Sweden as a substitute in November 2013. In 110 appearances for Crystal Palace he established himself as a firm Selhust Park favourite, with his pace and direct style quickly catching the eye of Premier League scouts. At this time last year Manchester United secured his services with a bid around the £10million mark (with add-ons), before immediately loaning him back to the south London outfit, who he helped to promotion after signing off with some virtuoso play-off performances.
He says
"I think about the Premier League all the time, wondering when I'm going to come up against better defenders. I don't think I've come up against a defender when I've thought 'What can I do to get past this guy?' If it was Ashley Cole I would be working it all out before the game, knowing he would stick tight to me. I'd drift inside and then run at him. Maybe he'll be able to deal with it, but that's when I can test him, isn't it? That's my time."
They say
"He does now need to play football. The thing with young players who are developing is that they can't be out of the game too long. When you think of last season and the impact he had, he'll want to get back out there in front of big crowds, playing where it matters and that's first-team football. It will be good for him to get three or four months of football." - Sky Sports pundit Gary Neville
Zaha to Cardiff could well save their season. Look at what he did for Palace promotion. I had them favs for relegation.. #changeitup

- Kait Borsay (@kaitborsay) January 31, 2014
Hit?
Cardiff desperately need a little pazazz to complement what is a hard working unit but one that is severely lacking in terms of invention in the final third. Zaha's choices in matches can lack maturity but there's no doubt he can get supporters off their feet and if Ole Gunnar Solskjaer can get him flying on the left and Craig Noone doing likewise on the opposite flank, there's every chance a winless run of seven matches can be arrested. The Norwegian has said of his new signing: "He has pace, power, technical ability and goes past people. He will give us that extra change of tempo in the final third, where we really need it. He will bring that little final bit to find pockets of space and produce a bit of magic."
There's no doubt he has talent and while Adnan Januzaj has stolen his thunder as United's new kid on the block, with a bit of graft he could still forge a bright future in Manchester. Everything is in place for him to become a proper player - power, pace and trickery - and he may even be used through the middle at Cardiff. Now it's up to him to prove he's the real deal, starting on Saturday against Norwich.
Miss?
Sir Alex Ferguson's final signing as Manchester United boss, to borrow a cliché, looked as if he had the world at his feet when he was singled out for praise by David Moyes after a bright showing on the club's pre-season tour of the Far East. Since then, amid reports 'he bought four cars in the five months between agreeing a move to United and finishing the season with Palace', the only appearances he has made have come in lists of forgotten footballers.
The murmurs coming out of Old Trafford are that Moyes is less than enamoured with some of his winger's lifestyle choices - with the 107 minutes he's afforded him in competitive action testimony to such reservations. Ian Holloway, who got the best from Zaha when Palace boss, has said this week: "I have his best intentions at heart when I say the time has come for him to take stock of his life and career and grow up a little bit. Because, believe me, there is nothing more tragic than unfulfilled potential. I hope he uses his sabbatical in South Wales to show United exactly what they are missing." Amen to that.
Verdict
A lack of match fitness won't help, neither will the fact that for all his promise he's yet to prove he can cut it in the Premier League, let alone at Manchester United, but if Solskjaer manages him in the right way there's every chance he'll prove to be one of the window's more astute acquisitions. It may sound fanciful, but with the carrot of Brazil 2014 dangling in front of him, the boy wonder may yet reignite Roy Hodgson's interest between now and the campaign's close.