Analysis: Everton's signing of Samuel Eto'o can be significant on and off the pitch for Roberto Martinez's side
Following the news that Roberto Martinez has added experienced striker Samuel Eto'o to his squad, Adam Bate looks at what the iconic Cameroon international can bring to Goodison Park...
Last Updated: 28/08/14 11:10am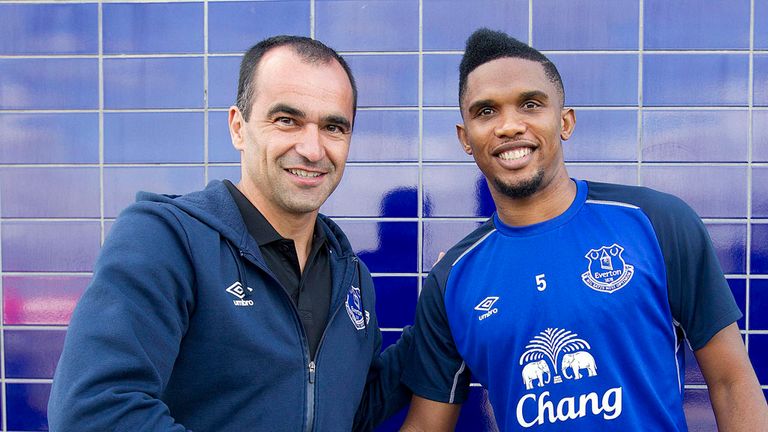 Saturday's opponents Chelsea might have expected Everton's Romelu Lukaku to come back to haunt them, but Jose Mourinho surely thought he'd seen the back of Samuel Eto'o. Instead he's back in the Premier League and eyeing another challenge in his remarkable career.
Roberto Martinez is a routinely infectious character but there was a particular glow to the Spaniard during Wednesday's press conference to announce Eto'o's arrival at Goodison Park. There seems little argument this is the greatest player he'll have had the chance to work with.
After all, Eto'o is a three-time Champions League winner; a player of undoubted pedigree who scored 108 goals in 145 games for Barcelona in La Liga, finishing as their top scorer in five different seasons including an impressive 36 goals in his final year under Pep Guardiola.
The 33-year-old is someone Martinez hopes can help develop his young team and it's easy to imagine the lift Eto'o's presence can give the players at Finch Farm. "I'm very much excited because he is a perfect fit for what we have in the dressing room," said the Everton boss.
"He wants to still learn and push himself and for the players around him, he is going to be a really good example. He feels ready to do that – he is at an age and moment of his career where he is ready to pass messages on. But he is still as hungry as ever to reach good individual targets and do whatever he can for the team."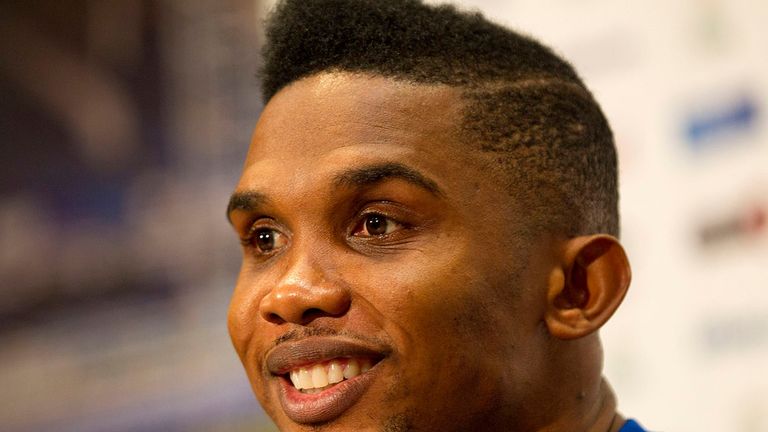 The feeling is mutual with Eto'o quick to call Martinez "inspiring" and as a player with a healthy ego that reflects his achievements in the game, there is a sense in which this is someone who just wants to feel valued. "I have been very impressed by the style of play Everton adopt," he said.
"I could see straight away that at this club I'll have the opportunity to play football. I was impressed with his enthusiasm but also by the knowledge of football that Roberto Martinez carries, his vision of football and how he reads football. I still think I can learn a great deal from him here."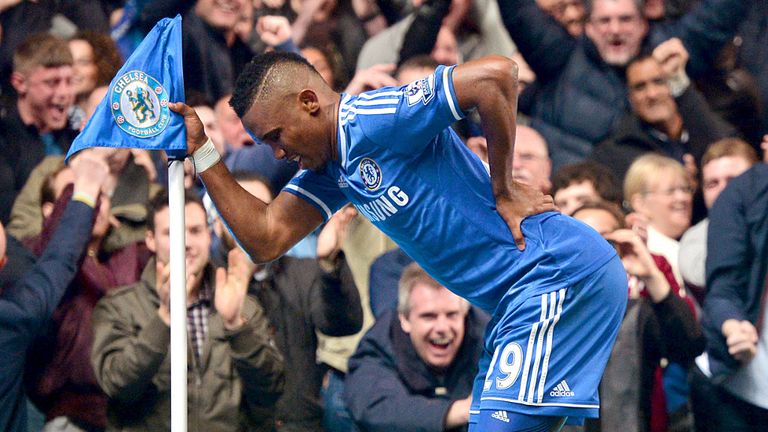 Of course, these are mere platitudes and intangibles. Everton fans will want to know Eto'o is not just here for a substantial pay day, a big name from the past who'll sell some shirts and offer a few words of advice. Given that Lukaku was so impressed by Eto'o's arrival at Chelsea that he handed in a transfer request, those aspects are rather less significant than what he does on the pitch.
Here too there are encouraging signs beyond cheap talk of being here for football reasons. Eto'o showed enough at Chelsea to prove he can still play, scoring nine goals in 1304 minutes of Premier League action. That's a record better than a goal every other game.
Importantly, he also offers the prospect of bolstering Everton in the biggest games. It's interesting that six of those nine goals came against Manchester United, Liverpool, Tottenham and Arsenal.
Nerveless under pressure, Eto'o retains that flair for the occasion. It's the sort of record you'd expect from a man who played and won the 2010 Champions League final, scored first in the 2009 version and was man of the match in European football's biggest game three years prior to that.
Perhaps it reflects fact that crucial ability to find space when it's at a premium. "If there is anything you can use from Samuel Eto'o, it's his appreciation of space and knowing how to move in the 18-yard box, create space and be a real threat in the final third," said Martinez. "That's something we can use straight away." This is something Lukaku's still learning and where Eto'o can be so valuable.
Martinez knows he possesses an alternative option to both Lukaku and Arouna Kone. "We now have three players to play that number 9 position. I am extremely excited by the three profiles; players with completely different abilities." This is a penalty-box predator who can bring out the best out in others with his movement.
Eden Hazard certainly seemed to benefit from his presence at Chelsea last season as the pair developed a real understanding together. Eto'o had that awareness to drag markers away from the flanks to create those one-on-one situations for the team's star man.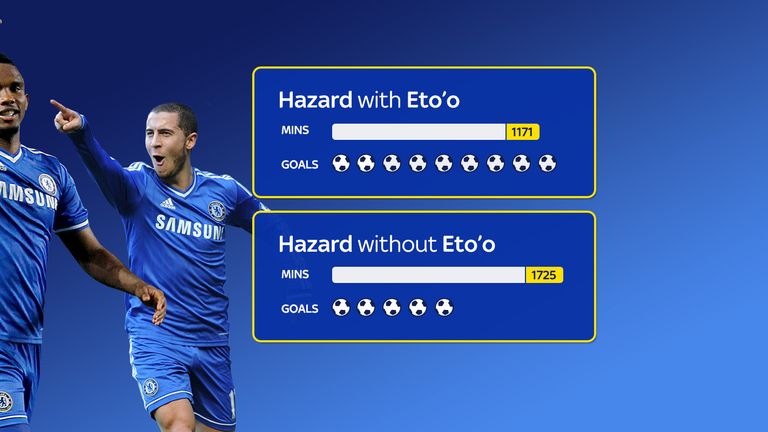 The statistics revealed his significance. While Hazard netted nine goals in just 1171 minutes – equating to 26 goals over a full Premier League season – with Eto'o on the pitch with him, that dropped to just five in 1725 minutes without the veteran. That equates to only 10 goals a season.
Bringing others into play with and without the ball is a trait he's honed throughout his career. "I try never just to be the guy who scores goals," he once told FourFourTwo. That proved important alongside Ronaldinho - "We're like a band – he's the star guitarist, I play drums in the back" – while Barcelona coach Frank Rijkaard later spoke of his "great generosity" towards Lionel Messi.
That's exactly the sort of influence Martinez will hope Eto'o can have. In a season that could bring more than 60 matches across four competitions, they will need his experience at home and abroad. Eto'o is not ready for his walking stick just yet and with Martinez not ruling out an appearance against Chelsea on Saturday, spectacular vindication might not be far away.
You can watch Samuel Eto'o's Everton in action against Chelsea on Saturday Night Football (Sky Sports 1 HD, 5.30pm kick off)