Arsenal's 2-1 defeat to Spurs proves they have 'real problems', says Jamie Redknapp
Jamie Redknapp says Arsenal's 2-1 defeat to Spurs proves they have 'real defensive problems'.
Last Updated: 03/03/13 7:14pm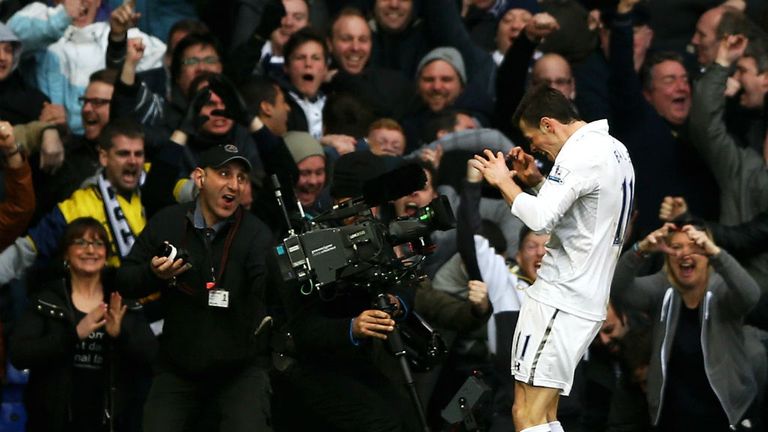 Goals from Gareth Bale and Aaron Lennon in the space of barely two minutes towards the end of the first half put Spurs on track for a win that takes them seven points clear of fifth-placed Arsenal and to within two points of second-placed Manchester City, who play away at Aston Villa on Monday Night Football.
Per Mertesacker halved the deficit with a second-half header but the Gunners could not get back on terms.
Redknapp told Sky Sports that while Spurs stood strong at the back to rise above Chelsea in the table, Arsenal's defence was too often found wanting.
Colossal
"It's an absolutely massive result for Spurs," he said. "It's hard to criticise Arsenal because at times I felt that they passed the ball well, particularly in the first half, but the goals changed the game.
"Spurs could then play on the counter-attack and I thought the two centre-halves - Jan Vertonghen and Liam Dawson - were colossal.
"At 2-1 Arsenal had a couple of opportunities but they didn't have a lot else. I thought that was why the two centre-backs were so good today.
"You look at Spurs as a defensive unit and you actually think 'they work on it - day in, day out; they look at situations where they are getting overloaded and they work the back four'.
"I look at Arsenal at times and I think 'they don't quite know what they are doing defensively'.
"If Vertonghen and Dawson played for Arsenal, Arsenal would have won the game today. I think that's the difference and until they get their back four sorted out they are going to have problems for many a year because I still feel that Arsene Wenger has a blind spot with defenders.
"He's brilliant at buying technical players but I can't remember the last real centre-half that he bought in terms of a quality defender. He hasn't done that for a long, long time. You might say Sol Campbell - Wenger got him on a free transfer.
"Until they get it sorted out at the back they've got real problems. What that does is amplify the problems that Wenger has as a manager now because Spurs are going away from them.
"If you look at the quality that they have, certainly from an attacking point of view, it makes it more and more difficult. You can't see it getting any closer at the moment. Seven points is a huge deficit for them to catch up."
Culpable
Bale opened the scoring after 37 minutes when he ran in behind Arsenal's defence and beat Wojciech Szczesny and Lennon doubled the lead shortly afterwards when he latched onto Scott Parker's pass as the Gunners tried to step up and play off-side.
Redknapp said the defending for both goals left a lot to be desired.
"Communication is something that Arsenal just don't do from a back four's point of view," he said.
"They were shocked after the first goal but you never see anyone take charge. Thomas Vermaelen, who I felt was culpable for the first goal, never has a look over his shoulder to see what's happening.
"Nacho Monreal has got a problem in the left-back position because Lennon is on his bike but as soon as that happens and there's no pressure on the ball the two centre-halves have got to drop.
"Lennon makes a great run. It's a Robert Pires or a Freddie Ljungberg run. He just manages to keep himself on-side. His first touch is superb."
Concentrate
Redknapp believes that Arsenal now have a real fight on their hands to qualify for what would be the 16th straight Champions League campaign of Wenger's tenure.
"There are two factors that have always kept people off Wenger's back to a certain extent: they've always finished above Tottenham and they are guaranteed to finish in the Champions League," said the former Spurs player.
"Both of those look like they are not going to happen this year so that's going to put even more pressure on him. People are going to question why he sold Robin van Persie at the start of the year and didn't bring in an adequate replacement.
"Olivier Giroud looks a decent Premier League player but is he going to take Arsenal right to the top? Not in my opinion.
"I'm not saying their chances of a Champions League place are all over. Tottenham go to Liverpool next week - that's no easy place to go. It can turnaround but seven points is a huge mountain to climb for them at the moment.
"Arsenal have got to concentrate on getting some results again. [On March 16] they go to Swansea, who are in the ascendancy and have had a great season so far.
"Arsenal have got to get some spirit back because when you lose a derby match it's so deflating.
"It's going to be difficult to lift people. Arsene Wenger has to get the players back up as quickly as he can and they've got to bounce back as soon as possible."