Bundesliga preview: Hoeness says Bayern Munich's season starts now
The Bundesliga season starts now, says Bayern Munich's Uli Hoeness, who suggests Pep Guardiola's grace period is over.
Last Updated: 13/09/13 10:03am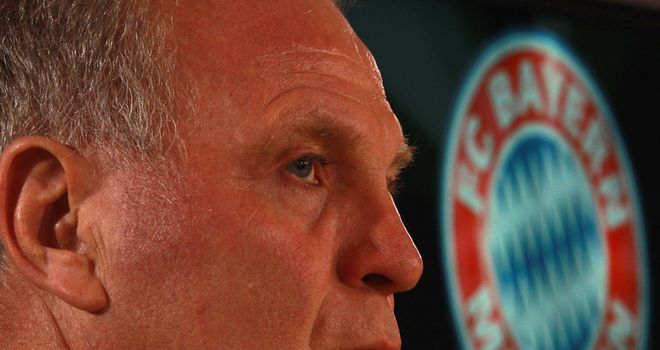 Last time out, Bayern were held to a 1-1 draw by Freiburg, losing two points on league leaders Borussia Dortmund, but after a two-week break for internationals, and with the first Champions League games looming, Hoeness says it is only now that the season starts in earnest.
"For me, the season only begins in mid-September because prior to then, it is torn apart by international games," Hoeness told the Bild newspaper.
"But we've got to put our foot down right away and be hungry, the way we were so phenomenally last season.
"Then I'm convinced we'll play another successful season."
Bayern host Hannover on Saturday before welcoming CSKA Moscow to Munich. They then travel to Schalke before facing Hannover again in the DFB-Pokal with midweek games every week between now and the next international break in October.
"This is a phase in which you cannot afford to show any weaknesses," said Bayern chairman Karl-Heinz Rummenigge.
"Last season, Dortmund lost points at this stage and they could never catch them up again, and that should be a warning to us."
Dortmund are currently top of the pile after winning their first four games of the season, but they cannot take a win for granted this weekend as they meet the only side who completed the double over them last season, Hamburg.
Bayer Leverkusen and Mainz will both be hoping history repeats itself for Dortmund as they prepare to host Wolfsburg and Schalke respectively while Hertha Berlin could move up to second tomorrow night with victory over a reinvigorated Stuttgart following their change in coach.
Elsewhere, Eintracht Braunschweig and Nurnberg go in search of their first win of the season in a basement battle on Sunday while Werder Bremen and Eintracht Frankfurt will both be aiming not to be dragged into danger by losing their clash on Saturday.
Augsburg will be bidding to make it three wins in a row against a Freiburg side who could be distracted by their return to Europe next Thursday.
Finally, Hoffenheim and Borussia Monchengladbach, the two top scorers in the Bundesliga so far this season, meet in a super Sunday clash at the Rhein-Neckar Arena.