Bundesliga preview: Hamburg boss Mirko Slomka says his team need to start winning
Hamburg boss Mirko Slomka says his team need to start winning games as the relegation battle heats up in the Bundesliga.
Last Updated: 04/04/14 10:29am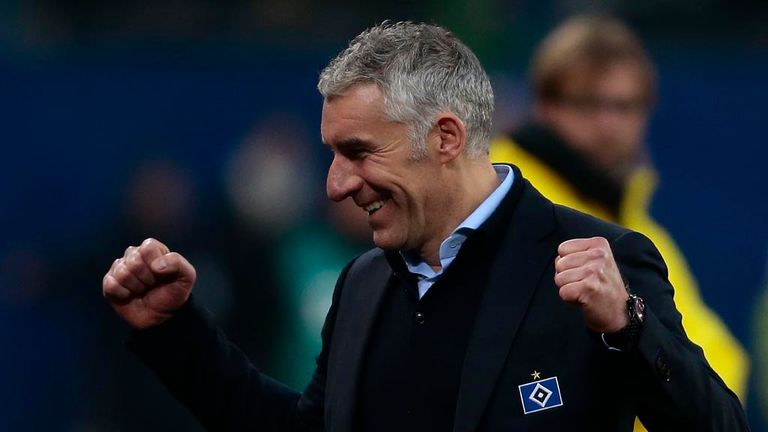 With Bayern Munich having already wrapped up the title in record time, the focus shifts to the foot of the table where all eyes will be on Friday night's clash between Hamburg and Bayer Leverkusen.
Hamburg have the distinction of being the only club to have never been relegated from the German top flight but they are in serious danger of that this season.
With seven games of the season remaining, they sit in the relegation zone, one goal worse off than 2007 Bundesliga champions Stuttgart, who occupy the play-off berth.
And Slomka knows his team must start picking up points quickly if they are to avoid the drop.
"We want to win this game," he told a press conference. "We almost have to win it and we will have to play to our limit to do so.
"We can put down a marker on Friday night and that is our intention."
Hamburg are struggling despite the presence of star Dutchman Rafael van der Vaart, and his countryman Johan Cruyff is wary of the effect relegation could have on the playmaker.
"Hamburg are a problem for Rafael van der Vaart," Cruyff told the Hamburger Morgenpost newspaper.
"It's not good that he is playing in such a weak team.
"Van der Vaart is forced to run too much in Hamburg and that's not one of his strengths. Van der Vaart is a very good footballer and his strength is playing football, not running."
Playing their way out of danger is going to be a risky and difficult tactic in a relegation battle, which is usually decided by grit and determination.
"I think it's going to be the team who has the greater will who will win this game," said Leverkusen coach Sami Hyypia, whose side have won just one of their last eight matches.
Stuttgart could find themselves inside the bottom two when they host Freiburg on Saturday in a local derby with very high stakes.
Freiburg are just five points ahead of Stuttgart and aware that a win would give them a bit of breathing space at the bottom, but defeat would see them dragged back into the relegation mix-up.
"I prefer not to look at any table but take it from game to game," striker Admir Mehmedi told www.scfreiburg.com.
"In a game you can get a maximum of three points. In the last four games, it was good because we got quite a lot of points. Now we face another tough match in Stuttgart.
"The table is very important at the end, at the moment everything is still very close to each other."
Nurnberg, who have just a two-point advantage over the bottom three, take on Borussia Monchengladbach on Saturday.
Meanwhile, bottom-placed Eintracht Braunschweig could revive their own hopes of survival, and move off the foot of the table, with victory over Hannover on Sunday.
Elsewhere, Werder Bremen host Schalke, Augsburg entertain Bayern and Eintracht Frankfurt meet Mainz in a local derby before Borussia Dortmund face Wolfsburg on Saturday evening.
The final game of the weekend takes place in the capital, where Hertha Berlin and Hoffenheim meet.