Ligue 1: New Ajaccio boss Fabrizio Ravanelli has high hopes for his side
Fabrizio Ravanelli hopes to turn Ajaccio into one of the major forces in France after his appointment as head coach.
Last Updated: 13/06/13 2:20pm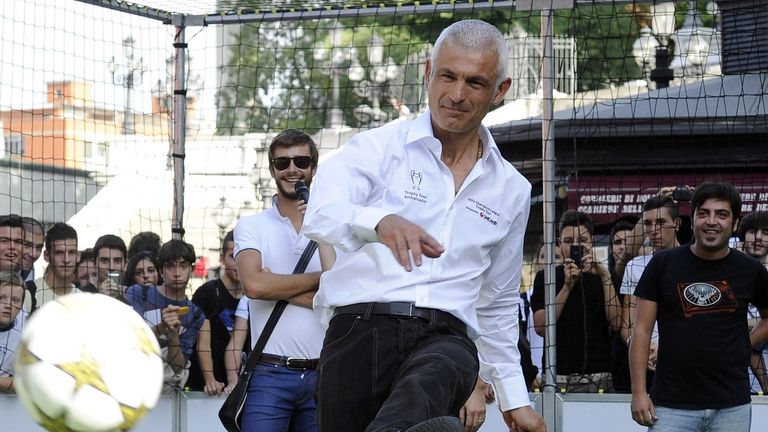 The Italian was brought in as Albert Emon's successor on Saturday despite having no experience in management, with his previous role coming as a youth coach at former club Juventus.
Ravanelli will be taking over an Ajaccio side who finished 17th in Ligue 1 last season, just two points clear of relegation.
However, the 44-year-old was in no mood to play down expectations at his unveiling and has high hopes for the Corsicans.
"With the ACA, we need to make the most of all our games and not wait until the last day to save ourselves," he said.
"This mindset is fundamental to success. For my part, I do not want to sound pretentious, but boy, I dreamed of becoming a great player and I have become (one).
"Now I want to become a great coach and I will work very hard with the president and staff. The ACA is currently a small club but I hope that one day the great players dream of changing it."
And to deliver that success, Ravanelli was clear as to what his methods will be.
"I like to play attacking football a lot," he said.
"My team will play at 110 per cent and always give the maximum and with hard work we can succeed."
President Alain Orsoni is equally confident that Ravanelli will succeed and played down fears at his lack of experience in management.
"Some have objected to me that Fabrizio had no experience to coach a team," he said. "You know, Deschamps in Monaco and Bordeaux Blanc had no experience either. What is important are the abilities and beliefs."
The former Italy striker will be joined by fellow Italian Giampiero Ventrone, who brings with him a wealth of experience after working under Marcelo Lippi at Juve and, most recently, with Antonio Conte at Siena.
As a player Ravanelli won the Champions League with Juventus in 1996 and also claimed the UEFA Cup and Serie A title while in Turin.