Ligue 1: Carlo Ancelotti reflects on stormy scenes in Evian v PSG
Carlo Ancelotti admitted his PSG team "lost a little control" after two red cards and a brawl marred their win at Evian.
Last Updated: 29/04/13 9:51am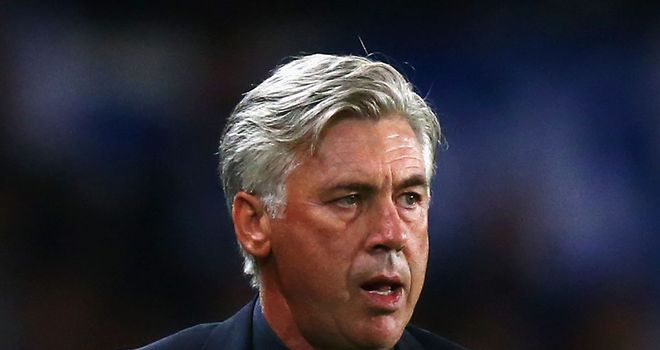 David Beckham was sent off in the last minute - six minutes after being introduced as a late substitute - for a dangerous lunge on Youssef Adnane, with fellow midfielder Marco Verratti having also been dismissed.
Evian striker Saber Khelifa and PSG goalkeeper Salvatore Sirigu were then involved in an altercation which saw both also red-carded as skirmishes ensued after the full-time whistle.
"There was a little scuffle, I do not know, I was not there," Ancelotti said at his post-match press conference.
"I did not see anything - I saw only the players in the dressing room afterwards. I do not know if Blaise (Matuidi) provoked anything (by celebrating in front of the Evian bench)."
Evian coach Pascal Dupraz felt Matuidi's actions had fuelled the bad feeling on the final whistle.
"I will never know probably what winning a league title is like, but what is sure is that Blaise Matuidi seemed very happy and showed it in front of our bench," he said.
"Some would consider that to be a lack of sportsmanship.
"I hated the stormy end to the game - this is not football."
He added: "Humility does not cost anything."
PSG sporting director Leonardo felt Beckham was unlucky to be shown a straight red card by match official Olivier Thual.
"The referee lacked lucidity," the Brazilian told Le Parisien. "He made mistakes. The red card shown to Beckham, for example, was really unfair.
"It was always a very tense match. Nobody wanted to lose - especially not Evian, who are struggling to stay up.
"I also believe that our team is really tired at the end of the season."
Javier Pastore's 50th-minute goal proved decisive as PSG re-established their nine-point advantage over second-placed Marseille with four games left.
"The game was well played," said Ancelotti. "We did not begin with a lot of intensity but, after 20 minutes, we controlled the game.
"We scored a fantastic goal, with a lot of movement. We needed a second one, and (not getting one meant) Evian gained in confidence as they hoped to equalise.
"After the red cards for Verratti and Beckham, we lost a little control."
Victory over Valenciennes at the Parc des Princes on Sunday will guarantee the championship for PSG if Marseille fail to overcome Bastia on Saturday.
"Nine points ahead, the title is very close," Ancelotti added. "With a victory at home on Sunday, we will win it."
The result left Evian outside the relegation zone only on goal difference, but Dupraz remained positive about his side's survival chances.
"I think we were able to better, but unfortunately it's so hard after starting the second half like that," he said on French television station CanalPlus.
"We still have four games left and I hope the attitude of my players will be the same for the rest of the championship. It will be hard, but I'm hopeful."