Tim Howard picks his #One2Eleven for Fantasy Football Club
Everton goalkeeper picks the best players he has played with on The Fantasy Football Club.
Last Updated: 08/02/14 1:51pm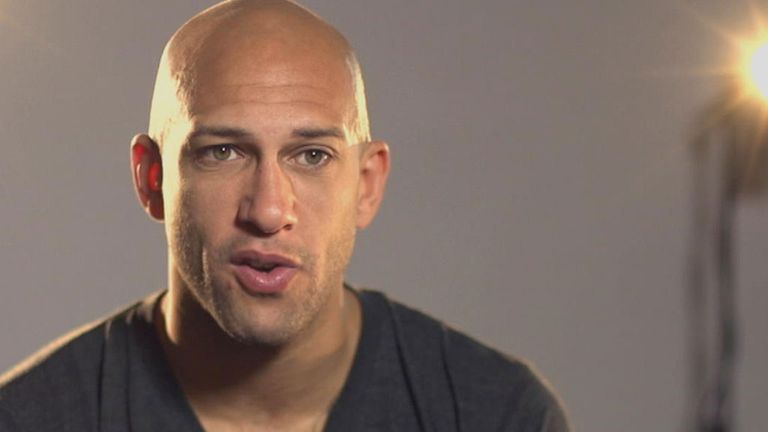 This is Howard's #One2Eleven...
GOALKEEPER - Tim Howard!: I've got to pick myself. I'm definitely in the line-up because most probably wouldn't pick me! But I've learned so much from Edwin van der Sar - he was amazing and won everything. He's one of the best goalkeepers there's been.
LEFT BACK - Leighton Baines: He's easily been the left back I've ever played with. In the world currently, he's right up there with the best. He knows the game inside out and his engine is incredible. He's so good in attack and in what he brings to Everton in terms of goals and assists is second to none.
RIGHT BACK - Gary Neville: It has to be Gary. There has to be a moaner in every team! He'd tell everybody where to go and what to do but he was fantastic. It's been cool to see his transformation. As a player it's always easy to criticise but to do it in the studio with such precision is a real art and he's got that.
CENTRE BACK - Rio Ferdinand: When I came to Man United Rio had it all. It's his pace and power and on the ball I had never seen anyone as technical and as clean on the ball. I loved his banter and he was quick with his tongue to stich people up. He also knew how to take it though - he was fantastic.
CENTRE BACK - Phil Jagielka: He's my safety blanket. I need him to be at my best! Jags is a guy who does three or four jobs on the back line - even for the sake of someone else. He'll put his body in the line, like blocking shots or heading balls off the line. I have to have him. He's brilliant in the air, strong, quick on the turn - everything he does well. He's a goalkeeper's best friend!
LEFT WING - Steven Pienaar: I've picked him for several reasons. Most importantly it would be for his combination play with Leighton Baines. He's a top quality winger but it's Steven's ability to get on the ball, drawing fouls and rolling a defender. He puts the fear of god into defenders. The combination of him and Baines is one of the best in the Premier League.
MIDFIELD - Roy Keane: He's the holding midfielder and is the most important position on the pitch. He's the best single player I've ever played with. He had so much influence on the game and put the fear of god into people - on and off the pitch. He literally grabbed the game by the scruff of the neck and won it. Whether that was driving others on or going himself and making things happen and getting into a tackle or going forward into the final third. He was an absolutely brilliant No. 6, leader and brilliant captain. He was hard on me and very demanding but that's how I learned.
MIDFIELD - Paul Scholes: He was a key cog in the great Man United teams, with his ball distribution. He was only a little guy but he got about with his tackling and his first touch was brilliant. He was softly spoken and he didn't like the limelight. He just wanted to play football, train hard and go home. All the players I've picked have got great football brains who see everything and he would be the mastermind in midfield.
RIGHT WING - Landon Donovan: I'd have a diamond so I can keep the space tight. I've played with Landon in the national American team and he came to Everton so he fits right in! He was brilliant at Everton. He just understands the game and runs all day long and is a real threat coming forward.
STRIKER - Wayne Rooney: He would lead the line but he'd also have a free role. He plays the game like he does on the street. He always wants to compete, and is happy doing someone else's doing work like tracking back and winning the ball. He's a treasure and it's a treat to have played with him - he's truly a great player.
STRIKER - Cristiano Ronaldo: He's the best player in the world and it's been a privilege and honour to have played with him. He'd have a free role but I don't think I could tell him otherwise. He'd drift in, take on four players and would shoot when he wants. He's one of the hardest working individuals I've ever worked with. It was his skills but also his strength off the pitch - he works on that every day and now he's got to the top and I think he works even harder now to maintain that elite status.
We'd go undefeated for two to three seasons - and we'd keep some clean sheets!