Tempest's Tips
Dale Tempest casts his eye over the Premier League, picking out a top bet for all 20 clubs.
By Dale Tempest
Last Updated: 18/08/12 12:06pm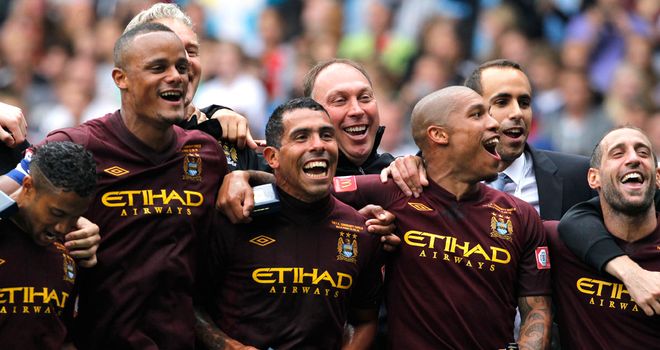 Sky Bet's Dale Tempest casts his eye over the Premier League runners and riders, picking out a top bet for each team.
1st. Manchester City - Top bet: Premier League winners - 6/5 at Sky Bet.
Once derided as a team of 'football mercenaries', City have evolved into the club wit the best squad and best starting 11 in the Premier League. There will always be egos battling against each other in the City dressing room but a focused and fit Carlos Tevez will be like a major new signing and now they have won the title and all the historical demons have been put to bed I expect them to win it again.
2nd. Manchester United - Over 81.5 points - 5/6
The return of Paul Scholes revitalised United last season but it's unlikely he can keep going for a full 38 Premier League games. Nemanja Vidic will return to strengthen the United defence and if Robin van Persie moves north then Fergie will expect to challenge his city rivals. But they had the chance to win the title last season and didn't have the quality or ruthless mentality to get over the line. That surprised me and makes me think they'll come up short again.
3rd. Chelsea - FA Cup winners - 6/1
I expect the Champions League winners will be a team in transition over the next few seasons. Lots of big money signings but the loss of Didier Drogba will be huge. The bread and butter of the league seemed to pass Chelsea by last year with a sixth placed finish being nothing short of scandalous. I'm not convinced Roberto Di Matteo is the answer to the Blues managerial problems as last season his greatest strength was the he wasn't AVB.
4th. Arsenal - To win any trophy - 3/1
Until the transfer of RVP is decided one way or another it's very difficult to take any strong view on the Gunners. The signings of Olivier Giroud, Lukas Podolski and the exciting Santi Cazorla can only improve the Arsenal squad but it's the defence that needs to improve. They conceded 49 goals in 2011/12 which just wasn't good enough and Arsene Wenger really can't rely on his main centre-half pairing of Vermaelen and Koscielny staying fit for a full season.
5th. Liverpool - To win the Europa League - 4/1
There is only one way Brendan Rodgers can take Liverpool and that is up. Fifty-two points and eighth place was woeful last season especially given the quality of the Liverpool squad. Luis Suarez is world class but he does tend to think it's all about him and that selfishness can cause problems in the dressing room. However the return of Lucas as the midfield anchor will make a big difference to the points gained and don't be surprised to see them challenging for a top four spot.
6th. Tottenham - Under 65.5 points - Evens
The dismissal of Harry Redknapp still mystifies me. He'd done an incredible job to get Tottenham challenging the top four and sadly for me I can only see Tottenham regressing this season. Luka Modric looks like leaving and when I listen to AVB I'm not sure he feels like he did anything wrong at Chelsea. The fans could very quickly be calling for Harry's return
7th. Newcastle - Over 56.5 points - 5/6
A lot of people, including myself, underestimated Newcastle last season .It wasn't only the goals of Demba Ba and Papiss Cisse that helped them challenge the big boys but it was the midfield partnership of Yohan Cabaye and Cheick Tiote that really made them tick. A fully-fit Hatem Ben Arfa can add the spark that makes me think they'll be just as competitive this season.
8th. Sunderland - Over 49.5 points - 5/6
When you take a long-term view on a team you are usually just buying into the abilities of the manager. Martin O'Neill is one of my favourite bosses. Strong, intelligent and generally always gets the best out of his players. He knows he needs a goalscorer and fingers crossed he'll get one. The Black Cats blossomed under him last season although they fell away late on but the 49.5 point line doesn't look to difficult for them to achieve.
9th. Everton - Nikica Jelavic Top Everton scorer - 1/2
As I write I've no idea if the departure of Jack Rodwell is simply a one-off money raiser or the start of an exodus of the top players. David Moyes continues to do an incredible job and his January signing of Jelavic was just another example of how the Everton boss continues to stay competitive with considered purchases. However the squad is thin and it wouldn't take many injuries for the Toffees to start struggling.
10th. Aston Villa - Top half finish - 11/8
New manager, new beginnings. Paul Lambert has showed over the last three seasons just what a good manager he is. Taking Norwich to 12th in the Premier league was nothing short of amazing and with the extra resources he'll get to work with at Villa park I expect a much improved season from the Villains.
11th - QPR - Top bet: Over 45.5 points - 5/6 at Sky Bet
Mark Hughes has been Mr Moneybags this summer with a host of strong signings to add to the ones he made last January. Junior Hoilett is a classy individual, Ji-Sung Park adds some much-needed hard work and consistency to the midfield and in Rob Green and Ryan Nelson the defensive line has some much needed experience. Expect Rangers to over perform.
12th Stoke - Stoke to beat Fulham in match bet - Evens
Not many changes to the Stoke squad but then Tony Pullis has his own style and method that should keep Stoke ticking along safely in the middle of the Premier League table. Crouch would get goals in any premier league side and despite the lack of depth to the Stoke squad the Brittania will still be one of those grounds no team will enjoy visiting.
13th Wigan - Over 36.5 points - 5/6
Roberto Martinez continues to be linked with several top jobs but for some reason Dave Whelen seems to be able to keep him at the DW Stadium. The Wigan side at the end of the season that beat Arsenal, Liverpool and Manchester United etc was a pleasure to watch and if they return in the same exuberant form they'll easily hit 37 points. Victor Moses would be a big loss but they can cope without him
14th Reading - Adam Le Fondre to Reading scorer - 6/1
Championship champions rarely go down. Only one of the last six have gone straight back down and with the influx of new Russian money into the club it is very unlikely Reading will break that trend. Norwich and Swansea showed last season that a well-organised and motivated side from the second tier can more than cope with the new Premier League challenge. Le Fondre has scored goals at every level he has played and with record signing Pavel Pogrebnyak very short at 5/4 it makes the market for Fondre at 6/1.
15th Fulham - Under 47.5 points - 5/6
So much of Fulham's season could be decided in the next few weeks. If Mousa Dembele and Clint Dempsey are kept past the transfer deadline then I'm sure Fulham will be ok but I'm not sure they can keep their best 2 players. I like the signing of Diarra but generally I'm not convinced by Jol at the top level of management. It pains me to say it but I think my old side are in for a tough time.
16th Southampton + 45 points handicap - 15/1
Southampton scored an amazing 85 goals in the Championship last season and any side with that sort of goal threat must be respected. I see no reason why another motivated side with a young ambitious manager can't do well. Every game will be like a cup final for Nigel Adkins' team and don't be surprised to see them take a few big scalps.
17th West Ham - Ricardo Vaz Te top scorer - 10/3
It won't be pretty but Big Sam will have the Hammers scrapping for every point. He knows what's required to stay in the Premier League as he showed with both Bolton and Blackburn. With the prospect of a move to the Olympic stadium in 2014 the pressure will be on for an extended Premier League stay. Money will be spent if required so the Hammers fans should be blowing Premier League bubbles for at least one more season.
18th West Brom - To be relegated - 7/2
When you take a long-term view on a team you are usually just buying into the abilities of the manager. Martin O'Neill is one of my favourite bosses. Strong, intelligent and generally always gets the best out of his players. He knows he needs a goalscorer and fingers crossed he'll get one. The Black Cats blossomed under him last season although they fell away late on but the 49.5 point line doesn't look to difficult for them to achieve.
19th Norwich - 6/4 to be relegated
Many punters often underestimate teams but very rarely do they permanently underestimate a manager. Chris Hughton has been simply brilliant at both Newcastle and Birmingham and deserved his chance to take over from Paul Lambert. However second season Premier League syndrome is tough enough without managerial changes and despite Hughton's obvious qualities I can't see Norwich not struggling for survival.
20th Swansea - To finish bottom - 7/1
A new manager with no Premier League experience, the loss of valuable squad members and second season syndrome adds up to a tough season down at the Liberty stadium. I'm sure Michael Laudrup will have the Swans playing some pretty football but it just may not be enough to keep the Premier league dream alive.