Football Podcast: Pepe Reina's clanger in Liverpool's 2-2 draw at Manchester City discussed
Reina's Liverpool future and spitting are among the topics discussed on the Football Podcast.
Last Updated: 04/02/13 5:12pm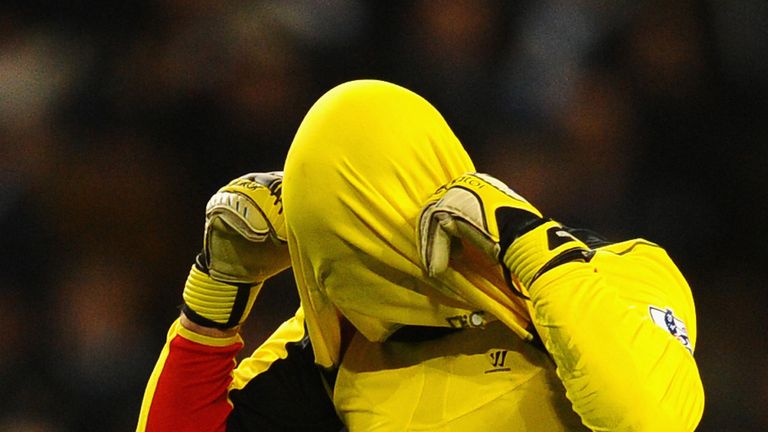 Stuck away in the chilly recesses of the Sky Sports broom cupboard but buoyed by an evening spent in the company of Beyonce (well, as good as), we're back for another Football Podcast full of razzmatazz and rambunctiousness.
Sky Sports News Radio's Mikey Burrows is your star quarterback for an assault on round 25 of the Premier League season, with SkySports.com football news editor Pete O'Rourke and TEAMtalk.com writer Jon Holmes his wide receivers for another edition of what seasoned listeners call 'the greatest show on earth'.
In the first quarter, Manchester City's thrilling 2-2 draw with Liverpool gets a good going-over, with Pete pointing the finger at suspect Reds goalkeeper Pepe Reina - while Jon explains why he can't see any way back for City in the title race.
Mikey touches down on why Tottenham are currently his favourite top-flight team, while our trio are united in a shoulder charge on spitting - as seen from West Brom's Goran Popov on Sunday.
The half-time show passes without incident, but there's plenty of drama to come as history looks unfavourably on leaky Aston Villa (much to Mikey's delight) and the French connection lifts Newcastle away from danger. We've got a full analysis on the state of play in the relegation battle.
In the closing stages, Jon and Pete join forces to give Saturday's gritty Emirates encounter at least 60 seconds of airtime, before the biting cold of Studio 2 gets too much for everyone and the final whistle blows.
To listen to the Podcast, download the MP3 file or use the Mixcloud player below. The Podcast will also be available via iTunes.
Let us know your thoughts by adding a Comment below or sending a tweet to @SkyFootball.
The problem with Pepe, 4 Feb 2013 by The Football Podcast on Mixcloud