Pundits praise Swansea after their Capital One Cup final win over Bradford
Chris Coleman and Peter Beagrie hail "irrepressible" Swansea after their Capital One Cup victory.
Last Updated: 24/02/13 7:21pm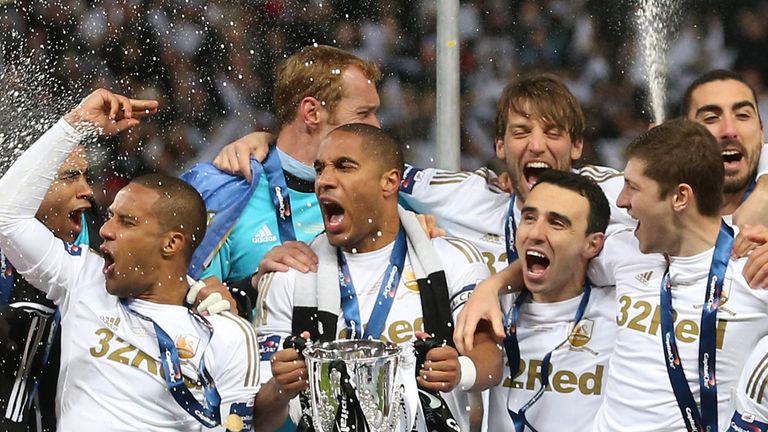 Michael Laudrup's men dominated the match as they claimed a record 5-0 victory over League Two Bradford at Wembley. Nathan Dyer and Jonathan De Guzman both scored twice while Michu was also on target for the Premier League outfit.
It is the first major piece of silverware for Swansea and books them a place in the 2013/14 Europa League. And while Coleman and Beagrie had nothing but praise for the 'heroic' efforts of Bradford, they admitted that Swansea were a class apart from their lower league opponents.
"We spoke before the game that if Swansea got their game right today it would be difficult for Bradford and Swansea thoroughly deserved it," former Swansea defender Coleman told Sky Sports.
"They could have scored more goals possibly. There's nothing to be ashamed of for Bradford City. They have done brilliantly to get here. They were beaten by a better team on the day.
"Swansea got their game right and some of the passing play from Swansea City was breath-taking. They could have scored more goals. I feel sorry for Bradford.
"They have worked so hard to get to Wembley and they always remember it. They have been beaten by five goals but Swansea City are by far the superior team. I thought that it was an outstanding performance from start to finish."
Heroes
Beagrie admitted his former Bradford side would be disappointed with the margin of their defeat after disposing of Wigan, Arsenal and Aston Villa en route to the final.
But he insisted there was no shame in losing to a team that was performing to a very high level and matched expectations of a historical moment for the club.
"We said there could not be losers today but they will be disappointed with the difference in the fact that they did not really offer any threat to Swansea," Beagrie said. "But it is difficult when you have not got the football. Swansea were absolutely brilliant.
"They did not underestimate Bradford. They had a game-plan for themselves of passing and moving. But Bradford - this season, this run - they are already heroes and justifiably at Wembley.
"Gary Jones and his team will still be disappointed because they have been really professional throughout. But there is no slight on the players whatsoever to get beaten by a Swansea team playing some irrepressible football."
Beagrie had particular praise for Bradford boss Phil Parkinson and called on the club to wrap-up a new deal with the former Reading player.
Stared into abyss
"They have got a decision to make after this as regards to if Phil carries on for another couple of years," Beagrie said. "It's a big decision.
"But this Cup run has given the club financial stability so that they can try to keep their heads above the water, because this is a club that stared into the abyss. How many times can you go to the well?
"I think it is important they keep him there for the momentum and principles that he has got at the football club. His policies, his recruitment have been marvelous and the fans have really built into it as well."
Fellow pundit Jamie Redknapp added: "It is impossible to be critical of them because they came up against a side that do that to teams in the Premeir League. They pass teams to death on a regular occasion.
"They know their system and they work it. It is actually a crime to give the ball away in that team. You can see the Swansea players are angry with each other when they don't pass the ball. Bradford should be so proud of themselves."