Merse goes Dutch
Paul Merson explains why Dennis Bergkamp was a better footballer than Thierry Henry.
Last Updated: 17/04/13 3:54pm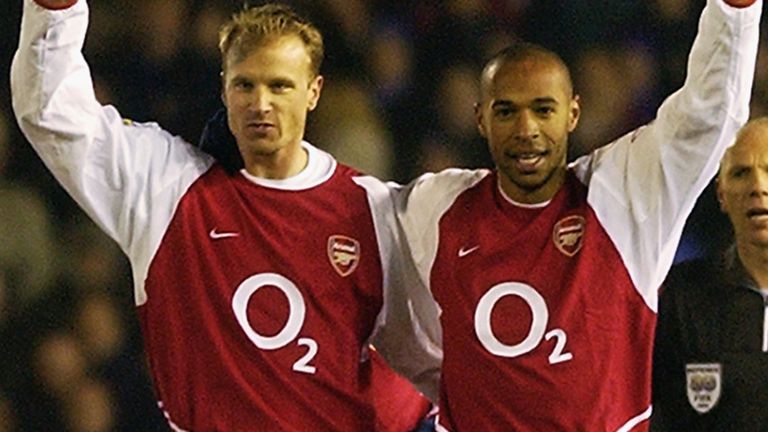 Paul Merson says Dennis Bergkamp would get his vote in Sky Sports' poll to find the greatest PFA player of the last 40 years.
As part of the celebrations to mark 40 years of the PFA Player of the Year awards, skysports.com has been asking you to cast your eye over the 35 famous players to have won the famous trophy and to vote for your favourites.
More than 100,000 of you have joined in and we have trimmed the field down to just eight names for the final week of voting:
Norman Hunter (1974), Kevin Keegan (1982), Kenny Dalglish (1983), Gary Lineker (1986), Paul McGrath (1993), Dennis Bergkamp (1998), Thierry Henry (2003 & 2004), Steven Gerrard (2006)
You have until Friday to cast your final vote and decide who should be named the Ultimate PFA Player.
Soccer Saturday pundit Merson has played with and against several of the names on the shortlist, but he says one of his former Arsenal team-mates deserves to win.
"Dennis Bergkamp is the best player I've played with by a million miles," he said. "His vision, his touch, his awareness, his calmness... he had it all.
"When a snooker player makes a break, he is thinking four shots ahead. He's not thinking about getting on the next red, they're thinking four shots down the line. That was Dennis Bergkamp on the football field. He sees things before anybody else.
"For me, he was the best foreign player to play over here, even better than Thierry Henry when you look at their all-round game. If you took away Henry's pace and he wasn't absolutely lightning quick, would he still be great? Possibly not.
"A lot of his goals were down to his pace, but Bergkamp wasn't about that. Players are obviously different, but he is my choice."
Worthy
Merson says all the names on the shortlist are worthy of being in the final vote and he has enjoyed watching and playing against many of them.
"Thierry Henry, is the only player I've seen in the Premier League who makes it look like an 18-year-old playing in an under-12's league. He played in a top team with unbelievable service, but he's the only player who could run past people like that.
"I'm a massive fan of Steven Gerrard too. For me he's probably the best English player of the last 10 or 20 years. He has carried Liverpool - a very big football team - many, many times.
"When you look at Paul McGrath you're looking at an out-and-out centre-half who never took chances. Sometimes you come up against defenders and think 'they'll give me a chance', but he never did. He just put it in Row Z. Like Tony Adams, he defended how you should defend. He was phenomenal and one of the all-time greats at Aston Villa.
"I played with Gary Lineker, who was an out-and-out goalscorer. He didn't do anything else, but scoring goals is the hardest thing in football and that was his job. When the ball bounces off the post three yards out, who was there every time? Gary Lineker. It's not luck.
"As for Kenny Dalglish, he was another top player. How do you choose between him and Gerrard if you're a Liverpool fan? He had vision, he scored goals and his partnership with Ian Rush was absolutely phenomenal.
"I can't say I really watched Kevin Keegan but he must have been a good player to have won the European Player of the Year and I was too young to watch Norman Hunter but Leeds fans all say he is a legend.
"But I would have to pick Bergkamp. He was phenomenal."
Acheivement
Merson himself was named the PFA Young Player of the Year back in 1989 when he was at Arsenal and he admits it's one of the biggest honours of his career.
"I'd put it right up there with one of the best achievements I had," he added.
"You're talking about fellow professional footballers voting for you as the best of all the younger players. It's definitely up there.
"Football is a team game and that's what it's all about, but to win that was an honour. My mum and dad still have the trophy in their house!"
Who is the ultimate PFA player? Make your choice now and you could win tickets to this year's PFA Player of the Year Awards ceremony.