Chris Kamara: Officials must be clear on offside rule after error at Newcastle
Some officials don't understand the offside law and need to go back to school, says Chris Kamara.
Last Updated: 13/01/14 1:54pm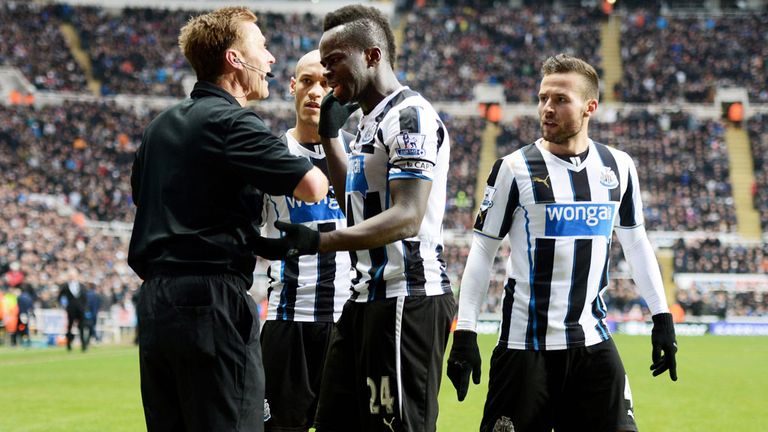 Cheick Tiote's disallowed goal shows some officials don't understand the offside rule
KAMMY SAYS: On Goals on Sunday we take a close look at controversial offside decisions - and the problem is some assistant referees are unsure of the law. The current law allows, for example, West Brom's Shane Long to stand next to the Southampton goalkeeper while the ball was on the halfway line, wait for Liam Ridgewell to get in advance of him and then turn and be onside in the second phase of the move. That's acceptable and the law as we've got it.
However, we also saw Antonio Valencia, two yards offside, challenge for Adnan Januzaj's cross - and wrongly not being flagged offside - and then score from an onside position in the second phase of the move. Then on Sunday afternoon, Cheick Tiote's goal against Man City shouldn't have been disallowed.
Yoan Gouffran had no effect on Joe Hart - he wasn't obscuring his view - and he didn't touch the ball. So, according to the law, he wasn't offside. Man City may have gone on to win anyway or Newcastle could have built up a head of steam, we don't know. But officials have to get these calls right. If some assistants are unsure of the law they need to go back to school and make sure they are clear on it.
Man City's win was still impressive - and hopefully Samir Nasri is back soon
KAMMY SAYS: Let's give Man City credit for their win, though. They were under pressure after Chelsea had won away at Hull on Saturday and taken top spot in the Premier League but they got their noses in front and came away with the three points to return to the summit.
However, Manuel Pellegrini will be hoping Samir Nasri's injury isn't a bad one. Mapou Yanga-Mbiwa's tackle on him wasn't good at all and the Newcastle man won't be proud of that. I'm sure the last thing he would have wanted to do was make Nasri miss games and it's just one of those things that happen, but we wish Nasri a speedy recovery.
It was a cracker at the Britannia - but Liverpool got a 'soft' penalty
KAMMY SAYS: What an entertaining game Liverpool's 5-3 win at Stoke was! Since Brendan Rodgers put Daniel Sturridge and Luis Suarez together we knew they'd be a good partnership but if they clicked last season then they've clicked even better this year. Suarez has got 34 goals in his last 33 Premier League games now, while Sturridge returned from injury in this one and showed what a great asset he is, too.
The penalty decision at the start of the second half was the turning point, though. Marc Wilson made contact with Raheem Sterling and the ref gave it - but it was a soft one, a real soft one. You might get that once in a hundred and Rodgers got a slice of luck this time. From there Steven Gerrard converted it and set Liverpool back on course for the winner. It was a great way for the skipper to mark his 650th appearance for the club - he's a true Liverpool legend.
The doom and gloom has lifted at West Ham with their win over Cardiff
KAMMY SAYS: How quickly things can change! After a very tough week West Ham went to Cardiff and had fit-again Andy Carroll come off the bench to help them to a crucial 2-0 win, which lifts them out of the relegation zone. It was great to see Sam Allardyce doing his jig of joy at full-time, too.
He was under huge pressure in the build-up to the game with people saying if West Ham lost he'd be sacked and I think that pressure told when he opted not to go to the post-match press conference. Sam is one of the most media-friendly managers out there so it shows he must have been really angry, although, when he looks back on that decision, I suspect he'll think 'maybe I shouldn't have done that'.
David Moyes will have breathed a sigh of relief after Man United's home win over Swansea
KAMMY SAYS: Moyes was another manager under severe pressure over the weekend and he must have been feeling it. He had a great December, where Manchester United won six in a row in all competitions, but when they lost their first three of 2014 he must have thought 'what's going on here?'
Things were supposed to get better for them in the New Year, not worse, but, although they're still not playing great, to get those three points against Swansea, who had beaten them at Old Trafford a week earlier in the FA Cup, will have pleased him and given the squad a lift.
Jermain Defoe will be a big loss to the Premier League
KAMMY SAYS:I was sorry to hear that Defoe is leaving Tottenham for Toronto FC - and I don't understand it, to be honest. Maybe Spurs don't want him but that would surprise me, with Tim Sherwood in charge there. Anybody would take a player like Defoe, who can come on and make an impact and score crucial goals like he can. Hopefully we'll get to chat to him at some stage about his decision but whatever has gone on, he'll be a big loss to the Premier League.
The move is likely to affect his World Cup chances, too. Ben Shephard pointed out on Goals on Sunday that moving to the MLS didn't affect Robbie Keane's international career but he's Ireland's leading scorer. I don't know too much about Toronto FC so it's not easy to comment but I don't think they're pulling up any trees at this moment in time.