Sunderland's Ki man
He may well be only a loan signing from a Premier League rival but Ki Sung-Yueng has developed into an important player for Gus Poyet at Sunderland. Adam Bate looks at the style and the stats that suggest Michael Laudrup erred in allowing the South Korean to leave Swansea in the summer.
By Adam Bate
Last Updated: 22/01/14 8:21am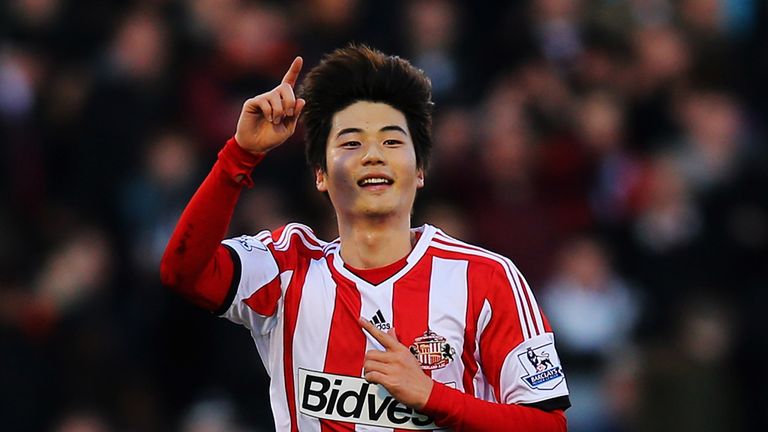 "It's not an easy decision for me to let him go," Swansea coach Michael Laudrup told the South Wales Evening Post on transfer deadline day back in September. "Midfielders have to run more than anyone else and we have a lot of games coming up. But we had five players for the two central midfield positions, while for the others we have two for each position."
It was a curious decision at the time given the club's Europa League commitments and the fact that the South Korea international had enjoyed a quietly impressive debut season following his 2012 move from Celtic. But his form on loan at Sunderland this season in which he has thrived in adversity has only added to the feeling that Ki Sung-Yueng is not a player to be discarded lightly.
There really shouldn't have been any surprises regarding the player Sunderland were acquiring. This was a man who boasted the best pass completion rate in the Premier League last season - a hugely impressive 92.7 per cent. Among those who made more than a handful of appearances, only Paul Scholes came close to matching those numbers. He's in good company.
But that's Swansea, right? Well, yes. The Swans have the best passing accuracy of any team in the top flight. What's telling is that while Sunderland rank down in 13th for that discipline, Ki has maintained his own high standards and remains among the top 10 most accurate passers of a ball in the Premier League. Having come in amid the early season turmoil at the Stadium of Light, something he has since acknowledged was a tricky situation, that's an impressive feat.
Exponents of analytics prefer to delve deeper into the statistics in order to separate the routine from the relevant but an examination of passes in the final third suggests that Ki's work is even more extraordinary. Among players with 200 completed passes in the attacking third of the field, the midfielder has one of the best passing accuracies of any player in the division.
Of course, it's what you do with the ball that counts and the recent evidence suggests there is the incision to match the precision. Three goals in his last nine games have included a last-minute winner in the Capital One Cup quarter-final against Chelsea, while the assist for Adam Johnson's second in the 4-1 win at Fulham highlighted his intelligent and measured use of the ball.
Sunderland boss Gus Poyet is evidently an admirer. "He has the ability to pass the ball with just one touch and change from one side to the other, or run with the ball and have a shot with either foot," Poyet told the Northern Echo. "If he believes that he can do a bit of the work the other way, the defensive way, he is a player who can give us the lot."
Ki's defensive duties had presented Poyet with a problem. While the player himself likes to operate from deep, performing the role in a team that is still struggling to dominate possession leans itself towards the sort of defensive skills of a Lee Cattermole - tackling, intercepting and closing down. Cattermole averages a tackle or interception every 16 minutes compared to Ki's record of one every 29 minutes.
Although Cattermole is being linked with a move to Stoke, the solution thus far has been to utilise the pair of them together. Sunderland have lost just one in 10 since Ki was partnered with Cattermole away to West Ham in mid-December. "We had a chat with Ki," revealed Poyet. "He prefers to play in front of the back four, but of course you need to work a lot defensively, and he's not that type of player. So we said to him that we'd give him a chance to play forward. He can pass the ball, he's not the type of player where the ball is flying over his head."
It is telling that Poyet has been determined to make room for Ki in his system and the encouragement to improve his defensive work should not be interpreted as a criticism. It seems more likely that Poyet is aware of Ki's potential to become a transformative figure at the club - a symbol of the Uruguayan's new Sunderland. At the heart of the team, passing and moving at speed, Ki can epitomise the philosophy that Poyet is eager to imprint upon his side.
Ki certainly seems happier under the new manager. "I like the way we play," he told reporters last week, before hinting at a clear change in style from the muddled tactics of the Paolo Di Canio regime. "It is not just long balls, but much more about keeping the ball. I can play to my strengths - keeping the ball, passing the ball and helping the strikers."
And he's delivering consistently. "I can see that he's enjoying his football and making a difference," added Poyet. "I want players with that mentality, to make us play, and he's been excellent. He's been the most consistent player for me, in my way of playing." Since being left out of the starting line-up for Poyet's first game in charge and remaining an unused substitute in the defeat at Hull City, Ki has played every minute of the Premier League campaign.
Perhaps that initial reluctance to place the Korean at the centre of his plans was due to Poyet's reservations about relying on a loan signing who could have been snatched away from him this month. "Swansea had an opportunity to call him back, and they didn't. That was a difficult day for me because I was waiting and waiting," he has since admitted.
Swansea have since tried to bring the midfielder back due to an injury to Jose Canas, but were scuppered by an oversight in the contract - missing the December deadline that Poyet was all too aware of. It's a baffling error to make given the sums of money at stake in the battle to stay in the Premier League. But it was a strange decision all along. Whatever the reasons for Laudrup's reluctance to give Ki a pivotal role, it seems clear that Swansea's loss is Sunderland's gain.