Niall Quinn
Football Expert & Columnist
Chelsea are able to grind out results thanks to their strong defence, says Niall Quinn
Chelsea may have misfiring forwards, but with their mean defence they grind out wins, says Niall Quinn.
Last Updated: 14/04/14 10:03am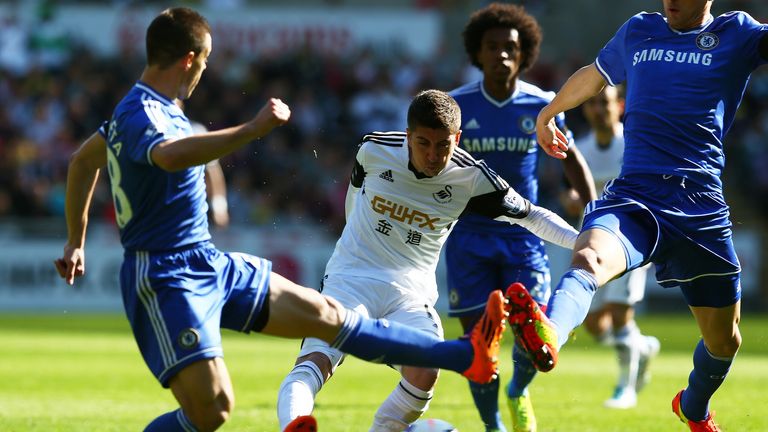 Jose Mourinho's side came away from the Liberty Stadium with an important 1-0 win on Sunday but could - and perhaps should - have found the net on more occasions against a Swansea side which was reduced to ten men with 16 minutes on the clock.
Chelsea remain two points behind Premier League leaders Liverpool, following the Reds' 3-2 win over Manchester City earlier on Sunday, and are into the semi-finals of the Champions League after seeing off Paris Saint-Germain on Tuesday.
However, Quinn told Sky Sports the Londoners are spurning opportunities and relying on keeping clean sheets to win games at the moment.
"Jose Mourinho understood Swansea weren't going to pose that significant a threat and he could afford to go with a second one up front and it did pay dividends," said Quinn.
"But they had 26 shots on goal and alarmingly for them only three on target.
"Mohamed Salah showed some glimpses but his finishing was quite awful and Samuel Eto'o had some great chances and missed them.
"It's not quite happening for them in the final third but the way they're set up means they can get away with that."
Grind
Jamie Redknapp suggested Chelsea's style is quite different to their title rivals, Liverpool and Manchester City.
Whilst the latter two sides - renowned for their attacking flair - have netted 179 times between them this term, Chelsea have just 66 in their 'goals for' column.
They have conceded a league-low of 24 goals, though, which compares favourably with the number of strikes which have found the Liverpool (42) and Man City (32) nets.
Whilst it remains to be seen which approach will win the Premier League, Redknapp says Chelsea do, as a result, rely on their forwards to score at crucial times - such as Demba Ba's second-half strike in Wales and late effort against PSG.
"They are the ultimate grinders," said Redknapp. "That's not meant to be disrespectful - it's just what they do brilliantly.
"Mourinho brought John Obi Mikel on when other managers, instead of bringing on a defensive midfielder, may have brought on another attacker. But that's just the mind-set of the manager.
"Chelsea have the ability to grind out results. They defend well, they keep clean sheets and they have pace. Mourinho has questioned his forwards all season but Demba Ba has come up trumps for him this week with big, big goals."
Liability
Neither pundit offered a defence for Chico Flores, who saw red after picking up two yellow cards in the first quarter of the match and Redknapp in particular was scathing in his assessment of the Spaniard's defending.
"He's a liability," said Redknapp, who criticised Flores for sticking out a leg rather than trying to chase Andre Schurrle, despite being on a booking.
"The football Swansea play is fantastic but the amount of times he lets his manager down with things like that is incredible.
"It's poor defending. It's lazy - run with him. You see a good defender, someone like John Terry, he'll marshal him. Flores had already been booked trying to do a tactical foul early on and he cannot complain there."