Analysing the deals
The Sky Sports experts give their verdict on the talking points, including Beckham, Odemwingie and Samba...
Last Updated: 01/02/13 8:46am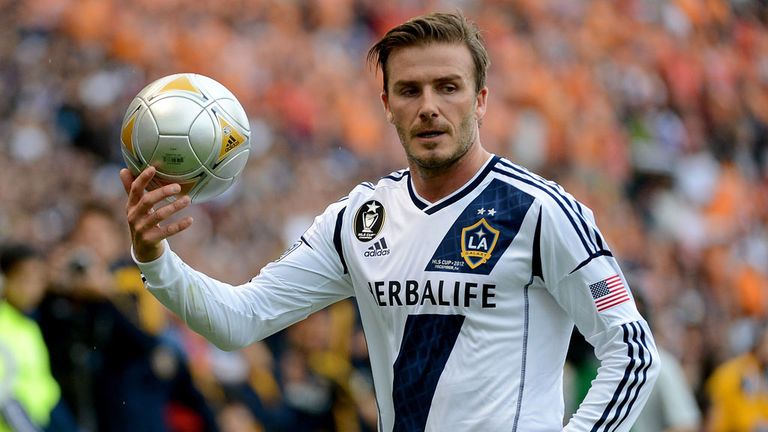 David Beckham's move to Paris Saint-Germain
Gary Neville: He's played for some big football clubs in big cities: Milan, Madrid, Manchester, LA and Paris is obviously a great city as well. He loves playing football and players like him are incredible characters - his love affair with football amazes me. I don't know where players like him, Ryan Giggs and Paul Scholes get their enthusiasm from. David's incredibly fit so I don't think there'll be a problem with his medical. This will be another chance for him to continue to play at a really good level of football. PSG have got a good team with plenty of exceptional players there and he knows the manager, too. That would be a positive move for him; he's not playing for money, he's playing because he loves football and as long as he's contributing and he's fit I see no reason why he can't play on for another couple of years.
Iain Dowie: This would be a great move for Beckham; to finish his playing career in an amazing city but also at a top club that's on the move is fantastic for him. PSG brushed everyone else aside in their Champions League group and that could be a real fillip for David to be involved in that. What's not to like about having David Beckham at your club? He's a fantastic pro, great around the dressing room, fantastic with the media - and he still possesses arguably the best set-piece delivery in the world. If you keep yourself in the shape David has he could go on beyond the summer. He knows Ancelotti and Leonardo well and that's important. David isn't involved for the financial gains; he wants to achieve a legacy and the appeal of the Champions League will be huge for him. They've got some stunning players and Beckham can add something.
Dwight Yorke: David is not just an iconic figure in the footballing world, but globally he's a brand and even at the grand age of 37 he's still been able to attract the big clubs. Seeing him going to Paris Saint-Germain somehow doesn't surprise me because he's a fantastic player. You give him time on the ball and space and he can deliver those killer passes. He also obviously has dead-ball speciality. I'm sure it's fantastic news for him and his family and he will relish the opportunity to go to a club that is on the up at the moment and doing extremely well in the French league. Becks loves his game, it's been his life and I'm sure he thinks that he can still compete at the very top, as he's done throughout his career. Obviously at that age you don't have the pace - not that he's known for his pace - but we know what David Beckham brings to a football club: his quality, his delivery, he can see a pass and he has his free-kicks. I'm sure he will contribute in many respects in that league.
Mario Balotelli's transfer from Manchester City to AC Milan
Jamie Redknapp: I've never been Balotelli's biggest fan. I think he's been a bit of a nuisance at times. He's obviously talented but I don't think he's produced what he should have done for Man City on a consistent basis. They've still got three really good forwards in Aguero, Tevez and Dzeko so do they really need anyone else? To have four and keep them happy is difficult. I think this is good business. AC Milan fans look very happy to have him and I don't think Man City fans will miss him too much.
Alan Smith: We'll miss him for his antics on and off the pitch - there was never a dull moment with him around - but I was surprised Mancini stuck with him for so long. I thought he gave him a lot of leeway in a way some other players wouldn't get. Balotelli didn't give enough, there's no question. If you've got a player the manager and team-mates can't depend upon you can't let that situation continue. He's out the door, they've got some money back and they can look forward. He was great for the headline writers and that side of him we will miss.
Neville: I don't think he leaves that big a hole because they've got three other good forwards. He's not been playing as much this season and I think they've got a good price for him. It's been an up and down time for him at City but he's going back home to a club he's fond of, which may suit him. In these next four-and-a-half years he'll have to prove himself because the jury's still out on him in respect of whether he's going to become a great player or a player we look back upon and think 'he has got big regrets'.
Christopher Samba's switch to QPR
Redknapp: When my dad went to QPR he realised he needed a forward with Cisse leaving, so he got in Loic Remy, someone with real pace who can score goals. Now he's losing Ryan Nelson so he's tried to find a quality defender, which isn't easy. Samba is a lot of money but you know what he brings: he's got Premier League experience, he's a bit of a warrior, great in both boxes, scores goals and defends set-pieces. It's needs must because you can get as much as £70m for staying in the Premier League and sometimes it's worth the gamble.
Smith: It's a gamble he's got to take, given their position. There's been a lot of players go to Loftus Road over the last 12 months - you could argue too many - but it's do or die now. Christopher Samba won't need too much time to acclimatise; he knows what's required. He's a battler, a fighter and a leader. With Ryan Nelson leaving they need that kind of character at the back where they have been weak.
Neville: I've not changed my opinion on QPR, I think they will stay up. They've got enough quality in that squad and should be doing so much better than they are - and that's over the last 18 months. Samba is a very positive signing and someone who's experienced being at the bottom end of the Premier League before. He's a powerful, strong centre half and he's a character as well. QPR need someone to grab the dressing room, someone with leadership qualities, somebody who won't let what's happening in the next few months affect them. It's about getting the ability out of the players now and that will happen if they've got a couple of strong characters in the dressing room.
Dowie: QPR have a wonderful opportunity to stay up because of one singing: Chris Samba. It is an amazing signing, although it's a huge amount of money. It's difficult to improve on the quality of Ryan Nelson but they've bought a better, younger, more energetic, more physical, more pacey version in Samba. He's not only an asset in the defensive area but also in the opposition's box. If he does go for Crouch as well, then they are two players who are game-changers in a relegation situation. Samba is a real coup for Harry Redknapp.
West Brom's Peter Odemwingie turning up at QPR when a deal wasn't in place
Niall Quinn: It would be such a humiliating situation for him to go back into his dressing room tomorrow. Has he been led down the path by somebody at QPR or by an agent? For his sake I hope somebody hasn't let him down. Will we see him back and kissing his badge in the next few weeks? It's such a terrible situation. The other thing is if you're a West Brom fan, you love him because he's been a real bright spark for them. You think you're losing him and it's terrible, but now you have him back and you're not really sure if you want him back because of his desire to get away. I always have a theory that the person at the bottom of all of this is the fan. What do they think? West Brom fans will be looking at this and scratching their heads tonight.
Danny Mills: I think he's maybe been misled and he's been very naïve. He hasn't covered himself in any kind of glory whatsoever. The rumours are he had a conversation with Dan Ashworth, the technical director at West Brom, and he obviously believed at that time a deal was going to happen. Possibly agents get involved and it becomes a case of Chinese whispers and when two, three or four people start telling a player something he starts to believe it. He made his way down to QPR presuming a fee has been agreed, but it hasn't and it's all blown up in his face. He said his goodbyes, thought he was going to move on and suddenly he may well have to go back to West Brom with his tail between his legs. He came out on Twitter earlier in the week saying he wanted to leave and I think he's been very naïve and now looks a little bit daft.
Arsenal's purchase of Malaga left-back Nacho Monreal
Graham Hunter:
Arsenal are getting a Spanish international at his peak at value, as Malaga needed to sell to clear their debts and avoid incurring a year's ban from European competition. Monreal has the attacking style associated with Arsene Wenger full-backs, but he can also defend and was part of a team that won its Champions League group. He is the perfect composite of Spanish and English that we enjoyed watching with Cesc Fabregas and Xabi Alonso; he will be able to handle the physical contact, is very technically adept and quick, too. He is as much a wing-back as he is a full-back, but his tackling ability will make Arsenal fans feel more secure about their defence.
Aston Villa's new signing Yacouba Sylla
Simon Jordan: Looking at the situation at Aston Villa, you're looking at an owner [Randy Lerner] that appears to be disenfranchised with the club and the sport because he's not investing any money - and I use the term 'investing' very loosely when I mean 'giving'. Then I look at the manager curiously, thinking is he trying to make a point here? Aston Villa are sinking - and fast - and to have signed a player, with no disrespect to the young man, of a calibre of coming out of the second tier of French football as the methodology of getting yourself out of the problem you're in, doesn't seem to be sending the right message to anybody. I don't know whether Lambert is sending a message, but I don't think he's doing a particularly great job.
Liverpool's acquisition of Philippe Coutinho
Redknapp: He is an exciting young talent. He played against Tottenham in the Champions League a couple of years ago and is great in one-on-one situations. He'll certainly excite Liverpool fans. As soon as he receives the ball you can see from a mile off he's a Brazilian. He's got lots of tricks and likes to cut in from the left. It will be interesting to see how he gets on because he was very highly rated when he joined Inter. We'll see whether he can reach his potential at Anfield. They've also brought in Daniel Sturridge in this window so I think Liverpool will be quite happy with what they've done in the transfer window.
Guillem Balague: Coutinho is a bit irregular and tried a bit too hard at times when he was on loan at Espanyol last season. He needs to improve on his fitness, but he is only young, has vision and he can do magical things with the ball. It seems like he will be on the left of a 4-3-3 or a 4-4-2 at Liverpool, which will give him the freedom to create, and in a year we will be talking about him as one of the stars of the Premier League.
Norwich's swap deal with Leeds involving Becchio and Morison
Yorke: That doesn't surprise me at all. Norwich have been struggling a little bit and have been looking to bring in players to freshen things up. Chris Hughton has done a fantastic job at Norwich and I'm sure he will continue to do so with Becchio joining them. He's done extremely well at Leeds, has scored 19 goals this season and it doesn't surprise me that Premier League teams are looking for players that can compete at that level. Becchio has been having a fantastic season so far and at this stage of the season they are looking to try and thrash out deals as fast as possible. A player is going the other way as part of the deal and that doesn't come as a surprise. Ideally, some clubs would like to have cash in hand, but if a player can add something different to the squad then a swap deal is a way for teams to operate as well.