Jeff Stelling asks why Neil Adams surrendered Norwich to relegation
and recalls his favourite final day moments...
Last Updated: 08/05/14 4:40pm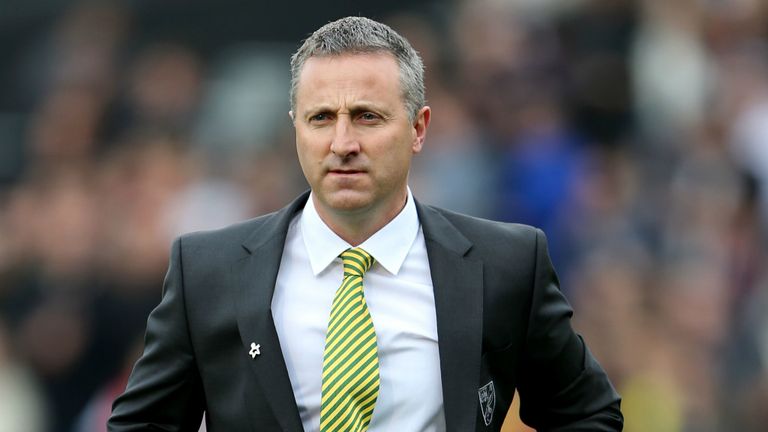 With their fixtures there was no way they could possibly survive before they went to Manchester City and got that point; that seems to have been the platform for them to build on.
Nobody can say they don't deserve it, they've done it the hard way and Gus Poyet deserves huge credit.
But, as for Norwich, they're down and I'm disappointed for them. They showed plenty of ambition at the start of the season in the transfer market but, a) they got their spending wrong, b) they sacked their manager at the most ludicrous time of year, and c) it seemed to me that their new manager, on Sunday at Chelsea, lacked the courage from the bench that his players were showing on the pitch.
I was shouting at the TV in the last 15 minutes for Neil Adams to bring another striker on. The ball was going up to Johan Elmander, when he was on, and the big man was surrounded by three or four Chelsea players. He had nowhere to go at any stage.
Personally, I found it surprising Gary Hooper didn't start, but when Adams brought Nathan Redmond on as a straight swap and not another striker I thought it was shameful. It was accepting relegation.
They knew, as hard as it was, they had to win that game. Why didn't he try and win it? I was as frustrated as hell.
Any other game of the season 0-0 at Chelsea is a great result. They put their bodies on the line but they were let down by their manager - who I don't know and I've never met - not being bold enough to put on a second forward. Gary Neville kept alluding to it in his commentary and I was right with him, it was surrender.
Jose Mourinho even gave them a helping hand by not starting Eden Hazard. It was there, they just needed to create an opportunity. If they'd have leaked a goal in the last ten minutes it wouldn't have mattered, in that sense, because at least they'd have gone down giving it go.
By the way, on the day the players were terrific. I thought they were let down by the decision making of the management team.
If Delia had been down on the touchline she'd have done the bold thing. She was probably as frustrated as me.
But, somebody has got to go and unfortunately it's Norwich, who are a nice club. I know a lot of the fans by the end were anti-Chris Hughton but, watching from afar, I always thought he did a good job. They overachieved last season and maybe expectations were a little too high for this one, especially after all that money was spent.
Final day drama
This week's Soccer Extra should be straightforward because we've only got the ten Premier League games and a couple of play-offs to focus on. Principally it's all done and dusted; Manchester City just need to dot the i's and cross the t's and that's it.
If West Ham go to the Etihad and score first then suddenly, what looked like a fairly routine finish to the season, becomes anything but.
Last weekend was a completely different kettle of fish, though!
There were so many things to plan for: promotion, relegation, who might reach the play-offs. I was surrounded by more paperwork than I'd ever been surrounded with before; with options of who might go up, league tables and goal differences.
As we went along I'd constantly update these. It's absolutely critical at that stage of the season that we don't make a mistake.
It's always a relief when it's all over and, hopefully, you've got all of it right.
There's been so many dramatic final days and of course, that Sergio Aguero goal in 2012 was one of them. Merse absolutely excelled with his famous 'they're giving each other love bites' line that day.
Then there was the famous Jimmy Glass moment, where the on loan keeper scored the winning goal to keep Carlisle up and send Scarborough down. Now that was pretty dramatic.
My lot have been involved in a lot of last day escapes. In 2010 Hartlepool had three points deducted for fielding an eligible player; those points came off in the final week of the season. We had to go to Brentford and get a point not to be relegated. We were the last game to finish with six minutes of added time and I remember those six minutes of time being inordinately long before shouting, 'Have that Football League!' when the final whistle went.
Then of course Brentford, last season against Doncaster, with Marcello Trotta's penalty miss and Johnny Phillips watching Watford and Leicester with the penalty miss.
There's millions of them. Last days are great.
We've had a brilliant season, whether it be Premier League or otherwise, there have been so many twists and turns. Every week has offered something different.
JEFF'S GEM OF THE WEEK
There were some good performances this week from sides that didn't win; Birmingham at Bolton on Saturday and then Crystal Palace against Liverpool on Monday, but my gem this week can only go to one team and that's Wycombe.
Their 3-0 win at Torquay secured survival and it did make me smile. I'd read all the stuff with Gareth Ainsworth saying he'd dreamt he'd be celebrating with the fans at Plainmoor after staying up and to be honest, I thought it was a pretty unlikely scenario.
I didn't think Bristol Rovers would lose at Mansfield. Whilst flicking around the games I watched some of it and I was really so disappointed with the performance. I haven't seen Rovers during the season, so I don't know whether they always play this way, but it was long throws and lumping the ball forward against a pretty big and physical side.
I hope Wycombe stick by Gareth Ainsworth now they've survived because he's a bright young manger and I think, despite their problems this season, he's still popular with the Wycombe faithful. Hopefully he and the Wanderers can kick on from this.
For Bristol Rovers it's a bit of disaster with plans for a new ground afoot. But they have a big fanbase so there's a chance they'll bounce straight back and to be honest, they probably need to.