Ray Wilkins says QPR should stay up, but Norwich still aren't safe
Ray Wilkins says QPR should stay up because they are better than several sides above them.
Last Updated: 02/02/13 4:02pm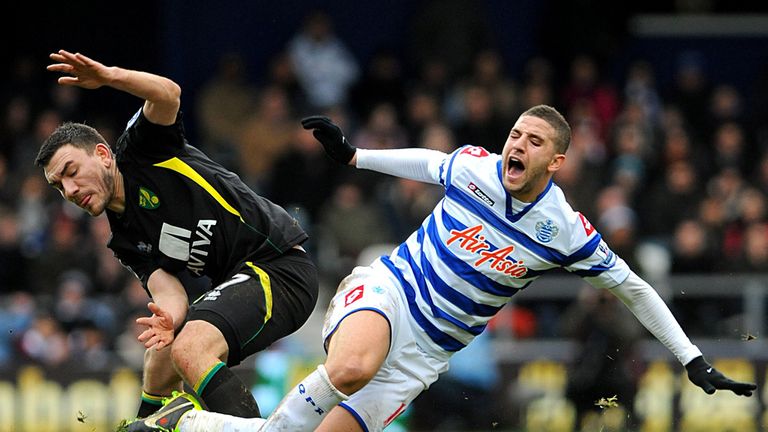 Harry Redknapp's side kept their fourth clean sheet in five Premier League games as they battled for a 0-0 draw with Norwich, but they might have recorded only their third league win of the season if Adel Taarabt had beaten Mark Bunn with his 55th-minute penalty.
But despite the lack of victories, Wilkins feels the new-look team - four players made their league debuts for QPR during the game, while Bobby Zamora returned from injury as a second-half substitute - have shown enough to suggest they can lift themselves off the foot of the table.
He says Norwich, who are 11 points ahead, are still not yet safe and QPR look more consistent than some of the teams above them.
"They're quite stable at the moment and defensively they look solid," Wilkins told Sky Sports.
"I think they're going to be okay, purely and simply because I don't think the teams above them are that much better. Whilst Queens Park Rangers aren't winning too many games I can see the others losing games.
"Yes, they have got to start winning, there's no two ways about that. You need Zamora fit -and you could see the difference in the second half when they created numerous chances - because they had somebody up there who could get hold of the ball and allowed the rest of the side to join in and play some attacking football. That's what's required.
"We've got a very similar season to last season. I think it's going to go to the wire at the top and it's going to go to the last game at the bottom as well. I think that's what's so good about the Barclays Premier League at the moment; the competitiveness whether it be at the top or bottom.
"Even Norwich on 28 points, you've only got to hit a bad bit of form and the others get a couple of victories on the spin and you're all in it.
"Then mentally your attitude totally changes as to how you play. They were so nervous in the first half, not only Queens Park Rangers but Norwich as well, and that's inevitable. You are going to be nervy when you're coming from the bottom trying to get out of it. It's tough.
"You can't say at the moment. From 28 points down you could still be really in the mire within a month."
Threatened
Former Norwich midfielder Darren Eadie was also in the Sky Sports studio and he doesn't agree that his old club will be drawn into the relegation mix.
But he feels that QPR are in good shape to beat the drop if they can start finding the net more regularly.
"I still think there's points to play for and they're only three off safety," Eadie said.
"I'm with Ray. I think they'll be okay. I've seen enough out there in an attacking sense that they can score goals. I know they haven't today, but they threatened more than Norwich did.
"I think they'll be fine, I really do. I think there's three or four teams above them which will be struggling more than they will come the end of the season and that's what it's all about.
"It's not about what's gone previous, it's about what they've got now until the end of the season and I think they've got enough.
"I think it's a percentages game for Norwich at the moment. As long as they keep picking up points away from home, that's the most important thing.
"They've got three games out of the next four at home, so two wins and they're safe."