Queens Park Rangers' Junior Hoilett quizzed ahead of Sky Bet Championship play-off with Wigan
We put Junior Hoilett on the spot ahead of Queens Park Rangers' Sky Bet Championship play-off with Wigan Athletic.
Last Updated: 12/05/14 11:29am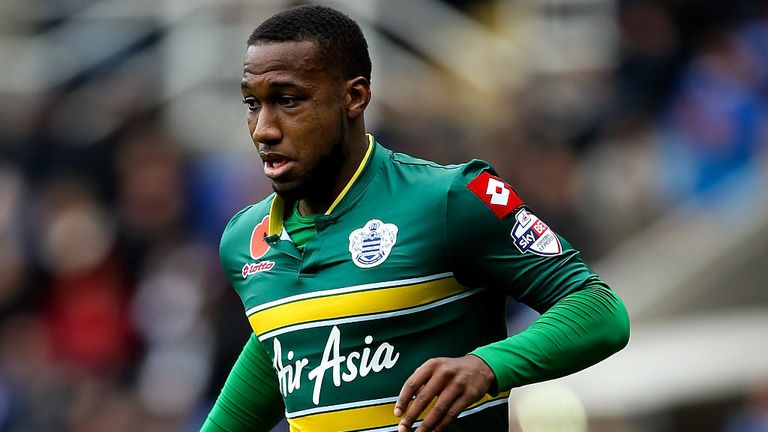 1. Biggest dressing-room joker?
I'll have to pick two here - Jermaine Jenas and Shaun Wright-Phillips. They're always up to something. But there are a few jokers in our dressing room to be honest.
2. Best practical joke?
I'm not sure who did it, but Danny Simpson posted a selfie of himself, and it ended up being printed off and put up all over the training ground. Wherever you went, you saw this picture of Danny staring back at you - in the toilets, the dressing room, everywhere.
3. Who do you room with when you travel away?
Nedum Onuoha, He's a great guy and a perfect room-mate.
4. Best manager played under and why?
Excluding the current manager, I'd say I've learnt different things from everyone I've worked under. The manager I excelled most under was Steve Kean at Blackburn.
5. Hobbies away from football?
I like listening to music, playing dominoes and playing FIFA.
6. Who's the worst dressed player at your club?
I'd probably go for Armand Traore. He has a very strange style!
7. Who's got the worst haircut at your club?
Ravel Morrison, no doubt!
8. Best player played with and why?
I can't pick just one! I would say Martin Olsson, Loic Remy and Yakubu. They're all great players and I loved playing with them.
9. Best player played against and why?
I'd say Branislav Ivanovic. He's really strong and not too slow either!
10. If you were the manager and could sign one player from the division, who would it be and why?
Danny Ings. He's had a great season this year, scored plenty of goals and looks so natural when he does it.
11. Best banter with an opponent?
Can't really think of anything to be honest.
12. Favourite goal you've scored?
It was against Wolves on the last day of the 2010/11 season for Blackburn. My goal helped to keep us in the Premier League. I enjoyed that one!
13. Favourite stadium to visit?
I'm an Arsenal fan so I would have to say the Emirates.
14. Who is your favourite celebrity on Twitter?
I'm not on Twitter so can't give you an answer on this one!
15. Have you ever been star-struck? If so, when and who by?
I remember when we played against Arsenal, Thierry Henry was in the tunnel, and I was like, 'wow, that's Thierry Henry!'
16. Best chat-up line used/heard?
I don't really use them. It just comes naturally!
17. Ultimate football ambition?
To play in the Champions League. That would be incredible. I've watched it since I was a kid and I love everything about it - even the music beforehand.
20. Have you got any nicknames at the club? If not, are there any good ones?
No, it's all a bit boring really. People just call me Junior, and the other nicknames are just what you'd expect.
21. Do you have any pre-match rituals?
I have a bath the night before a game, and on the day I listen to my brother's rap music.
22. Most embarrassing moment in football?
I got knocked clean out when I was playing for Blackburn against Fulham. I didn't know anything about it and wanted to play on.
23. If you weren't a footballer what would you be doing?
My dad is a DJ so I would probably be involved in music as a producer or something like that.
24. Do you support a charity?
I have my own foundation, the Junior Hoilett Foundation, which sets up tournaments in Jamaica.
Sky Bet, title sponsor of The Football League, wants to hear your funny, quirky and crazy superstitions to put you in with a chance of winning tickets to the Sky Bet Play-Off Finals. Go to www.skybet.com/skybetboost or tweet your superstition to @SkyBetFL with #SkyBetBoost. Terms and conditions apply."