West Brom's Boaz Myhill tells Johnny Phillips it's great to be part of Baggies' success story
Goalkeeper Boaz Myhill is relishing the chance to be part of West Brom's unified squad, says Johnny Phillips.
Last Updated: 21/11/12 1:36pm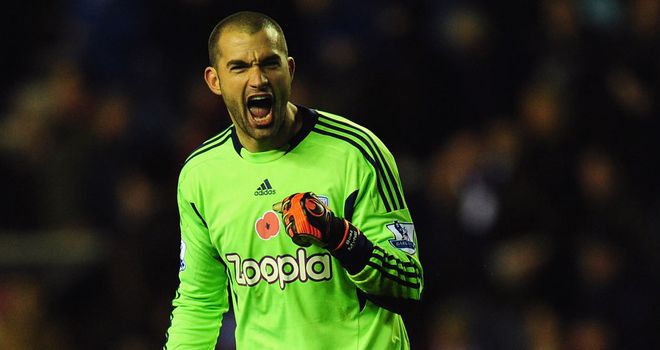 For almost two hours he listened to and answered questions from the children, signed autographs and spoke to them with some eloquence about a topic that, sadly, has dominated the sports pages this season. And he did all this at the drop of a hat, filling in for a Premier League player from another club who dropped out at the last minute.
There were plenty of Aston Villa fans and a few admitting allegiances to Birmingham and Wolves in the classroom too, but there's no arguing who the team of the moment are in this part of the world. West Bromwich Albion sit fourth in the Premier League table and head into Saturday's live lunch-time game against Sunderland on the back of a fantastic 2-1 victory over Chelsea.
Confidence
One of many Albion players on top form at The Hawthorns last Saturday was the Welsh international keeper, deputising once more for Ben Foster. It was Myhill's second successive league start of the season and he has walked into a team full of confidence.
"It's always been a great club to go in and work at. There's no-one you wouldn't want to get left in the dressing room with one-on-one. That shows on the pitch because everyone is willing to go that extra yard for his mate," explained Myhill."
It can't have been easy for Steve Clarke this summer to walk into his first job at the helm after many years playing second fiddle to more famous managerial names. He was replacing Roy Hodgson, who had answered the call from his country after guiding Albion to an impressive top half finish. The transition appears to have been seamless. And Clarke's management style has won many admirers.
"He's exactly as you'd expect him to be," added the keeper. "He's a very level-headed and modest type of guy. He won't tolerate anything other than that from his players and I think that's a really good quality. He's the kind of manager you just want to do well for. That's been reflected in the performances so far this season."
Organisation
The team is well balanced. Claudio Yacob and Youssouf Mulumbu help protect a defence that many thought would struggle this season. They counter attack with speed, moving the ball quickly from back to front. And, in sight of goal, Peter Odemwingie and Shane Long are blessed with natural composure. When pressed for his own thoughts, Myhill was in doubt about what has taken Albion this far.
"Team work, good shape, organisation. The strength of any club is also the strength of the players who come in when the manager can't pick his first eleven. Hopefully that will stand us in good stead for the rest of the season."
Myhill seemed happiest talking about others, but his own performances in the last two games shouldn't be allowed to pass without comment. He has been a patient understudy to Ben Foster and is clearly an invaluable member of the squad. The 30-year-old is relishing his chance.
It's hard to guess where The Baggies can go from here. With virtually a third of the season gone, their progress is authentic, it's no flash in the pan. Keeping the standards so high will be a tougher task, but if they can maintain their imperious home form there is no reason why they shouldn't be looking to improve on last season's finish at the very least.
Under Hodgson they finished as the top dogs in the region for the first time in 33 years. Barring an upturn in fortunes from Aston Villa they will be number one in the West Midlands again, but perhaps the time has come to aim for more than just parochial pride.
You can see the full interview with Albion's Boaz Myhill on Soccer Saturday this weekend.