Spurs' Steven Caulker is displaying a maturity beyond his years, says Johnny Phillips
Tottenham's Steven Caulker is displaying a maturity beyond his years, says Johnny Phillips.
Last Updated: 31/12/12 3:05pm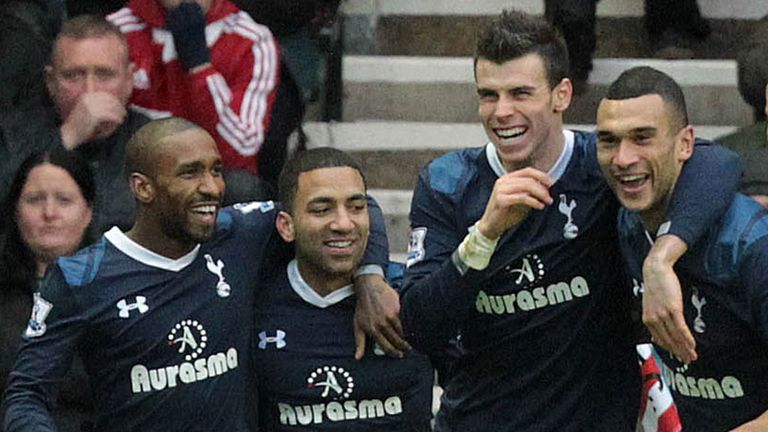 Yet Caulker only turned 21 on Saturday. Here is a prospect that Spurs fans are rightly excited about.
The youngster puts a good deal of his development down to three crucial years spent away from White Hart Lane, when he spent time on loan at Yeovil, Bristol City and Swansea.
"My aim coming back to Spurs this year after three years away on loan was to break into the side this season," he explained. "They were massive years for me, especially going to Yeovil at 17 to get that taste of first team football. Then I stepped up the leagues in the following years. I really enjoyed it and it helped me take big steps forward. I was very inexperienced going out at 17 and I've managed to get 100 games behind me coming back to Spurs."
Competition
Caulker is fending off strong competition to keep his place in the side. Ledley King's retirement undoubtedly left a void that needed filling. If comparisons with King are unfair at this stage, the player himself is more than happy to talk about the former stalwart of the defence when I asked what his own strengths are.
"With Ledley King retiring, he was someone I looked up to," Caulker added. "He was fantastic on the ball with right or left foot. I like to get on the ball and relax. And with my height, I'd like to say my heading. I've managed to get a few goals this year and I'd like to get more and it's something I'm working on."
Caulker's first full season in Tottenham's first team promises to be as competitive as ever. Last season's battle for fourth spot went down to the wire and the Feltham-born defender is anticipating another close-fought battle, with Spurs prevailing.
"I'm confident we're going to get that top four spot," he predicted. "That was our aim at the start of the season. We're on track to do so but we'll have to work hard there's no doubt about that and it's going to be a rollercoaster season now with ups and downs, there's a lot of strong competition."
Maturity
When we met up at Spurs training ground ahead of the Christmas fixture programme, Caulker was clearly enjoying his surroundings back at the club he joined as a 15-year-old. He is displaying a maturity beyond his years. That much was in evidence by the way he handled himself in the aftermath of the England Under 21 match in Serbia earlier this season. Handed a two-match ban by UEFA for his part in the brawl his response has been dignified. While those close to the set up believe Caulker was amongst the playing victims of intolerable abuse on the day, the player has held his counsel. Now he just wants to concentrate on holding down his first team place at Spurs.
"To have quite a good run in the team, I was quite proud. Because I joined Tottenham when I was 15 so it's taken five years of hard work and graft, a lot of it on loan, but I'm glad to be back and putting that Spurs shirt on."
There will be much water to pass under the bridge between now and May. Andre Villas-Boas' first season in charge has already brought plenty of drama, but Caulker is taking his chance and clearly relishing the opportunity that has come his way.
Catch Gillette Soccer Special on New Year's Day from 12pm on Sky Sports News HD.