Shrewsbury winger Jon Taylor could step up the divisions, says Johnny Phillips
Soccer Saturday's Johnny Phillips says Shrewsbury winger Jon Taylor could be destined for big things.
Last Updated: 09/01/13 3:13pm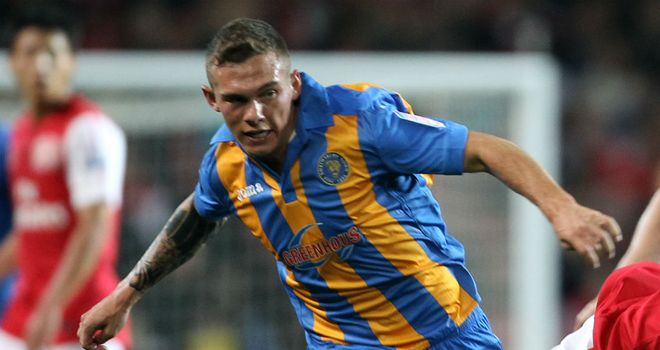 In the Premier League the hot air of the transfer window can seem interminable as the 'on-off' moves of players we already know too much about are discussed at great length - and then a little bit more length for good measure.
There is no value to be found and only occasionally do the transfers prove beneficial to all parties - which is why clubs often take a punt on players lower down the leagues.
Crystal Palace fans are fearing that Wilfried Zaha will be poached from under their noses and derail a promotion campaign, but if fans and managers usually want their stars to remain, chairmen often see a quick fix to mend the latest set of debt-laden accounts.
Zaha is certainly the most celebrated Football League player at the moment but there are plenty more talents with suitors further down.
Exactly what Shrewsbury's finances look like at the moment or what manager Graham Turner's plans involve for the fight to keep his club in League One are none of our business.
But amongst the Shrews squad is a player who is starting to show why he was once a young hopeful at a Premier League club.
Settle
Jon Taylor wasn't even a first-team pick when the season started but when he got his chance in Turner's side he took it.
The 20-year-old has lit up the New Meadow in recent weeks with his exciting forays on the wing, but he acknowledges it has taken time to settle in to regular first team football.
"I'd say this is my best season so far," Taylor explained. "I'm playing at the highest level I've played at; I think I'm playing well, and scoring goals helps, too.
"My aim for this season is to help Shrewsbury remain in League One and finish as high as possible. Obviously for the future I want to play at the highest level possible."
The Liverpudlian is at a club that has looked after him since he suffered the disappointment of being rejected at the top level, following seven years with Wigan Athletic as a youth-team player. His manager is one of a select band in all four divisions with over 1000 games under his belt.
"Graham Turner has played a key part so far in my career; I've played over 80 games under him and learnt a lot from him on and off the field," said Taylor.
"I think Shrewsbury is one of the best clubs around for giving young players a chance. During my time here a lot of players have broken into the first team. I think if the manager thinks you're good enough then he will play you regardless of your age."
Environment
Taylor had a good grounding in the game. He is from the same area of Liverpool as his idol Steven Gerrard and spent much of his youth kicking a ball around the streets and playing fields of Huyton.
"My football has always been very competitive from an early age," he added. "There is a great football history in Liverpool and a lot of good players have come from this city.
"The best moment for me at schoolboy level was playing for Knowsley Schoolboys and winning our league's treble. I also scored a record number of goals that season, and it's something I've proud of."
Speaking with Taylor it's clear that he's ambitious but also appreciates the environment he's in now.
As you'd expect for a Scouser, his family are mad keen fans, too, and have closely watched his career from those schoolboy triumphs to his first steps in the Football League.
Scouts are starting to sit up and take note as his potential begins to come through.
Taylor may not be the big name who occupies the thoughts of the reporters writing their back pages at this time of year, but his progress will be worth keeping an eye on.
Tune into Soccer Saturday from 12pm on Sky Sports News HD, channel 405.