Johnny Phillips on why clubs from the West Midlands are struggling for success
Johnny Phillips mulls over the current struggles faced by the one-time high-flying West Midlands clubs.
Last Updated: 11/03/13 4:29pm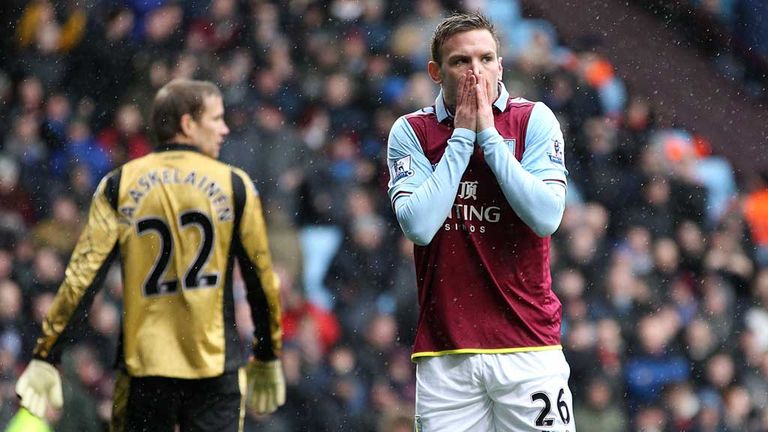 It was an off-the-cuff remark made to me a decade ago but it has stuck in my mind ever since.
We were having a conversation about the relative lack of success, in football terms, in that particular part of the West Midlands: Birmingham and the Black Country. It is a conversation that is just as relevant today.
Why has such a densely populated area, which includes the second largest city in England, full of teams with substantial heritage and supporter-base, had so little to shout about for the last 30 years?
Local rivalries spur sides on, although they can also be an unhealthy obsession if the competition isn't good enough. Sir Alex Ferguson had the incentive and made it his raison d'etre to knock a great Liverpool team off their perch when he took the reins at Old Trafford. And with Everton also winning at home and abroad, there was plenty of competition in the North-West back then.
By the time he did win his first title there was a new local threat. Blackburn Rovers scuppered Fergie's hopes of three in a row, winning the title in 1995. And now, of course, it's the noisy neighbours at Manchester City who are banging their drum on his doorstep.
By contrast Arsenal, flying the flag for London alone, made the running under George Graham as the Eighties turned into the Nineties. Arsene Wenger subsequently led them into the new century. It was some years before Chelsea challenged their capital status. Today, Spurs have ensured three teams in the city will be competing for Champions League places this year.
Given its size, there is no excuse for London not being represented at the very top, but pipping their rivals gives each club that added incentive.
Trophies
And it should be the same in the West Midlands. Aston Villa, Birmingham City, West Bromwich Albion and Wolves are four big clubs, all blanketed over a 13 mile conurbation.
When winning games they can each boast attendances to sustain them at Premier League level. Three are founder members of the Football League and all, bar Birmingham, have won the league championship.
Wolves and Villa can add a sackful of FA Cups between them to those title hauls. Yet since Aston Villa's European Cup win in 1982, the intervening three decades have produced just three major honours - all of them League Cups. Villa won two, in 1994 and 1996, and Birmingham won the other in 2011. That is not a very good return.
This season is possibly the worst in a generation for the area. Albion can be well satisfied if they achieve a top-half finish, but it won't be the local rivalry that's spurred them on. Aston Villa are looking a decent bet to be relegated.
A division lower, Birmingham City have spent most of the season keeping an eye over their shoulder at the relegation places as a hoped-for promotion push never materialised. But it was never likely to with the club's owner Carson Yeung bringing financial turmoil.
Wolves can only dream of merely casting an eye on the relegation battle. They are wading knee-deep in the thick of it after a disastrous 12 months.
When Mick McCarthy left last February his side had only just slipped into the Premier League's relegation zone. His replacement, Terry Connor, didn't win a game and his successor, Stale Solbakken, struggled to come to terms with the demands of the Championship.
The Norwegian was sacked before he could get his feet under the table, with the club heading down the division and losing at non-league Luton in the FA Cup. And his follower, Dean Saunders, has won only one game.
A third tier with both Wolves and Birmingham in it next season is highly unlikely, but is not as unimaginable as it once would have been. It is where the West Midlands' other two clubs, Coventry City and Walsall, currently ply their trade.
Worry
More worryingly in these parts is that, with perhaps one exception at The Hawthorns, there is no light at the end of the tunnel for the long-suffering supporters.
Under Steve Clarke, Albion have been very impressive in spells, just as they were under Roy Hodgson last season when, for the first time in 33 years, they finished above Villa in the table. That was seen as something to celebrate.
So what? Parochial rivalry is only worth anything when the competition is fierce. Now it is at an all-time low. The Baggies have a chance to rise above this pit of mediocrity and should be aiming for the Europa League if they want to show the rest that they really are a club on the up.
Villa have to get this season out of the way before they can regroup. But it is doubtful Paul Lambert will be given significant funds over the summer. A young side has shown promise at times this season, but it isn't that long ago that stellar talent was on show at Villa Park. The chances of quality players like Gareth Barry and Ashley Young turning up at the club any time soon are slim.
Birmingham actually turned in a £15.7m profit for the last financial year, but £21m is owed to Yeung and another company. Until the ownership is resolved it is hard to see the Blues challenging for promotion. Manager Lee Clark's public criticism of Nikola Zigic was symptomatic of the problems this season. Not everyone at St Andrews is pulling in the same direction.
And what about Wolves? The club's hierarchy has come under increasing flak from supporters as the side slid out of the top flight and down the Championship. An impressive new North Bank stand towers above the rest of the ground, a grand show of ambition that has not been realised. Plans to rebuild the Steve Bull Stand and South Bank in the same style have been shelved, leaving the new stand looming awkwardly over the rest of the ground. A haphazard approach to managerial appointments hasn't aided their cause.
It's a great shame for the area. In a time of economic uncertainty, football clubs can do wonders for community spirit. In South Wales, Swansea's efforts have seemingly roused their arch rivals Cardiff. Both cities are embracing the feel-good factor of football. On the South Coast Southampton are back after a period of decline and Brighton are attracting gates of 25,000 at their new home as Gus Poyet leads a promotion push. The Amex Stadium is a fantastic place to watch football right now.
Not everywhere can expect to prosper and there will always be good clubs falling on hard times. Just ask Portsmouth. It's part of the cycle. But surely it's about time there was at least one team in the entirety of the West Midlands for the others to really aspire to, and beat.
You can see our feature on Wolves's battle to avoid relegation on Soccer Saturday this weekend.