Scott Parker says Spurs are 'coming stronger'
Scott Parker tells Johnny Phillips that Spurs are determined to end the season with a flourish.
Last Updated: 13/03/13 3:58pm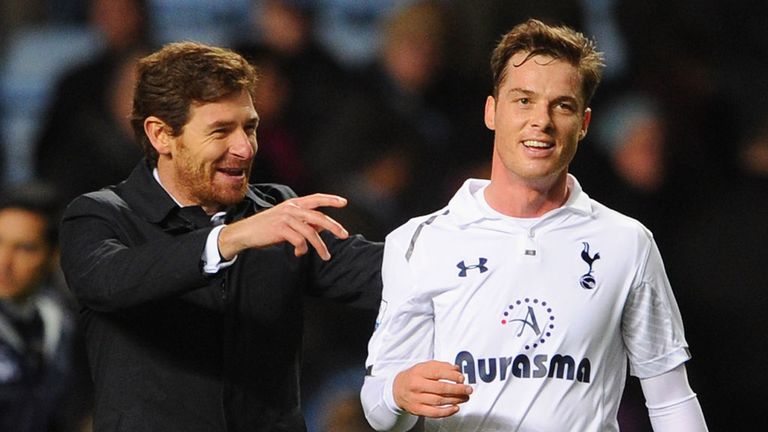 Spurs' partnership with the academy is one of many that the Tottenham Hotspur Foundation has forged in the area. The school was struggling both academically and with behavioural issues amongst the students, but by basing coaches from the club at the school and offering both sporting activities and educational assistance, Nightingale Academy is already experiencing a turnaround in fortunes.
Parker was impressed by what he saw, saying, "Grassroots work is something I'm aware of from growing up and I think it's good that a club like ours can support something like this and offer help to kids. When you can come into a school like this and they see a player representing the club it gives them a lift."
Transition
Despite the weekend's defeat at Liverpool, which the player believes was a setback in the pursuit of a Champions' League place, Spurs are making fine progress this season. The travails of the early part of the season seem a distant memory.
"I think we've done very well. There has been a lot of transition," added Parker. "We've moved to a new state-of-the-art training ground which is very, very good. We've had a new manager come in too. There was a lot of negativity around his appointment but he's done a fantastic job. He's turned a lot of opinion round, including some of our own fans.
"I think we're progressing steadily. Things have gone pretty well, we're playing some good stuff. It was disappointing at the weekend, especially coming out of such a long run of games where we were unbeaten. I suppose runs do come to an end, albeit you want them to last as long as possible. But we need to keep improving and fighting for that fourth spot."
So much of the focus recently has been diverted on to Gareth Bale's form. The Welsh winger appears to be getting better by the week, but Parker was keen to stress that it is more than just a one-man team.
"We're a very exciting team, we've got a lot of pace in our side. Our forward play is very eye-catching. But we've also got a good defensive base behind that which is important. It's a very good squad to be involved in."
Stronger
Parker has endured a frustrating wait for to get a run in the side this season. He picked up an Achilles tendon injury while away on international duty at last summer's European Championships and has only recently put the problem behind him. As he prepared to fly out to Italy for the second leg of the Europa League tie with Inter Milan, the 32-year-old acknowledged the challenges that lie ahead for the remainder of the season.
"When you play Thursdays and Sundays it can put a lot of pressure on you as a team but I think we're coming stronger. We realise that we've got some difficult fixtures coming up, but I think we're in a good place at the moment, but we need to bounce back from the defeat at the weekend, which I'm sure we will. There's a great attitude amongst the lads and that's our first aim, to do that and go on another run."
The players are clearly driven on by a desire to be successful at home and abroad. I also asked Parker how long it would be before Spurs could be spoken of as genuine title-challengers. It wasn't a question he shied away from but he recognised the dangers of getting too carried away, preferring to focus on the here and now. The priority has to be Champions' League qualification but there has been enough evidence in recent months that Spurs have the ability to challenge higher up. The supporters can look forward to an exciting future under Andre Villas-Boas.
You can see an extended interview with Scott Parker on Soccer Saturday at the weekend.