Johnny Phillips talks to Kei Kamara about civil war in Sierra Leone
Johnny Phillips talks to Kei Kamara about his journey from the Civil War in Sierra Leone to Norwich.
Last Updated: 30/04/13 6:42pm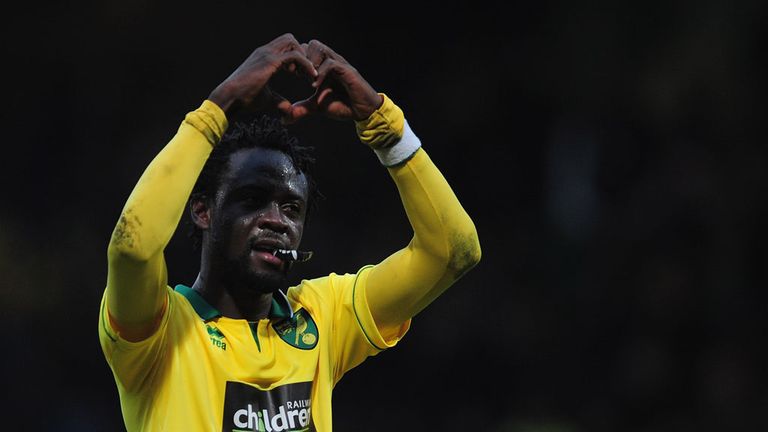 To do so after the summer upheaval of Paul Lambert's departure will be a significant achievement.
Chris Hughton's managerial credentials have stood up to the test and he has moulded a side capable of staying in the Premier League.
One decision that will have to be made over the summer is whether or not to make a move for Kei Kamara.
The on-loan Kansas City forward has been a shrewd acquisition. Kamara's strength on the ball and prowess in the air have made him a difficult proposition for opposing defenders and he has played his part in Norwich's fight for survival.
But this is a player who knows what it is like to fight for a chance. He is the first Sierra Leone international to grace the Premier League.
Brought up during the country's bitter civil war that last between 1991 and 2001, Kamara fled to the Gambia at the age of 14 before being given refugee status by the United Nations and being repatriated to America.
Bodies
"For me personally it affected me a lot," said Kamara. "My Mum left when I was six years old and went to America so I lived with my aunty. Not being able to go to school for months at a time was really not a good thing for a kid.
"The things we saw growing up, the dead bodies on the ground when we came out every day or somebody you knew like a neighbour getting killed in the war, it scares you as a kid."
It was in California that he was reunited with his mother, whom he hadn't seen for 10 years. Whilst here he took up as many sports as possible in order to gain a scholarship to university.
Football proved to be his route to success. He won a place at California State Dominguez Hills, whose campus just happened to incorporate the grounds of the Home Depot Center, LA Galaxy's home.
"I grew up a shy kid, but when it got to that point where I knew this was something I really wanted to do I went over there and the coach then was Sigi Schmid, a German guy," he explained. "Sigi allowed me to come in and watch training once in a while.
"And then when I was at university he let me train with the Galaxy while I worked at the Galaxy stadium so it was really great seeing guys like Cobi Jones. Every time he saw me around it was 'Hey Big Man, how you doing?' So it was a motivation and for me, up to this day.
Was David Beckham there too? "Beckham was there. Actually I have a great picture of when he first got to the Galaxy opening this academy and I was actually interviewing him and it was one of my highlights, it was a great picture. And then going back two years later to play on the same field it was amazing."
Kamara carved out a successful career in the MLS, playing for Columbus Crew, San Jose, Houston and Kansas City. Now, aged 28, he has arrived in England for a first shot at the Premier League.
I caught up with him at home in Norwich, where he is living just a stone's throw from Carrow Road. Unsurprisingly, he's loving every minute of it.
Playing
"It's a dream come true for me being in this league," he added. "And being in Norwich it's just like coming from Kansas City where people showed me a lot of love, people just welcome you, and the fact that happens makes me want to prove myself to them every day.
"It's a step up in quality but at the same time we do a lot of work out in America and the league has got a lot better since 2006 when I started playing. So obviously I've got used to it and got used to the pace in training and everything to get myself ready for games."
Kamara is one of the few players who gets to walk to work on a Saturday, and mingling with the fans is another of the experiences he treasures.
"Sometimes I'll see a few people and we'll chat on the way there and then again after the game," he says. "I'm always hoping the game goes well because if it doesn't I have to stay a few extra hours, but when it does I walk home with the fans and they're nice.
"They tell you good words and they get you going. I'm sure there's a lot of places where players can't do that because I've always heard how fans are crazy here watching games. But the thing about Norwich City they really welcome you and they're really behind the team, it's just like a family."
Spending just an hour chatting with Kamara, it was clear to see how much this opportunity meant to him. At 28 he probably thought his chance in the Premier League had passed.
English football is revered back in Sierra Leone and fans flock to cinemas every Saturday to watch his progress. A permanent move would be the icing on the cake for a player who has already overcome plenty of life's trials.