New Wolves manager must galvanise squad, says Johnny Phillips
Wolves aren't at rock bottom yet but their next choice of manager is crucial, says Johnny Phillips.
Last Updated: 12/05/13 1:52pm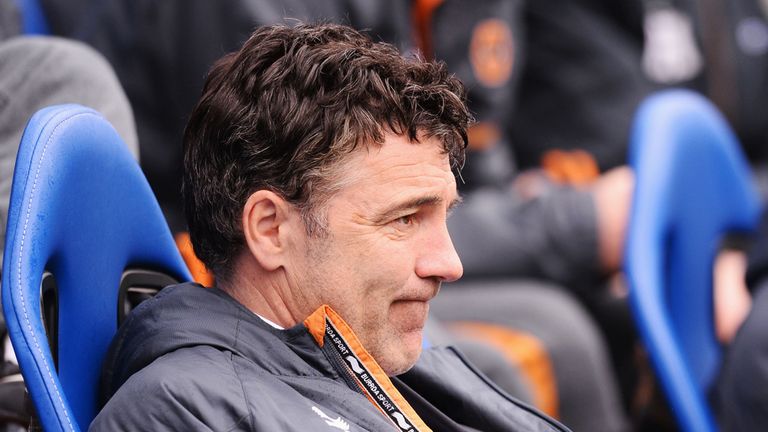 When Kazenga Lua Lua put the Seagulls in front after just five minutes they never looked back. A dispirited and demoralised Wolves side with everything to fight for folded in an abject manner, with Brighton keeper Tomasz Kuszczak a virtual bystander for the match.
A record crowd of 30,003 packed into the impressive Amex Stadium and the vast majority of those fans will be back one more time this season to see if Gus Poyet's side can complete a remarkable rise to the Premier League.
Damaged
But what of Wolves? They trudged home to the Black Country with the unwanted record of being the first side to slip from the top division to the third tier in successive seasons on two separate occasions. The last time they did it, they went all the way down to the bottom, between 1984 and 1986. Back then Molineux was run down and unloved and the club nearly went to the wall under the disastrous ownership of the Bhatti brothers. There was no appetite for football in the town, with only 2,205 bothering to turn up for a league game against Bury on 18th March 1985.
This latter day slump has been played out to a different economic backdrop. The Wolves board pride themselves on operating in the black. Crowds have remained relatively healthy and the new North Bank stand that owner Steve Morgan has built won't bankrupt the club in the same way that the John Ireland Stand did back in the 1980s. Morgan released a statement over the weekend admitting mistakes had been made by the board but he also laid blame on the shoulders of the players before declaring, "We must restore pride and passion into the team, rebuild our reputation and regain the trust and support of our fans."
It will not be an easy task. The soul of the club has been damaged over the past two seasons and it goes way beyond the results. Since Wolves won promotion to the Premier League in 2009, Soccer Saturday has enjoyed a great relationship with the club thanks to their proactive media department. Under Mick McCarthy's reign we were regular visitors, producing all kinds of features for our programme. Chris Kamara undertook the VO2 Max running test under the guidance of Steve Kemp and his medical team when the club was awarded category one status for their academy. We joined the Wolves Community Trust on regular schools and hospital visits. One day my cameraman got lost on the way to a Christmas hospital visit when I was due to interview George Elokobi. 'No problem' said Big George as I kept him waiting for half an hour. Instead of sloping off, he gave me a lift another 20 minutes across town to go and find the cameraman so we could do the interview.
We filmed a feature with Graham Hughes, the club's octogenarian dressing room attendant and historian, who proudly keeps a collection of memorabilia on display in the reception of the Billy Wright Stand. We enjoyed filming the players modelling on the catwalk at a charity fashion show to raise funds for local causes. Former player and club ambassador Matt Murray invited us along to various other events where the players would regularly be in attendance, such as the Punjabi Wolves charity ball.
Split
The players seemed to buy into what the club was trying to build back then. I also mention this to illustrate that there are many good people who have worked tirelessly behind the scenes for many years at Molineux. They will now face the prospects of cutbacks in their departments and possibly even job losses as the budgets are reassessed for a campaign in League One. Meanwhile, on Saturday at Brighton, midfielder Jamie O'Hara sarcastically gave the thumbs up to supporters who were singing a fairly harmless, if accurate, song about his wages not being value for money.
These are fans who have travelled at great personal expense to watch their team all season. If players are happy to lap up the adulation when the times are good they should be big enough to take a bit of flak on the chin when it is not going so well. O'Hara didn't hang around to applaud the fans at the end of the game, heading straight down the tunnel instead. His arrival in 2011 on top wages, along with that of Roger Johnson, split a dressing room that was built on a strong team ethic and had no egos. Those signings undermined McCarthy's previous good work.
Under Terry Connor, who was thrust reluctantly into the spotlight, and then Stale Solbakken, a man with no working experience of English footballers, the dressing room gradually became a divided and at times poisonous place. Dean Saunders didn't have a chance. All four men would no doubt do things differently given their time again, but that is consigned to history.
Collective
When Wolves slipped through the divisions first time around they went through a sackful of managers too. Five permanent ones and three temporary appointments between 1984-86. Eventually they settled on Graham Turner who, with the significant assistance of Steve Bull, worked small miracles to win back-to-back promotions in 1988 and 1989 and bring a bit of pride back to the town. But Turner did more than just win football matches. His promotion winning team was a close-knit bunch who dealt with adversity as a collective. On the occasion they were forced to train on the club's pot-holed gravel car park owing to a lack of facilities they turned it into a regular Friday pre-match ritual.
The 21st century Wolves is suffering no such hardships. And despite a second successive relegation there will still be thousands of fans renewing their season tickets next season. Morgan is lucky. Unlike the Wanderers of the mid 1980s, this club still has a decent heartbeat. Leadership has been in short supply in the boardroom but as any fan around in the 1980s will tell the club's owners, this isn't what rock bottom looks like. The next managerial appointment will be the most important one in a generation. Morgan can't afford to get it wrong.