Johnny Phillips attends the Show Racism The Red Card awards at the House of Commons
Johnny Phillips visits Parliament for a poignant night celebrating the MVPS in the fight against racism.
Last Updated: 19/12/13 3:15pm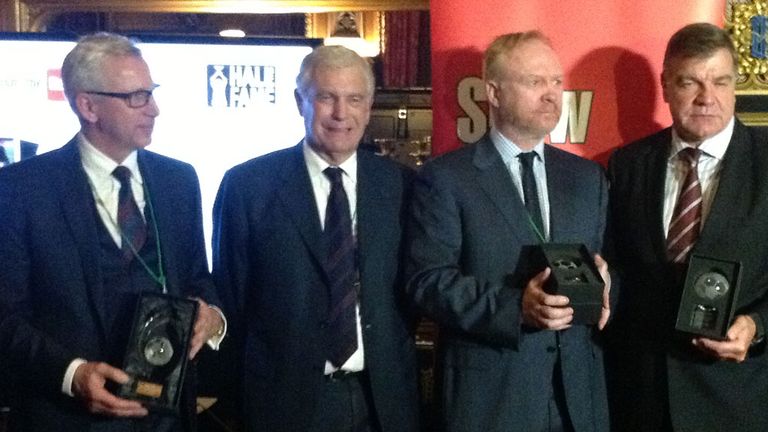 The event was organised by the campaign's Chief Executive Ged Grebby, who took advantage of the Speaker's offer to use the historic venue of the Committee Room at Westminster.
It was a grand setting for a fantastic evening. We were there to speak to Sam Allardyce, who was one of the Hall of Fame's inductees. The West Ham manager has always made a point of encouraging his players to support community events and campaigns during his long managerial career. Along with Newcastle's Alan Pardew, SRTRC recognised this with a presentation made by Sir Trevor Brooking.
Amongst the guests were campaigners for those who have suffered prejudice in many forms of life. There was MP Steve Rotherham, who played a significant role in the establishment of the new Hillsborough Inquest, and filmmaker Ken Loach, who has long fought the causes of those whose voices go unheard.
In the month that the greatest modern day campaigner against racism and prejudice passed away, there was an added poignancy to some of the stories that were told. One that really struck a chord came from SRTRC ambassador Leroy Rosenior, from his time at West Ham in 1990. He was sitting in one of the old baths in the changing rooms after a game at Upton Park when Justin Fashanu, who'd recently come out as gay in public, walked in. Fashanu climbed into an adjacent bath and as he did all the players already in there got up and left. Fashanu was an outcast. Rosenior admitted he didn't have the education and skills to deal with the situation and speak to his team-mates about it and help integrate Fashanu into the group. He watched on and did nothing.
When Fashanu hung himself some years later, that incident replayed over and over again in Rosenior's mind. He wished he'd done something at the time. Not because it may have saved him, but just because it was an incident of prejudice that went unchallenged. And who knows how many of those incidents had accumulated in Fashanu's life.
Tireless
Sadly there are still many examples of prejudice that go unchallenged in the today's game, but since 1996 SRTRC have been doing a great job in educating people. Not just those working in the game, but thousands of children who attend their education workshops at clubs up and down the country. They campaign against racism, homophobia, sectarianism and all forms of prejudice.
Over the last year Soccer Saturday has attended many of SRTRC's education workshops and events. And it's only when you see these in action that it becomes clear how tirelessly the campaigners work. Grebby heads up an organisation that relies on grants and charitable funding for its existence. Over the last 12 months we have met workers such as Gav, Paul, Jason and Sunil at events in Cardiff, Norwich, Newcastle, Birmingham and just about everywhere in between.
No club goes untouched by their work and each event is supported by former and current players. These role models often give up their time freely in the name of fighting prejudice and educating future generations.
Humbled
Allardyce himself was certainly humbled by the award. "It's not just about me on the front line because I'm a personality as a manager," he said. "It's also all the workers and the volunteers and all the guys who do so much to continue to promote this fantastic campaign in terms of continuing going forward."
SRTRC's campaign helps educate over 50,000 people annually. The event in Parliament this week was a chance to celebrate that work and also stress the importance of continuing the fight and guarding against complacency. After all, if they challenge just one person's prejudices then it's a fight worth continuing.
You can see our feature with Sam Allardyce at Parliament on Soccer Saturday this weekend.