Ray Wilkins
Football Expert
Finishing the job
Ray Wilkins expects Chelsea to be simply too classy for Benfica in Wednesday's second leg.
Last Updated: 04/04/12 8:38am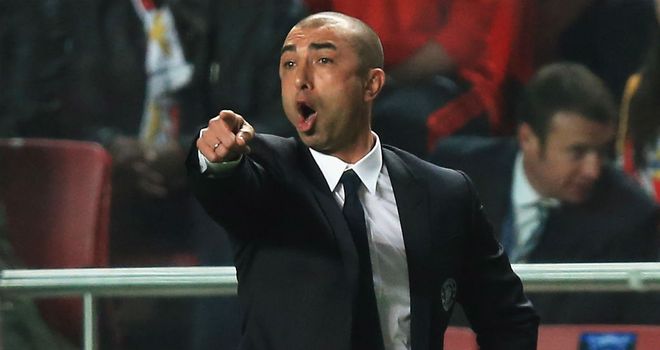 Chelsea welcome Benfica to Stamford Bridge on Wednesday night for their Champions League quarter-final second leg 1-0 to the good, and I expect them to complete the task and complete it well.
I don't think Chelsea will be trying to shut Benfica out - I think they'll be trying to beat them. Having seen the game in Portugal, there was very little coming from Benfica to suggest to me I should be worried about this game on Wednesday.
Roberto di Matteo will play 4-3-3 like he's done all along with the three guys up top. It'll turn into a 4-5-1 when the opposition are in possession of the ball and I don't see why they would change the way they play.
I honestly believe that any team Chelsea select will be too good for Benfica.
Options
Fernando Torres looks to have recovered some sharpness. He was the perfect guy to play at Benfica because they left space in behind their defence for him to exploit.
I don't think that space will be there on Wednesday night though - I think Benfica will sit deeper and try and hit Chelsea on the counter-attack because they can't afford to go another goal behind.
Because I think the visitors will not play as high a line as they did at their place, I think the ideal person to play up top this time round would be Didier Drogba if he's fit.
The Ivorian striker has had a toe injury of late but there were suggestions that Roberto di Matteo rested him for the trip to Aston Villa specifically for this game. I think that's the way they'll go - I'm sure it's a minor toe injury and I'm sure he'll take a pain-killing injection and away he goes.
Threat
Benfica have to still be in the game after an hour. If you're out of the game by half-time, all the tactics are a waste of time anyway. They have to be in the game as long as they possibly can.
Pablo Aimar is a good footballer, who's maybe past his best these days, but the one I liked was the left-sided midfielder Nicolas Gaitan. I thought he was intelligent and used the ball well - Chelsea will have to look out for him.
Branislav Ivanovic is a more solid defender than David Luiz at right-back, so with Gaitan the main attacking threat for the visitors and the fact that Ivanovic has been popping up with the odd goal here and there all season, I'd say he would be your man.
Frank Lampard also has every chance of starting the game because with Benfica probably preparing to sit a little bit deeper, you're going to need someone to come and open them up with a run from deep.
The Champions League has fallen into Chelsea's lap a little bit because Benfica had to attack them and push up at home and that was tailor-made for Torres, and if they come and sit deep at Stamford Bridge then it's tailor-made for Drogba.
I think Chelsea will go through because obviously the away goal is paramount. With John Terry in the side, I can't see Benfica scoring and I see the Blues progressing here.
In terms of the semi-finals, it looks like a match-up with Barcelona beckons but you can never write off a team with AC Milan's firepower. They've got the likes of Zlatan Ibrahimovic and Robinho. There's no doubt that Milan will go to the Nou Camp and defend but with players of that calibre in their side, they've always got the chance of scoring too. It's going to be another intriguing night.