Ray Wilkins
Football Expert
Chelsea win over Shakhtar Donetsk was difficult, says Ray Wilkins
Chelsea needed plenty of resolve - and a bit of luck - to beat Shakhtar Donetsk, says Ray Wilkins.
Last Updated: 08/11/12 11:15am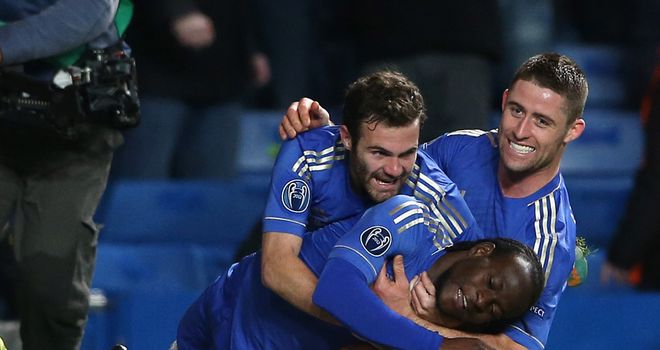 Roberto Di Matteo's side had to dig deep to earn a 3-2 victory which takes them joint-top on points with the Ukrainians in Group E of the Champions League.
The defending champions had a helping hand from Shakhtar goalkeeper Andriy Pyatov, whose kick was charged down by Fernando Torres for the opening goal on six minutes. The 28-year-old then headed a clearance straight into the path of Oscar, who scored with a sublime 40-yard finish to put Chelsea 2-1 up at the break.
Willian quickly levelled things up in the second half with his second of the match and Shaktar seemed destined for at least a point until substitute Moses, who came on for Oscar with 10 minutes to go, headed in at the near post.
Wilkins, assistant first team coach at Stamford Bridge from 2008-2010, told Sky Sports Chelsea - for all their resilience - should consider themselves a touch fortunate.
"I thought it was a really difficult evening for them, I've got to say," he reflected.
"I was very, very impressed with Shakhtar. I think they've got a couple of players there that were absolutely outstanding and I thought a draw would have been a fair result, but Victor's popped up and scored the winner with the last touch of the game.
"You saw them in difficult situations on numerous occasions last year but they managed to pull themselves through and again this was extremely difficult because of the counter-attacking [play] that Shakhtar have. Darijo Srna was marauding down the right side of the pitch all night - he was superb.
"Fernandinho was another one and, of course, Willian, who really did himself no harm whatsoever this evening if people were watching him. They are extremely talented and they'll be extremely disappointed that they've lost because they'll think they are probably good enough to share the spoils."
Decisions
Shakhtar coach Mircea Lucescu admitted after the defeat "our goalkeeper [Andriy Pyatov] made some incredible mistakes," and while Wilkins agreed, he said nothing should detract from the exceptional finish from Oscar, who has now scored four Champions League goals in as many games.
"Pyatov had a poor night," he said. "Goalkeeping is about decision-making - the more positive and the more correct decisions you make, the more saves you will make.
"Should he have really rolled the ball out [as he did for the first goal]? One would not really have thought so, not at that period of the game and when he gets the ball back his decision-making is poor; he's trying to kick it through Torres when he's just got to kick it to the left-hand side of him and it's cleared.
"Shakhtar never panicked - they have the utmost confidence in their own ability and [Willian's first] finish was quite superb.
"But once again we are talking about a goalkeeping decision [for Chelsea's second]. If he'd headed it to his left-hand side, it's clear. But don't take any credit away from Oscar because it was an ubelievable finish
"For mere mortals like us, it's an extremely difficult finish - for a wonderfully gifted young man like Oscar, it's a piece of cake. He made it look so simple - he just cuts across it and it's just as sweet as a nut. He knows he's only got to miss Pyatov and it's in the back of the net."
The match looked likely to end 2-2 after referee Carlos Velasco Carballo rejected claims from Chelsea for a penalty when Srna and Ramires came together in the box, but with seconds left Moses - signed for a fee around £9m in August - scored from an unmarked position to win the game.
"He's literally eight yards out and no-one picks him up and fortunately for Chelsea it drops on his head," said Wilkins. "It was a very good ball in from Juan Mata, who again was quite outstanding for Chelsea, and it was a very good finish, from Victor.
"It's what often happens - a player comes on as substitute and no-one's told them [the opposition] who should pick him up. So players don't take it upon themselves to pick him up, they need to be told, which used to give me the hump enormously, I've got to say!"