Ray Wilkins
Football Expert
Ray Wilkins discusses the Premier League talking points from Saturday's games
Ray Wilkins reflects on a tough day for David Moyes and Gus Poyet and positive signs for Arsenal.
Last Updated: 20/10/13 12:43pm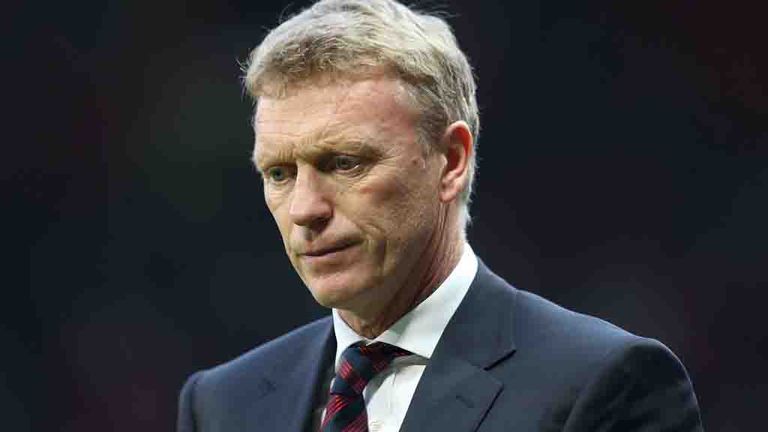 This week, former England midfielder Ray Wilkins joined Hayley McQueen in the studio to analyse the big talking points from Saturday's games, which included wins for Arsenal, Man City and Chelsea.
Here's what he had to say...
Man Utd 1-1 Southampton
"Losing a goal late on, United won't be happy with that at all. It was a very poor goal for United to concede - at a very poor time - and United had had chances in the game to have put Southampton to bed.
"Southampton played very well, but you would have expected Manchester United to have won at home. Old Trafford used to be a fortress and it's no longer that way.
"Southampton, to give them credit, went there and pressed really high and seemed to rattle United a little bit in the way they played. The energy with which they played is something to look at because they're putting teams under immense pressure, especially when they go away from home. The energy and effort is something quite unique in the Premier League at the moment.
"Adnan Januzaj was absolutely superb, though. He's not the quickest guy on the planet but he's so quick of thought; his passes are of a senior pro. From distance he's got a fantastic left foot and he appears to have a wonderful awareness as well. This young man certainly looks as though he's going to be a star of the future."
Chelsea 4-1 Cardiff
"Cardiff went ahead and unfortunately it was another defensive mistake from David Luiz. Chelsea then controversially equalised, though. Firstly, Samuel Eto'o won the ball when David Marshall was bouncing it and that should have been a foul and then Eden Hazard's finish came off Eto'o who was on the floor in an offside position so the goal shouldn't have stood.
"Once they equalised, though, you could see Chelsea were going to over-power Cardiff.
"Eto'o's goal was wonderful, his first touch was great, exquisite, and he finished it with great aplomb. It was like the Eto'o of old and nice to see him get off the mark."
Arsenal 4-1 Norwich
"Jack Wilshere has got so much quality and I'm so chuffed he's English. The first goal was typical Arsenal - it was fantastic, like a training ground or five-a-side goal - and it was a great finish from Wilshere as well. Of its type you probably won't see a better goal - it was Barcelona-esque.
"Arsenal are playing some excellent football and it will be interesting when they meet some of the big boys to see how they get on. They've got a very difficult game in the week, as well, against Borussia Dortmund.
"When they sold Robin van Persie it seemed to knock Arsenal back but when they brought in Mesut Ozil it gave them back that world class player and I would imagine the quality in training has lifted because of that.
"They have to win a trophy - they can't go nine seasons without winning a trophy - and I think this year they're going out all guns to win one. We'll see how long they can stay on top."
West Ham 1-3 Man City
"It's surprising this is Man City's first away win of the season when you think of the talent and quality they've got. They should be performing a lot better. They lost at Cardiff and have had some indifferent results - but today was a lot better.
"Sergio Aguero has been outstanding and I love watching him play. He got two here. He's got so much strength and power for a small guy and he's got great desire to have a game of football as well. I love that about the South American forwards - they have a burning desire to be footballers and he was spot on today."
Swansea 4-0 Sunderland
"Gus Poyet has a massive job on his hands. Sunderland have got one point from eight games and it will only get harder now.
"The first half was 0-0 and things were going swimmingly well but as soon as you get something go against you when you're down at the bottom end of the league then your legs disappear and the whole thing goes kaput.
"They've got a great guy in charge of them now, though, with a great mentality and if anyone can pull them round from what they're in, Gus can.
"But when you see some of the goals they conceded today, like Jonathan De Guzman's wonderful strike, it just about sums it up."
Everton 2-1 Hull
"I think Everton are stronger this year. They've brought Gareth Barry into the centre of the pitch and I think Roberto Martinez is doing a splendid job.
"They've now got a full squad coming together, they're passing the ball better and more than they did under David Moyes and their results have been quite exceptional. And I think they will continue to do well.
"They've been without Steven Pienaar for six weeks but he was back today and scored a wonderful goal. His movement and finish, my word...to take a finish on the half-volley like that is excellent, as good a finish as you'll see."