Fish, women, football
The shadowy world of the football agent is one that is cloaked in secrecy amid accusations of greed. Thankfully, we've got one of the good guys on board to lift the lid on what life really is like at the sharp end of a notoriously cut throat business.
By Secret Agent - Follow me on Twitter @SSSecretAgent
Last Updated: 28/02/12 11:43am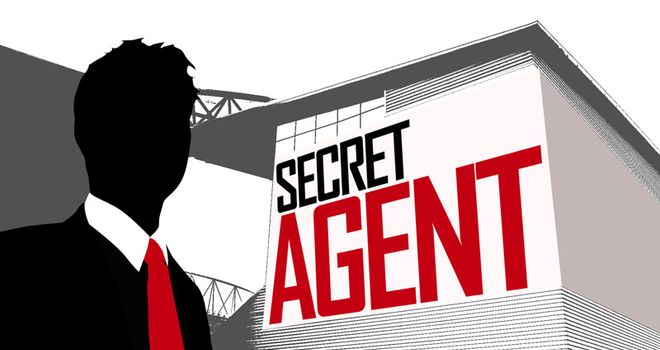 As with fish and women it's the ones that get away that are the hardest to get over. Life as a football agent doesn't allow for much fishing and as for women, I struggle to keep one happy, so that just leaves players. I've loved and lost plenty of them but it's the good 'uns I've had and let slip away that keep me up at night.
I'd be a liar if I said I haven't always had one eye on the prize so when a player I've passed over in the past turns out to have 'it' after all and secures himself a multi-million transfer and a lucrative contract (did I mention the agent's commission) it cuts to the bone. It's a cut-throat business and you're always liable to get the odd kick between the legs from your fellow agents but when it's your own judgement that's let you down - that's when it really hurts.
As an agent I get players contacting me all the time looking for me to help them in their quest to make it as a professional footballer. It's not hard to find the contact details of all football agents as they are published on the FIFA and FA websites. Before you ask, Secret Agent hasn't got his/her details on there!
I get emails daily from all types of players. It might be a youngster released by their club before they are offered a professional contract or a player who has fallen through the divisions who still feels he is good enough to cut it in the Football League.
Mostly, these cold calls are from players who are trying to get back into the game. They say it's hard trying to break into the professional ranks; it's even harder to get back. Football is all these lads know and it can be hard to tell them you're not going to be able to help. They have no other trade or skill to fall back on so they try to get back to what they do best, kick a ball.
It could be that they have had a fall out with the coaching staff which included disciplinary action, or perhaps they were not the right physical fit, or more likely, not strong enough mentally. Possibly the club didn't have the budget to keep them or plain and simple, they just weren't good enough.
Not too long ago I was given the opportunity through a contact of mine in the game to look at a player from the non-league. I watched him a couple of times and thought he had something, but he was a long way off being the finished product and his age was slightly against him.
However, I kept tabs on him and fair play to the lad his performances were getting better every week. I decided to meet the player to get to know him, try to understand his aims and determine whether he had the drive to get into the professional game. My natural inclination draws me to risk but I like it to be calculated, or more pertinently weighted in my favour.
As we have all seen in recent years many footballers have issues and demons to contend with. Emotional and domestic problems that would fill up a Jeremy Kyle show for a month is the norm in many dressing rooms. A lot gets written about how most footballers are actually pretty bright, the stereotype of them being vacant a nonsense. I hate to break it to you, but most of them aren't exactly the brightest spark in the box. Half of them probably couldn't even get into the box...
Well this player had a lot of things going on in his life. He liked the ladies, the bookies and the boozer. Wasn't that arsed about training though. Unfortunately this player didn't have the means to pay for them all and found himself on the wrong side of the law to keep people away from kicking his door in.
That combination of part Neanderthal and part petty thief was a recipe for disaster I wasn't overly keen to take on. I didn't fancy trying to explain to a club why the player had turned up to training late, after a night in the big house.
Now before you fill in the feedback box with 'shame on you' comments and 'everyone deserves a second chance', as a rule I agree. However, as I've already had my fair share of non-football related issues with a couple of players in the past I decided to err on the side of caution and embrace the principle of once bitten twice shy.
That said I didn't cut ties entirely as I continued to keep in touch with the lad and watch him play. His performances continued to impress and scouts were soon watching him. From what I heard on the grapevine interest was genuine from a number of Football League clubs but a lot were put off by his reputation. After deliberation, like me, they decided against pursuing it. He was no Eric Cantona but I wouldn't have been able to rule out kung-fu kicks.
I felt justified in my decision that if football clubs weren't willing to take a risk then obviously they felt the same as me. At that point I believed I had made the right decision and saved myself a lot of hassle. How wrong was I?
His performances continued to impress, more clubs started to send scouts to watch him play and even managers began to make time to introduce themselves. The clubs were now thinking that maybe he was worth the risk after all. They could keep him out of trouble by moving him away from home.
Great I thought, here's my chance to make a few quid after all.
However, my decision to be hesitant in taking a risk on the lad was enough for another agent to swoop in and take him under his wing. The player got a move which saw both him and his agent get a nice little pay day.
I was happy for the lad, fair play to him. He proved me and a lot of other people and clubs wrong. He got his act together, laid a few demons to rest, put CSA claims to bed (no pun intended) and his curfew was lifted.
There was never any doubt that he had ability but proving wrong those that questioned his mental fortitude will have meant a lot to him. Fair play, I was one such doubter.
It happens. A player can slip through the net and before you know it they are worth a million and it's too late. It's a lesson learnt. You're always learning in this business. I had thought through previous experience that it would mean putting in a lot of hours for a player who potentially could cost me my reputation. It's all about weighing up risk versus reward.
I'd like to think 99% of the time I get it right when deciding if a player is going to make it as a footballer or not. I still continue to read through the emails I get daily from players from Bognor Regis to Buenos Aires. My judgment let me down this time and rightly I missed out.
The next 'rough diamond' I find I'll be sure to keep hold of.