Shevchenko thanks fans
Andriy Shevchenko thanked supporters and refused to condemn the officials despite Ukraine being denied a goal in their defeat by England.
Last Updated: 20/06/12 8:05am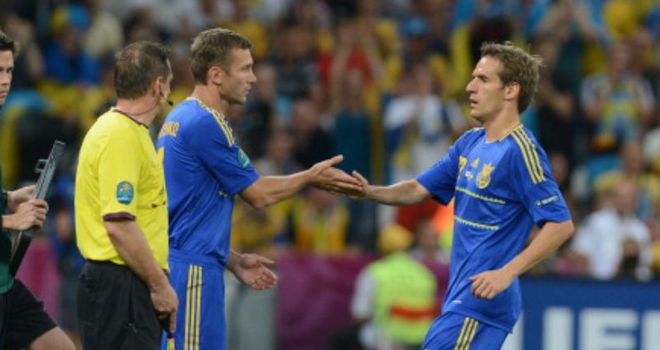 Andriy Shevchenko chose to focus on the fans rather than blame the officials despite Ukraine being denied a goal in their 1-0 defeat by England on Tuesday.
With the co-hosts needing a win in Donetsk to progress to the quarter-finals, Marko Devic was denied a second-half equaliser when John Terry hooked the ball from near the goal-line.
Replays indicated that the ball was over the line and Ukraine boss Oleg Blokhin cut an angry figure in the post-match press conference.
But Shevchenko was in resigned mood and even acknowledged that England suffered a similar fate at the 2010 World Cup when Frank Lampard's goal against Germany was somehow ignored.
Asked how five officials could have failed to award the goal, the 35-year-old forward said: "I don't know. I don't want to create some polemic or something. Everyone knows it was a goal.
"The same thing happened with England in the World Cup. Now we lose the game.
"We tried. I think that Ukraine played well today. We scored a goal, you know. We know now it was a goal. Maybe that could have changed the whole game.
"I just want to say thank you very much to the Ukraine people who supported the team. We did the best (we could) in this competition."
Shevchenko, who featured as a second-half substitute on Tuesday, has announced his retirement from international football upon Ukraine's elimination from the tournament.