World Cup qualifying: Ukraine's Anatoliy Tymoshchuk criticises England
Anatoliy Tymoshchuk believes Ukraine are "more of a team" than England, particularly with Roy Hodgson's men "weakened".
Last Updated: 08/09/13 9:10pm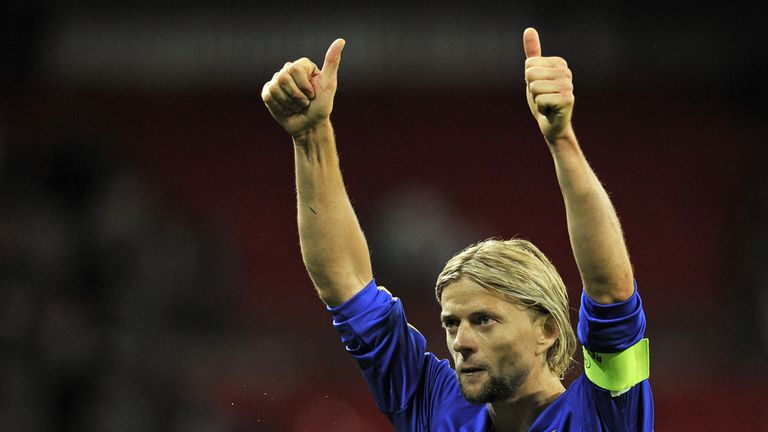 Ukraine captain Tymoshchuk will lead his side into battle in Tuesday night's World Cup qualifier in Kiev knowing victory will lift them above the Three Lions to the top of Group H.
The Ukrainians will be hoping it is third time lucky against England after losing 1-0 to them in Donetsk at Euro 2012 - when Marko Devic's shot crossed the line, only to be disallowed - and conceding a late equaliser in the 1-1 draw at Wembley last September.
Tymoshchuk, who moved from Bayern Munich to Zenit St Petersburg in the summer, is the only member of the Ukraine squad to ply his trade outside of his homeland.
Although he acknowledges coach Mykhaylo Fomenko's party is short on star names, he is confident of claiming a crucial victory.
"We do not have the big names that England have, but we have very good players," he said.
"The truth is that the big English names - like Wayne Rooney, Frank Lampard, Ashley Cole and Steven Gerrard - have had lots of success and won many trophies for their clubs but for whatever reason, they cannot do it with their country.
"England might have names that all football fans know around Europe, but Ukraine are better."
Ukraine in tune
Since losing 1-0 at home to Montenegro last October, Ukraine have won seven of their eight fixtures, conceding just two goals. In Lviv on Friday night, they warmed up for the clash with England by putting nine goals past San Marino.
Tymoshchuk added: "We are more balanced and when you see us play, we look more of a team than England - more like we are in tune with each other.
"That is why there is real belief within the squad that we can qualify for Brazil."
Wayne Rooney netted the only goal in the Group D clash between the two nations at last year's European Championship, and Tymoshchuk is relieved to see him missing.
"England have some big injuries - and none bigger than Rooney," said the 34-year-old.
"He is the player England look at to win them games - and we can't say that we are unhappy he won't be playing. It takes away England's main threat - and that is a big thing for us.
"That is not their only injury as well - we must take advantage of that. It is a weakened England team we will be facing, and it is the perfect opportunity for us put ourselves in a great position to qualify."