World Cup: England boss Roy Hodgson unruffled by Montenegro 'mind games'
England boss Roy Hodgson says his Montenegro counterpart Branko Brnovic is playing 'mind games'.
Last Updated: 25/03/13 6:09pm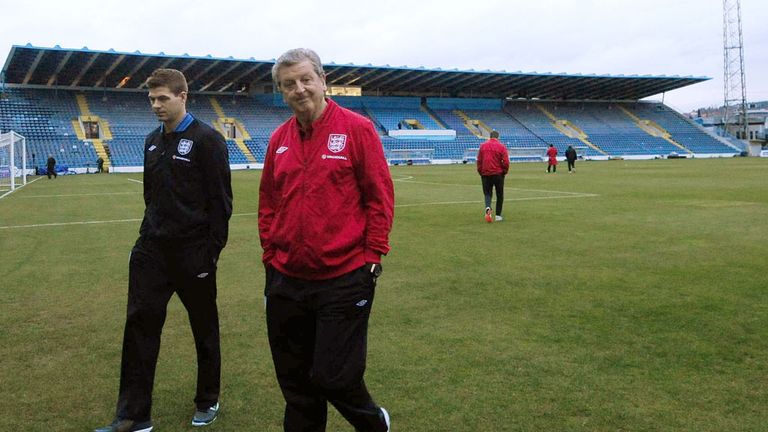 Montenegro are currently top of Group H and a victory over Hodgson's men in Podgorica would take them five points clear.
For that reason, Brnovic says the game is more important to England, whereas defeat for his side would not be too critical.
But Hodgson said: "I should think it's definitely mind games, I don't think there's too much doubt about that.
"I'm surprised he thinks defeat won't hurt Montenegro. Most coaches feel that defeats hurt them, at all levels of football.
"If he's suggesting that we should accept the burden of being favourites to win the game, then we'll accept it. It's not a problem for us.
"We're confident, we think we've got good players. We'll accept that responsibility.
"Quite frankly, whether you accept the responsibility or not, it's what happens during the 95 minutes tomorrow night that will decide everything anyway."
November friendlies
Brnovic also pointed out that England had arranged friendly matches for November and that they may have to cancel them if they fail to overhaul Montenegro and are forced to try and qualify for the World Cup via the play-offs.
"I haven't really thought about that," said Hodgson. "I'm not surprised the FA have pencilled in matches, probably most teams will have pencilled in matches for November.
"But it's not something we've discussed and I'm not even sure I know who those matches will be against, if and when.
"Our focus is fully and firmly on the end of October, when we play Poland at home, and we're hoping by that time we'll have qualified. If we haven't, hopefully we'll have a chance in November to put things right."
The England manager and his captain Steven Gerrard examined the pitch on Monday, following recent rainfall, but the mischievous Brnovic said he does not know why they are concerned because "the English have always favoured long passes".
Hodgson responded: "People have what opinions they want to have. It really doesn't bother me what people say and I'm certainly not going to get involved in any discussion about how we play, vis-a-vis how other people think we play.
"We work hard at our game, we're happy that the game we play gives us a chance to win matches. How other people want to describe it is entirely up to them."