European qualifying Group H preview: Montenegro can put a big dent in England's hopes
A look ahead to Friday's action in World Cup European Qualifying Group H.
Last Updated: 06/06/13 8:52pm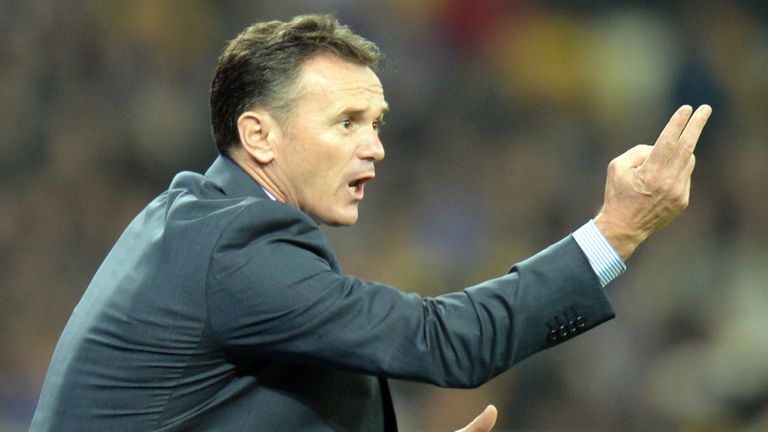 Roy Hodgson's men buckled under pressure in the second half in Montenegro two months ago, letting in a Dejan Damjanovic equaliser to leave them two points behind Branko Brnovic's men in Group H.
That gap will jump to five points on Friday evening if Montenegro beat the Ukrainians - although England are still slight favourites to qualify automatically as they will have a match in hand and they also face the Montenegrins at Wembley in October.
Given that Montenegro have only been playing independently for six years, qualifying for a World Cup would be a remarkable achievement.
The Balkan nation beat Ukraine in the reverse fixture last October, but Brnovic thinks it would be foolish to start thinking of Brazil just yet.
"Many people are already thinking about (our games in) Warsaw and London, and the World Cup, but I should warn you that out of the last eight matches, the only time Ukraine have lost is against us," the Montenegro manager said.
"Always at home we go for three points. All I want, however, is to sound a warning of caution. It is important that we have the same atmosphere as we did against England."
Montenegro are without defensive duo Stefan Savic and Miodrag Dzudovic through injury and Brnovic has omitted forward Milan Jovanovic from his squad as he is without a club.
Poland, who are third in the table, will move just one point behind England if they beat Moldova in Friday's other Group H match.
Poland won the reverse fixture in Warsaw 2-0 nine months ago.