AFCON Profile: Botswana
Botswana are just one of 16 teams set to contest the 2012 AFCON finals. This way for a full overview of Mompati Thuma's squad.
Last Updated: 18/01/12 10:17am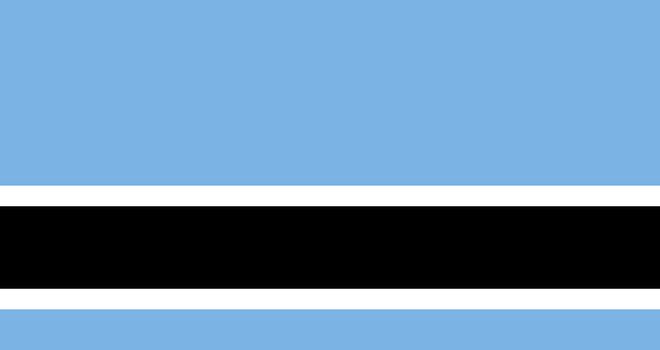 This will be Botswana's first participation in the AFCON after they failed to qualify from 1994 through to 2010. The Zebras were the surprise package of their qualification group, finishing top of the pile with Tunisia clinching the other available spot.
What makes their achievement all the more impressive is the fact that they lost just once, at the hands of home side Togo on 4 September at Stade de Kegue, Lome, in a group that also contained Malawi, Chad and Tunisia.
Botswana have, for many years, been known as the whipping boys of African Football but that perception has been manfully changed by head coach Stanley Tshosane, who took over the reins in 2008.
Tshosane took a calculated risk by overhauling an ageing squad and choosing to focus on developing young and promising players. Naturally his approach was initially met with resistance but he has since won over his and Botswana's critics by turning them into a hungry, well-disciplined side.
This tournament will provide the Zebras with the perfect opportunity to earn their stripes in African football, whilst also giving their loyal supporters a reason to be proud of the national team.
PREVIOUS AFCON INVOLVEMENTS:
Under the stewardship of former coach Colwyn Rowe Botswana failed to qualify for the AFCON in 2006 and 2008, leading to the sacking of the Englishman. Stanley Tshosane was his assistant at the time and was handed the role on a permanent basis after a stint as caretaker coach.
Since Tshosane's appointment the Zebras have made massive strides on the African stage and will undoubtedly be looking to impress on their debut.
SQUAD OVERVIEW:
The majority of the Zebras squad is made up of local players, with the remaining six players earning their keep in South Africa's domestic leagues.
Mompati Thuma (Botswana Defence Force XI), 31, is currently the most capped player in Stanley Tshosane's 23-man squad, while fellow defender Ndiapo Letsholathebe (Police XI) is their second most capped player.
Goalkeeper Modiri Marumo (Bay United) will stand in goal for Botswana, while Moemedi Moatlhaping (Bay Utd), Jerome Ramatlhakwane (unattached) and skipper Dipsy Selolwane (SuperSport) will provide the attacking impetus for the Southern African outfit.
ONE TO WATCH:
Jerome Ramatlhakwane underlined his importance to the Zebras cause in the qualifying rounds of the AFCON by netting a hatful of vital goals to help Botswana clinch a spot in the first round for the first time in their history.
This despite his struggles at a domestic level over the past three years. Ramatlhakwane left Cypriot outfit APOP Kinyras Peyias in 2008 to test himself in the South African domestic leagues.
He joined Cape Town club Santos upon his arrival in South Africa but struggled to break into the first-team under manager Abubakaar Solomons. Two years passed before Ramatlhakwane made a switch to Vasco Da Gama but he was unable to play due to a series of administrative foul-ups and a transfer dispute between the two clubs.
Ramatlhakwane is currently without a club but national coach Tshosane has kept faith in the 26-year-old and the Lobatse-born striker will undoubtedly be looking to repay that vote of confidence in the coming month.
FACTS
FIFA Rank: 95
Coach: Stanley Tshosane
Captain: Mompati Thuma
Nickname: The Zebras
Previous AFCON finish: Did not qualify
SQUAD:
Goalkeepers: Kabelo Dambe (Township Rollers), Noah Maposa (Gaborone Utd), Modiri Marumo (Bay Utd/RSA)
Defenders: Monametsi Kelebale (NICO), Ndiyapo Letsholathebe (Police), Tshepo Motlhabankwe (Mochudi Centre Chiefs), Musa Ohilwe (Gaborone Utd), Mosimanegape Ramohibidu (BMC), Mompathi Thuma (BDF, capt)
Midfielders: Joel Mogorosi, Pontsho Moloi and Othusitse Pilane (Mochudi), Patrick Motsepe and Lemponye Tshireletso (BDF), Mogogi Gabonamong (SuperSport/RSA), Boitumelo Mafoko (Santos/RSA), Phenyo Mongala (Bloemfontein Celtic/RSA), Ofentse Nato (Gaborone Utd), Mogakolodi Ngele (Rollers)
Strikers: Moemedi Moatlhaping (Bay Utd/RSA), Jerome Ramatlhakwane (unattached), Dipsy Selolwane (SuperSport/RSA), Onalethata Tshekiso (Rollers)