Sunday showdowns: Watch Super Sunday & the Brazil GP with Sky Sports' split screen
Torn between watching Super Sunday and the Brazilian GP? Well Sky Sports has the answer.
Last Updated: 25/11/12 6:48am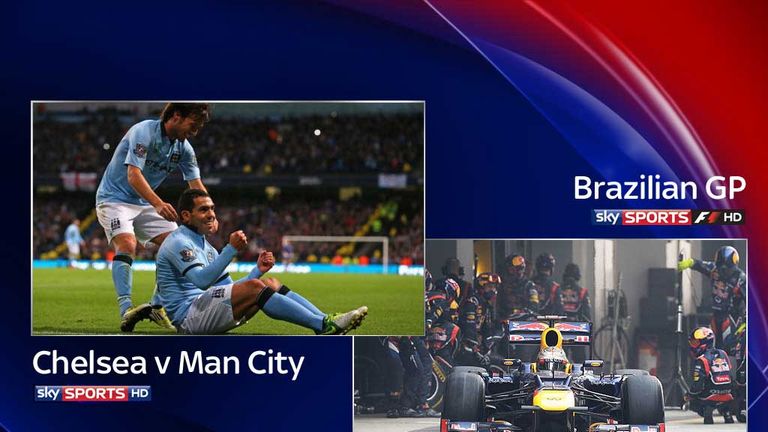 If you like sport then there really is only one place to be this weekend with Sky Sports catering for every sports fan. To mention just a few of our exclusive events, the England cricket team will be taking on India in the second Test while the next stage of the Rugby Union autumn internationals will be headlined by England v South Africa at Twickenham.
But on Sunday at 4pm there could be split loyalties with kick-off of the eagerly-anticipated clash at Stamford Bridge, in which Rafa Benitez will manage Chelsea for the first time, clashing with the start of F1's World Championship showdown between Red Bull's Sebastian Vettel and the Ferrari of Fernando Alonso at Interlagos.
So what's a sports fan to do? Well, we think we have the answer: a split-screen service which will be available to all Sky Sports subscribers with just a simple press of a red button.
With coverage starting at 2.30pm, all you'll have to do to follow live coverage from Stamford Bridge and Brazil is tune in to Sky Sports 1, press the red button and enjoy simultaneous, side-by-side coverage of Sunday's two unmissable events.
And this way you won't miss either of them!
Viewers can choose to watch either programme full screen at any point by selecting from the video menu screen - HD subscribers will see the high definition pictures when watching full screen.
The Brazilian GP will be on Sky Sports F1/HD with all the interactive Race Control options available, as usual, by pressing the red button on ch 408. It is only available to Sky Digital customers
Sky Sports F1 has brought you the live action every step of the way since the green light on the season's first practice session went on way back in Australia in March and needless to say the channel will be pulling out all the stops to bring you all the drama from the Interlagos title showdown in the most extensive way possible.
Across the weekend the team will be charting how the battle between Vettel and Alonso has ebbed and flowed through the season and taken us all the way down to Brazil, from the Spaniard's summer surge to Red Bull's late-season comeback.
Sky Sports F1's live coverage of the title-deciding race starts at 2.30pm on Sunday for a 4pm race start.
Throw in every session from the weekend live before then, from Practice One to the all-important Qualifying hour, and of course Friday night's edition of The F1 Show, and there's no reason not to keep it Sky Sports F1 throughout the Brazilian GP weekend.
Sky Sports F1's Brazilian GP schedule
Friday November 23:
11:45am: Brazilian Grand Prix Practice One - Live!
3:45pm: Brazilian Grand Prix Practice Two - Live!
6pm: Team Principals' Press Conference - Live!
8pm: The F1 Show - Live!
Saturday November 24:
12:45pm: Brazilian Grand Prix Practice Three - Live!
3pm: Brazilian Grand Prix Qualifying - Live!
Sunday November 25:
12:30pm: Senna movie
2:30pm: The 2012 Brazilian Grand Prix - Live!