Giorgos Karagounis
A veteran of 2004, the 35-year-old skipper has a wealth of experience having played for Inter and Benfica. He will prompt from midfield and is a dangerous free-kick specialist.
Last Updated: 29/05/12 10:09am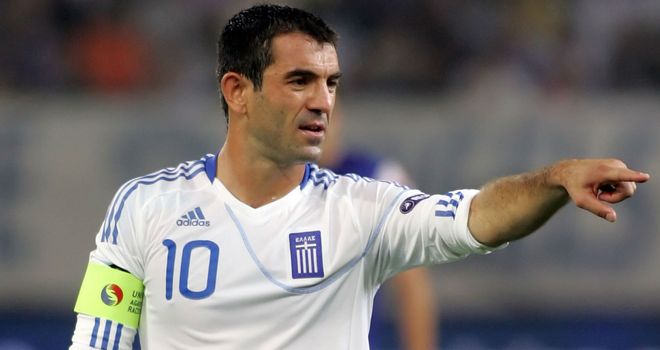 Such was the indelible mark left by the national team's efforts at Euro 2004, Greek football has become synonymous with functionality, tactical discipline and a defensive outlook in recent years. But this does a disservice to the abilities of one of the architects of that victory, midfield technician Giorgos Karagounis.
Indeed, while hugely disappointing for the man himself, it is perhaps fitting that Karagounis was suspended for Greece's final win against Portugal in 2004. After all, the Panathinaikos player was always a breed apart from his more one-dimensional team-mates. The former Inter man was at his happiest playing a possession game, orchestrating the play with his creativity and exemplary range of passing.
Age may have robbed him of his mobility, but the set-piece expertise remains and will be a significant weapon for Fernando Santos' side this summer. The Greece manager knows all about Karagounis having coached the player at Panathinaikos and Benfica. As such, he enjoys a central role within the team - both on and off the field.
Karagounis is an inspirational figure and the man charged with getting his side playing. He will continue to prompt and probe from the centre of the park and arguably has more quality around him now - with the likes of Sotiris Ninis in the squad - than he did when Greece won this tournament eight years ago. "In the style of play there are a number of similarities," he said. "But there is also the diversity in our attacking game which probably wasn't there in 2004."
And with Karagounis hoping to become Greece's most capped player at this summer's tournament, he will be as committed as ever to the cause. "Squad spirit is very good," he added. "I doubt if you would find a team with more passion for achievement when representing their country."