Relaxed and ready
After returning from Kiev, Jeff reflects on his chat with a relaxed Roy Hodgson and Euro 2012 so far.
Last Updated: 26/06/12 11:22am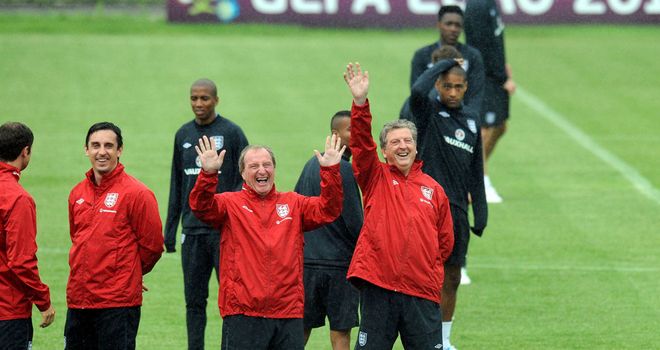 Earlier this week I returned home from a short trip to Ukraine - and I've got to say it was fantastic!
Like many people I had been wary of the stories of hooliganism and racism, and that the Ukrainians would be trying to fleece football fans - but I found it to be completely the opposite.
The locals I met in Kiev were warm and welcoming and everything was very well organised. The city itself was absolutely fantastic. There's a hugely impressive fan zone, the main streets were closed to traffic and it was like one long party - and with everything open 24 hours a day the party didn't stop.
In terms of Kiev, visually it was fascinating too. I know it's not necessarily what the football fans go there for but there are some incredibly ornate buildings, 30-odd theatres and an impressive, fascinating mix of eras and cultures. If anybody's thinking of going there I'd thoroughly recommend it. It was fantastic.
Another thing I discovered in Kiev was an incredibly relaxed England team. On the eve of the crucial Group D game with Sweden we spent some time in the England team hotel and Roy Hodgson, Gary Neville and the back room staff came and had a drink with us.
I was with Chris Kamara and we thought, with such an important game the next day, they'd just pop down for 10 or 15 minutes but a couple of hours later Roy was still with us, a beer in his hand, regaling us with stories.
We were there until the early hours of the morning in a quiet public bar in Kiev. There weren't many people around but there was a young Swedish couple sitting on the table next to us and Roy spent 20 minutes or so chatting away to them in Swedish. Obviously I had no idea what they were talking about but he looked like a man thoroughly in love with life.
Everybody was very upbeat and confident. I can't remember the last time England have gone to a major tournament and enjoyed it. Even the 1990 World Cup was an ordeal and we got to the semi-finals. That trip was surrounded by scandal, rumour and rows - but there has been none of that this time round.
The mood in the camp was something I'd never experienced before with England and - although I may be wrong - something I couldn't imagine happening under Fabio Capello. It struck us that if they could translate that into their performance on the pitch they could do well.
Of course, we got to see England's most exciting game of the tournament so far, against Sweden, and the atmosphere was great. The Swedes certainly know how to support their football team! There was a real party feel to it and, thanks to victory in that game and a hard-fought win against Ukraine, the party goes on for England's supporters.
Italian job
Next up is Italy in the quarter-finals and there really isn't much between the teams. I can't see more than a goal in it either way. Italy have been impressive in certain games but not so much in others. For instance, although they did well against Spain I wasn't particularly impressed when they played the Republic of Ireland. Andrea Pirlo is clearly their outstanding player. He carries the weight of their midfield on his shoulders and you feel if Steven Gerrard and Scott Parker can stop him they'll stop Italy. There's no reason why we can't knick it and then nothing's impossible.
There's been a lot of talk about the impact Mario Balotelli will have but, to be honest, I wouldn't even have taken him to Euro 2012 if I was Italy's manager. He's too much of a loose cannon. We should be hoping Balotelli plays! That may sound unsporting but he lets himself down on big occasions like this. I'd be far more fearful if Antonio Di Natale started, who I think is a fantastic player and gifted finisher.
One to remember
Taking the focus off England, I think everyone's agreed that this has been a fantastic tournament so far. We're at the quarter-final stage and there still hasn't been a 0-0 and there's barely been a bad game. I can't remember when there's been a tournament like it. There's been upsets, great goals - it's had the lot. So often major tournaments disappoint, but this one certainly hasn't.
Cristiano Ronaldo has certainly stood out. We know how brilliant he was for Manchester United and how great he's been playing for Real Madrid, but so often he's failed to shine in the big tournaments. This time, though, aside from the first game against Germany, he's been superb.
He scored with a brilliant downward header against the Czech Republic in the quarter-final to add to the couple he got against Holland. His movement was sensational - he came from absolutely nowhere.
Another player having a great tournament is Scott Parker. I've heard so much nonsense about him, particularly views promoted by a certain radio station, who constantly decry him for not passing the ball forward and being creative. The fact of the matter is Parker does his job brilliantly. He breaks things up, gets the ball, gives it simple and then he's ready to break up the next attack.
He's been one of the stars of the tournament so far and it annoys me to hear people criticise someone willing to put his body on the line time and time again. There can't be a player who has made as many blocks as Parker.
If he can do the same job again against Italy, along with Steven Gerrard, who is also having a great tournament, and if we can find a goal, there's no reason we can't progress to the semi-finals.
The chances are that would be against Germany who have been, for me, the best team in the tournament by quite a margin. But they haven't looked invincible either. When they played Portugal they looked vulnerable at times. OK, it was the opening game - but if we do end up playing them, I wouldn't be afraid.
And I'm sure Roy and his squad wouldn't be either.