Ashley Chambers is the latest player in Sky Sports' League Two spotlight
Ashley Chambers tells Sky Sports that York City must make one final point in their see-saw season.
Last Updated: 27/05/13 11:53am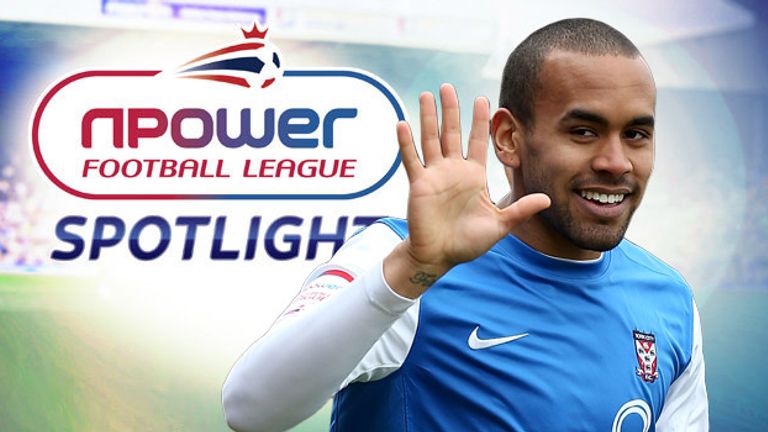 Here at Sky Sports, we have tried to get to the very heart of the Football League, with our Spotlight features intended to give you a greater insight into the clubs and players that keep us on the edge of our seats.
We have aimed to get the views and thoughts of a representative from each of the 72 teams over the course of the season, with those involved asked to give their take on the division they compete in, the club that pays their wages and those we should all be keeping an eye on.
Before it's all over we talked to York City's Ash Chambers; the forward looks ahead to the final weekend of the season as the club look to retain their Football League status, as well as talking about his own personal performances over the campaign, with Rob Lancaster.
You head into the final game of the season, away at relegation rivals Dagenham & Redbridge, knowing a point will be enough to see you stay in League Two. What has the build-up been like to such a pivotal match?
Leading up to the weekend there is a confident feel around the camp - we're five unbeaten and have had three wins in that run. That breeds a lot of confidence in the group, particularly when at one stage we went so long without a win.
We have obviously had some good results in the past few games and you'd think that would be enough to keep you safe. But the teams around us have picked up points too, keeping us in it.
Back on New Year's Day you beat Burton Albion at home. You didn't post another win for 16 matches, by which time you were in the drop zone. What happened?
We started so well, we were looking up the table rather than down it. I think at Christmas we were four or five points away from the play-offs, which was our goal at the time.
No one can really put a finger on why or how it went wrong, but it did. Now we've put ourselves in a great position to remain in the Football League and at the start of the season that was probably our main aim.
You're currently on 52 points - last season that would have seen you finish comfortably away from the bottom two. Does it come as a surprise to find yourselves still not safe on such a total?
Definitely, we were looking at the 50-point mark to be safe earlier on, but it looks like someone could go down with that amount now. That's crazy. To have 50 points over the season isn't great, but you'd count yourself unlucky to get that amount and yet still get relegated. But that just shows how much the league has come along and the quality in it.
You helped the club end an eight-year absence from the Football League by winning the play-off final against Luton Town at Wembley last May. You must be determined to make sure you don't suffer a quick return to the Conference, right?
A lot of the boys are still here now who worked so hard to get promoted - we don't just want to throw it all away now, particularly after we started the season so well before hitting dodgy form. We are all trying our hardest to put it right and get the point we need for safety on Saturday.
How has the squad as a whole found the step up from the Conference to League Two?
The real difference is that opposition teams are more clinical. You notice that your mistakes get punished much more. But I do think that the start we had to the season shows that it wasn't a huge jump. Like I said, it's just you pay a higher price for your errors.
And what about your own form over the course of the campaign?
I'm really happy to get 10 goals, and to get into double figures despite missing seven or eight games through injury. I had a stomach injury that I had played with for the majority of the season and also at the back end of the last, so I'm delighted to have beaten the target I set myself.
Gary Mills, who signed you from Leicester City, was the man who steered York City up, but he lost his job after the home defeat to Bradford at the start of March. What was he like as a manager?
For me, personally, he was fantastic. He plucked me from pretty much obscurity at Leicester (a club where Chambers had made his first-team debut at the age of 15 years and 203 days). I was playing at youth level and in the reserves and just collecting my wages, though that wasn't much at the time. Although others had seen something in me in the past he showed faith in me, firstly in bringing me in on loan to York and then signing me permanently. I said when he left that I will forever be in debt to him - he saved my career.
Now Nigel Worthington is in charge. What differences have you noticed under the former Northern Ireland boss since he arrived at Bootham Crescent?
His arrival was a coup for the club and you can tell he's coached previously at a higher level. When the previous manager left it all went a little crazy for a while afterwards. But things have settled down now; He's got his points across to the players and now it's showing on the field with our recent run of results.