A look ahead to the midweek action in the Coupe de la Ligue
A look ahead to the midweek action in the Coupe de la Ligue, with St Etienne and Paris Saint-Germain facing each other.
Last Updated: 26/11/12 3:08pm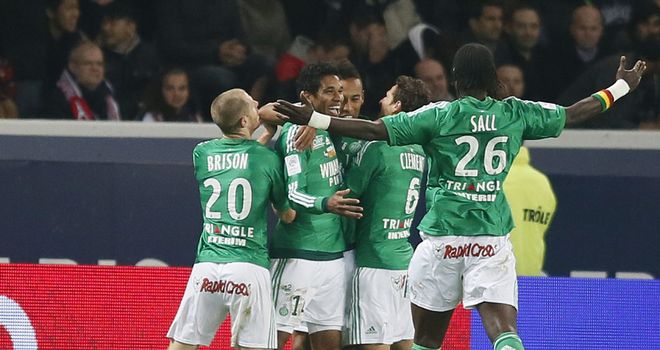 The two sides are locked in a gripping contest for the league crown - Marseille and Lyon are also in the mix - and this fixture could well provide the victors with a mental edge.
It remains to be seen how seriously PSG will take the cup - the league and the Champions League are higher on their list of priorities - but according to coach Carlo Ancelotti they will be treating Les Verts with the utmost respect, especially having already lost to them this season.
"The next match against St Etienne is also very important because we want to give it the absolute maximum in the Coupe de la Ligue," the former Chelsea manager said.
"It will be very difficult because St Etienne are a good team, who beat us here at the Parc, but we want to win."
While St Etienne boss Christophe Galtier is expected to name the strongest side he can, Ancelotti may look to rest the likes of star striker Zlatan Ibrahimovic, who was given the night off in the last round against Marseilles.
The capital club are focused on a positive result, though, with defender Salvatore Sirigu telling his club's official website: "We have to build on the positives and play well on Tuesday against St Etienne and look to qualify for the semi-finals."
On Wednesday, Bastia host Lille, with the visitors smarting from a narrow 1-0 loss at Marseille.
The 2011 champions were far from disgraced against Elie Baup's men, but coach Rudi Garcia was still left disappointed and wants his players to start taking their chances.
"We cannot afford to waste so many chances before we score a goal," he said.
"None of our players are appearing at the top of the scoring charts. We are creating enough, so I am hoping the day will come when luck smiles on us."
Also on Wednesday, last season's league champions Montpellier take on Nice.
La Paillade have floundered badly in the defence of their title, but a 1-0 win over Bordeaux at the weekend means they meet Claude Puel's men in better spirits.
Nice will be no pushovers, though, and are fresh from a 1-0 win of their own at Sochaux.
"That showed we are going in the right direction," Puel said. "We have two big games ahead of us, the most important of which is in Montpellier where we will be looking to qualify for the semi-finals."
The fixtures will be wrapped up by Troyes' trip to Rennes on Thursday, with home coach Federic Antonetti seething after his side's loss to Evian.
He has told his players they did not "exist" and has demanded an improvement.
"We didn't show up," he said. "We never existed in any area. Technically and tactically, in terms of effort, we were not there. That was our worst game this season.
"We can only get better. We didn't fight, we didn't show enough aggression, we were 0/10 in every area. We will have to talk to the players and see what happened."