Sebastien Squillaci reflects on tough Arsenal spell after summer move to Bastia
Sebastien Squillaci admits he had to wait a year longer than he would have liked to end a difficult spell at Arsenal.
By Patrick Haond
Last Updated: 24/09/13 12:29pm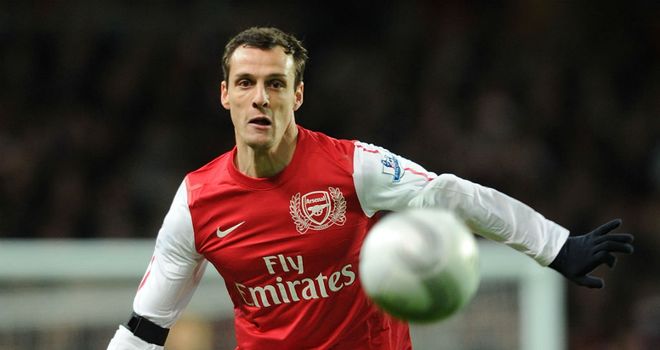 The centre-back was released by the Gunners when his contract expired earlier in the summer and he is now at Bastia after joining on a free transfer.
Reflecting on his time in north London, Squillaci has told the French press that he struggled in his first season because he did not have time to build up his fitness after the 2010 World Cup.
He kept working hard but admits he would have preferred to leave in the summer of 2012 after falling down the pecking order, although he can understand why Arsenal kept him.
"When I joined Arsenal in summer 2010, I just came from the World Cup in South Africa and I didn't have any pre-season preparation," Squillaci said, quoted in L'Equipe.
"I was the number three centre defender, but (Thomas) Vermaelen got injured and I had to play.
"I had a good first two months, but in December it was very difficult. I was exhausted physically and I was not good.
"Training sessions when you don't play anymore? Sometimes it was difficult indeed, but it is my job.
"I could not go to training sessions without any enthusiasm. Your team-mates need strong opposition. I could not give up, even if I didn't always have a great state of mind.
"In summer 2012, the club could have made a good gesture to let me leave, but they didn't want. A club is just like a business, human being is not the top concern.
"But I woke up every morning to go and play football, it was not going down the mine."