Djibril Cisse would walk off pitch if he was subjected to racist abuse from supporters
Striker Djibril Cisse has admitted he would walk off the pitch if he was subjected to racist abuse from supporters.
By Rob Parrish - Follow me on Twitter @skysportsrobp
Last Updated: 25/10/13 8:27am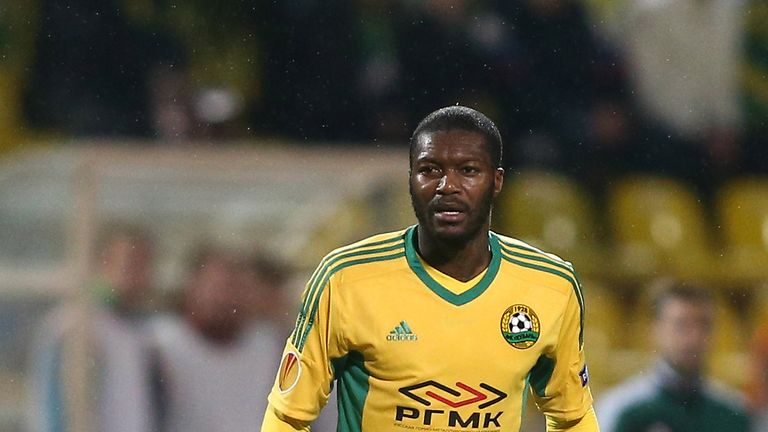 Cisse, who now plays in Russia for Kuban Krasnodar, was speaking in the wake of Yaya Toure's complaint against CSKA Moscow supporters following Manchester City's 2-1 UEFA Champions League victory on Wednesday evening.
UEFA have opened disciplinary proceedings against CSKA, despite the club's denials of any wrongdoing, with the case also leading Toure to suggest that black players could boycott the 2018 FIFA World Cup in Russia.
While Cisse admits he has not heard any racist chanting during his time in Russia, he insists it is now time for the governing bodies of world and European football to take firm action.
He told Sky Sports News: "People have to understand that football is a mix of races and you have to accept that.
"What is strange is that one of CSKA's best players is black. I don't even understand. They (the supporters) don't even think or realise what they are doing. I think that it's stupid.
"In the league, it seems like it doesn't happen because they know that they can be in real trouble. I hope FIFA do something now. I hope that they are going to be punished.
"It is not up to me to tell them what to do. They (FIFA and UEFA) have to be strong and they have to punish them. They could play with no fans for the rest of the competition, something like this.
"If they want to criticise me or Yaya, no problem. There are a lot of ways to show that you don't like someone, but this kind of thing is unacceptable."
And when asked if he would be prepared to walk off the field if he was subjected to racist abuse from supporters, Cisse replied: "Yes, I would. Personally, I would."