Hazard's One2Eleven
Eden Hazard told the Fantasy Football Club which players he's played with would make his all-time XI...
Last Updated: 24/11/12 12:54pm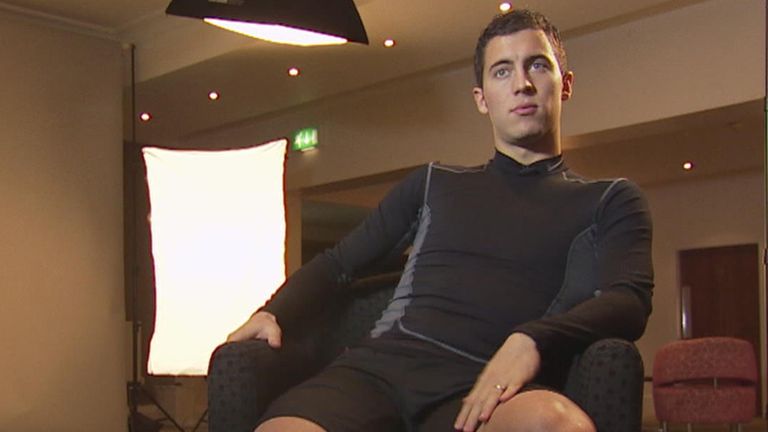 Petr Cech
In goal? This year I've played with one of the best goalkeepers in the world, Petr Cech. Like I said, he's the best and he's proved it in the past by winning trophies, he's won the Champions League, he's won everything.
Mathieu Debuchy
At right back, I played with Debuchy for a few years. He's one of the best in France and part of the national team. So it's him and he's also a friend of mine, so I choose him.
Ashley Cole
At left-back, he's one of the best in his position and once again his experience and the trophies he's won and out of respect for his career... this is why I've chosen him.
Aurelien Chedjou
I played with Chedjou for a few years at Lille. He would be one of the top class defenders who I've played with.
Vincent Kompany
There are many central defenders, even in Belgium there are a few, so I'm going to say Kompany.
John Terry
Or even John Terry. I don't know which one to choose, they're both big stars. Can I play 5-4-2? I can't put myself as captain, maybe JT? Captain Legend.
Rio Mavuba
When I played with him it was a real pleasure to play with him. Even though bizarrely he doesn't run fast, he doesn't jump high, he's not strong, he can't shoot the ball, he never scores, I think he's one of the best in his position in France.
Yohan Cabaye
Yohan Cabaye has an amazing passing ability and not a lot of players have this. He's young and he's got his future ahead of him.
Marouanne Fellaini
I choose Marouanne Fellaini because what he's doing at this moment is magnificent. He's carrying Everton a bit by himself. He's a big player.
Moussa Sow
Up front I'm going to put Moussa Sow because with him I was champion and he was the top scorer.
Gervinho
Also Gervinho. They were the two strikers we had when we became champions. They scored a lot of goals!