Neil's main men
Neil Lennon revealed his #One2Eleven on The Fantasy Football Club. Click here to see who made it...
Last Updated: 20/04/13 3:02pm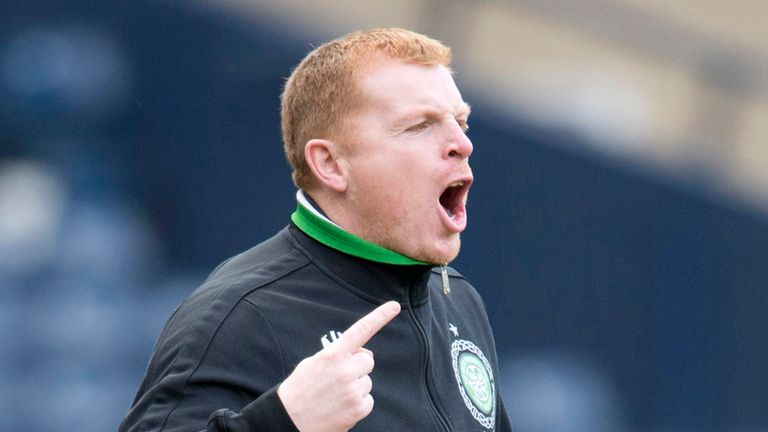 Neil Lennon is carving out a fine reputation as a manager.
The Ulsterman guided Celtic into the last 16 of the Champions League this term, thanks in part to an eye-catching victory over Barcelona in the group stage, while he has also taken the Hoops to within touching distance of retaining their SPL crown.
Lennon enjoyed a stellar playing career, too; he won the Scottish Premier League five times with Celtic and clutched the League Cup twice whilst under Martin O'Neill's tutelage at Leicester.
Therefore, the 41-year-old must have had plenty of selection posers when The Fantasy Football Club asked him to pick a #One2Eleven from the best players he has teamed with.
Lennon took up the challenge, though, so read below to see who made the cut in his 3-5-2 formation...
Goalkeeper - Artur Boruc (Celtic)
NEIL SAYS: I played with some great 'keepers, including former American number one Kasey Keller at Leicester, but I am going to go with Boruc. He was as mad as a box of frogs and liked his vodka every now and again, but he was a great shot-stopper and made big saves in big games. The one that stands out for me was when he saved a Louis Saha penalty against Man United when we were leading them with four or five minutes to go in the Champions League.
Defenders - Johan Mjallby (Celtic); Matt Elliott (Leicester); Joos Valgaeren (Celtic)
NEIL SAYS: Johan, who is my assistant at Celtic, was a fantastic defender; very good in the air, very comfortable on the ball, very competitive and hated losing. Matt, meanwhile, was a giant but he was probably the best ball-playing centre half I played with, and he could also go up front and score a few goals, too. Joos was a Belgian international who was tremendously quick and brave. We always fancied him in one-on-one and foot-race situations against opposition players, and, from arriving a relative unknown, he became a hero with supporters.
Wing-backs - Didier Agathe (Celtic); Alan Thompson (Celtic)
NEIL SAYS: Players used to call the wing-back slot the graveyard shift as you were up and down all game, but I've picked two really good ones. On the right is Didier; one of the best games I ever saw him have was when we beat Juventus 4-3 and he went on these long, bursting runs and had people hanging off him. On the left would be Alan, who had a hammer of a left foot. He would get the ball out of his feet and hit 40 and 50-yard diagonal passes, but he also scored goals in big games against the likes of Bayern Munich, Stuttgart and Rangers.
Midfielders - Paul Lambert (Celtic); Stiliyan Petrov (Celtic); Muzzy Izzet (Leicester)
NEIL SAYS: Paul would be my holding player; he had great experience and was a real leader and it doesn't surprise me that he has gone on to have a fantastic managerial career. Stiliyan is having a tough time at the minute (he is battling leukaemia) but I know he will pull through because he's got strength of character. He was a dynamic, brilliant, all-round midfielder player at 20 years of age but as he has got older he has developed into a more defensively-minded player. Muzzy was a will-o'-the-wisp player who could ghost into the box late, pass, tackle and was tremendously fit.
Strikers - Chris Sutton (Celtic); Henrik Larsson (Celtic)
NEIL SAYS: Chris could play in midfield and at centre-half as he had a great footballing brain but as a centre-forward he was great to play with, while Henrik was the best player I ever played with. He could score any kind of goal and he scored them in volume but the most important thing was that he scored the goals that won you games. Sutton and Larsson dovetailed very well and it is a pairing that would grace most teams in the world.