Racism remains
Clarke Carlisle told the Footballers' Football Show there's work to be done in the fight against racism.
Last Updated: 17/08/12 10:23am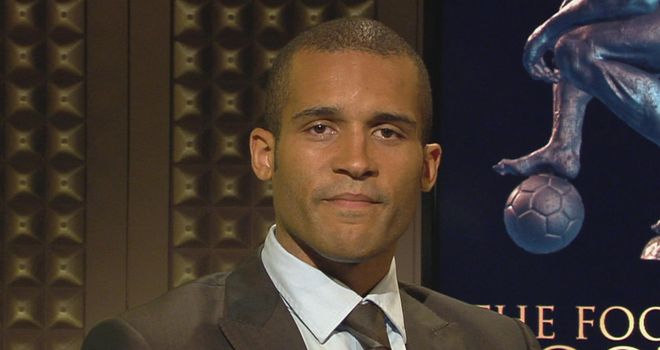 Clarke Carlisle told the Footballers' Football Show that there's still work to be done in football's battle against racism.
The former Burnley defender and Chairman of the Management Committee of the Professional Footballers' Association has made a BBC documentary about the topic in the light of several high-profile incidents last season.
He admits he has not been subjected to much abuse himself, but was stunned to hear about a recent incident of racism in the dressing room of a current Premier League club.
"There was a real reticence to talk about the topic," Carlisle told the Footballers' Football Show.
"People think if they've got anything slightly left or right of centre then they're either militant or racist, but [the documentary] opened up the discussions again at both ends of the spectrum from people like myself who hadn't experienced much in their lifetime to other guys.
"There's a guy who is working at a Premier League club, who's a coach now, who only three weeks ago had a picture of monkeys stuck on his locker when he came in.
"This is now, in 2012, with a note under there which was in reference to something he'd had to go and do the day before.
"It really does gall me to think that stuff still does go on and people deem it acceptable. Even if they meant it in jest I don't believe it is acceptable."
Headlines
Incidents such as the Luis Suarez-Patrice Evra row and the John Terry-Anton Ferdinand affair brought the issue of racism into the headlines again last season.
And while Carlisle, who is an ambassador for the Kick It Out campaign, believes the English game has moved forward, he says there is still a lot of education to be done.
"The game in England and society in England has moved so far and that is fantastic.
"We can't be sat here thinking we're okay because there are still minority pockets of opinion and there are still areas, especially with young Asian footballers, just not getting into football at the base level, never mind the representation going through into professional, coaching and administration levels.
"We do want to be positive about the message we're putting out. It's about engaging the Asian community and breaking down those barriers.
"Also with managers and coaches it's about empowering these guys and increasing the selection pool."
Campaign
Brentford manager Uwe Rosler was also on the Footballers' Football Show panel and says he has seen little evidence of discrimination during his time in England.
But he admits he was shocked to hear Carlisle's story.
"It's hard to hear," Rosler said.
"In this country a lot has been done in the campaign against racism over the years. Incidents get less and less.
"It's still there, but in the environment where I'm working at Brentford Football Club in League One I have seen no indication of racism or discrimination and I've been very happy about that.
"When you go to Eastern Europe and what you see there from the terraces, I think the English game is very far advanced in the fight against racism compared to other counties and other areas in Europe."
Want to catch up with the Footballers' Football Show? Download the podcast now!