Show some respect
Ray Houghton hopes both sets of fans pay tribute to the Hillsborough victims at Anfield on Sunday.
Last Updated: 21/09/12 10:11am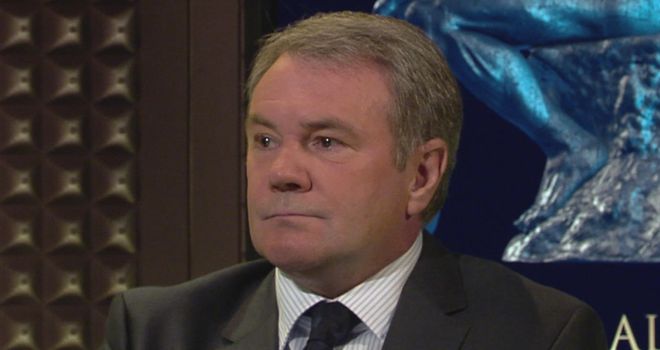 Ray Houghton told The Footballers' Football Show he hopes both sets of fans show respect for the families who suffered in the Hillsborough disaster when Liverpool host Manchester United on Sunday.
The meeting will be the first game at Anfield since the independent panel's findings were published last week and the two captains, Steven Gerrard and Nemenja Vidic, will release 96 balloons before the match, in memory of those who lost their lives in the disaster.
Ray Houghton, who was playing for Liverpool in that fateful 1989 FA Cup semi-final against Nottingham Forest, said: "Hopefully both sets of fans will be on their best behaviour and go there and pay tribute to the families who have been through so much in the last 23 years.
"There's a lot of history between the two clubs and they are always fascinating games between them. They are the two biggest clubs in English football, the only two 'world' teams in English football.
"Of course there's tribalism in football but you have to realise there's human life that's been lost here. Some fans have got to grow up now."
Neil Fitzmaurice, an actor and writer who survived the Hillsborough disaster, agreed it was time for both sets of supporters to stop singing derogatory songs about the tragedies endured by both clubs.
He called for an end to Hillsborough songs from Manchester United fans and chants about the Munich air disaster from Liverpool supporters.
Stop the songs
"Absolutely it's time to stop those chants; I think they're disgusting," he said.
"It's great that there are rivalries in football and Manchester United and Liverpool will always be bitter rivals, as they were before the Hillsborough disaster. But for grown men with children of their own to be singing disgusting songs - what are they teaching the next generation? It has to stop.
"Hillsborough is a generation away now, so what are they teaching the next generation who don't understand the impact that day had on us? And equally the Munich air disaster, which had a huge impact on Manchester United and took away some incredible footballers, I look on that as a terrible tragedy.
"I hope there's some mutual respect between two of the greatest clubs to have graced this scene."
Societal problems
Steve Rotheram MP, a former Lord Mayor of Liverpool, was at Hillsborough. He told The FF Show that, while he hopes there will be no trouble at Anfield, it is difficult for football to kick out all troublemakers.
"I hope this can put a line under what has happened and we will be talking about what happens on the pitch on Sunday rather than this continued bitterness between the two clubs," he said.
"There will be small groups in every football club that you'd rather not have but I think that's a societal problem, not a football problem. How you change that, I don't know.
"Society isn't full of all nice people so football fans aren't all going to be nice people. But hopefully the United fans will show their respects - and I think they will."